'90 Day Fiance': Is Laura Jallali Already Dating Another Star From the Show After Her Split From Aladin?
'90 Day Fiance' couple Laura Jallali and Aladin Jallali recently announced that they are no longer together. Does Laura already have a new boyfriend?
Another one bites the dust. The couples on 90 Day Fiance aren't exactly known for their long-lasting relationships but it's still sad when one of them reveals that they couldn't make things work.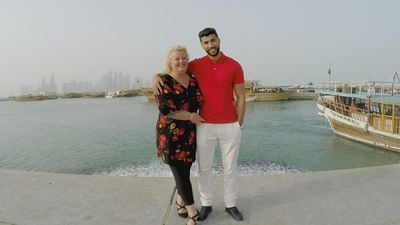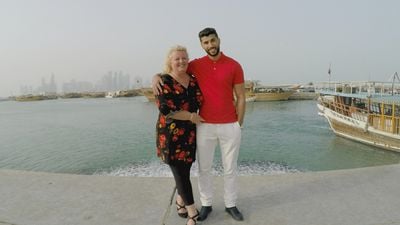 The latest couple to call it quits is Laura and Aladin Jallali. Though viewers never really had high hopes for the couple, it is a bit shocking that they were already on the rocks at the 90 Day Fiance: The Other Way reunion. Laura was definitely distraught at the tell-all, but she may have already found someone new to take her attention off of her failed relationship.
What happened between Aladin and Laura?
Laura and Aladin had the odds stacked against them from the very beginning. Not only were they from different countries, but they also had a very large age gap between them with Laura being 51 and Aladin only 29. But still, they thought that they could make it work.
The pair got married only nine short days after meeting in an attempt to solidify their relationship. Unfortunately, that wasn't enough to keep them together.
At the 90 Day Fiance tell-all event, Laura made it clear that she still wanted her marriage to work.
"I want to fight for my marriage," Laura said. "I love Aladin and I thought he truly loved me…I don't know what's happened to him."
"I truly believed and trusted him," she continued. "I felt that our love was really real, but I don't know. I just don't know. I really thought he loved me. I really, really did," she said.
But Laura said that once she ran out of money, Aladin was no longer interested in the relationship.
"I have run out of money," she said. "And I have told him that I'm not going to be able to pay for the rent anymore. My pension has been cut."
But Aladin insisted that that wasn't the reason that he didn't want to be with her anymore. Aladin claimed that he ended the relationship because the two had been arguing for weeks. For him, the last straw was when Laura left to go get coffee without telling anyone where she had gone.
And as far as the money, Aladin insisted that he and Laura split expenses.
"Yeah, I pay the rent," Aladin said to Laura at the reunion. "Do you pay the rent?… I pay two months, and you pay two months, okay? … I spend all my money for you. You know what. So calm down, calm down and don't talk about this subject."
Does Laura already have a new man?
They say that the best way to get over a heartbreak is to get in a new relationship. And it seems like Laura may have already done that.
After ending things with Aladin, Laura went to Ecuador to visit 90 Day Fiance alum Evelin Villegas. Since being there, she has been getting pretty cozy with Villegas' ex, Raul Cabrera.
"Life in Ecuador is beyond amazing, specially when you in good company @raulnomada you are the best," Laura captioned a photo of her and Cabrera. 
Cabrera recently spoke to In Touch about his relationship with Laura.
"She recently moved to Ecuador and Evelin introduced me to her," he said.
"It's Aladin's loss because she truly loved him and I have been helping her with the process of overcoming the heartbreak," he continued. "All I can say is that we have a lot a lot of fun together and she has such a positive outlook on life."
"I am completely in love with her dog and so enjoy Laura's company," he added. "She is super easy going and I am gonna teach her how to surf since that is one of her dreams I will make that a reality for sure."