'90 Day Fiancé': Paul Staehle Thanks TLC, Says They're Not Fired
90 Day Fiancé couple Paul Staehle and Karine Martins have been struggling with their relationship for quite some time. Several divorce scares have lead up to Martins eventually fleeing Staehle's home, and making claims of physical and sexual abuse. Now, the two are reunited, and Staehle says it's the fans' fault that Martins made 'false' allegations against him. And despite what others are saying, Staehle claims that the two have not been fired by TLC at all.
Karine Martins made alarming abuse allegations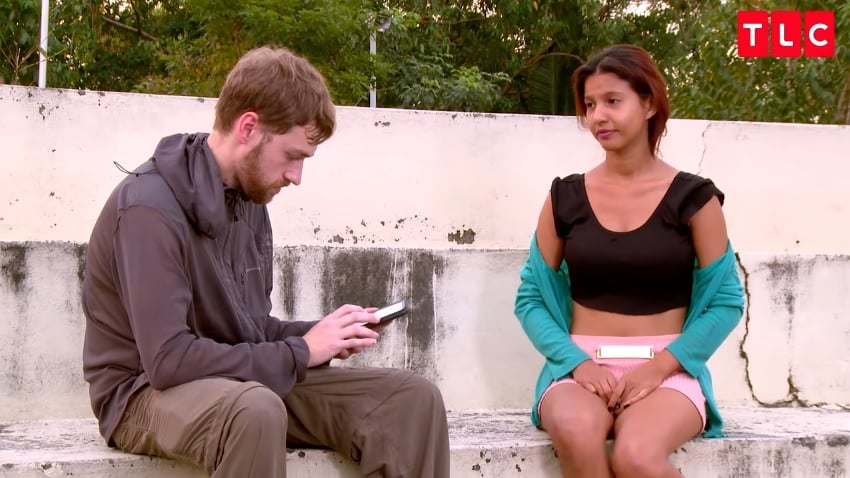 RELATED: '90 Day Fiancé': Fans Call on TLC to Take Responsibility for the Karine Martins and Paul Staehle Situation
After some alarming altercations at their home involving police officers, Karine Martins decided it was time to part ways from Paul Staehle. The 90 Day Fiancé star grabbed Pierre and left Staehle.
Staehle started searching for Martins, despite the fact that she clearly did not want to be found. He kept claiming the police were helping him. However, Martins later made a post letting fans know that she was safe, and that the police were helping to keep her location secret.
She also filed an alarming police report against Paul Staehle, in which she accused him of physical and sexual abuse.
"If I refuse he throw things, he yells, or he threats to call police, he currently hold my green card and all my documents. I am not allowed to leave the house, he monitor my phone [and] he have cameras around the house and he can see through his phone who arrives or who leaves. He threats take our son Pierre away if I ever leave [sic]," she wrote in part.
During this time, Staehle frequently claimed that the police report was falsely filed by someone other than Martins.
Paul Staehle claims allegations are false, blames fans
The 90 Day Fiancé couple must have come to some sort of agreement or understanding, because they're back together for the time being. However, Paul Staehle has claimed not only that the police report included 'false' claims, but has also suggested that the reason it was filed at all is because of fans of the show.
"The false allegations against me were withdrawn. We are currently in Brazil, Karine's green card was stolen and the embassy is closed because of COVID-19 so we will be here indefinitely…," Staehle wrote.
He then went on to explain that Martins was allegedly kidnapped by a fan of the show and coerced into filing her police report. A wild claim, to say the least.
"Karine is very happy to be back in Brazil with her family for the time being. … Because of the overwhelming negative impact of fans taking it upon themselves to pick Karine up and then make very serious false allegations in her name acting as her translator and keeping her in their home until another Brazilian she knew from a church group rescued her and got her to our house," Staehle alleged.
'90 Day Fiancé' couple allegedly not fired after all
Various news outlets and fans have been suggesting that Paul Staehle and Karine Martins were fired from 90 Day Fiancé by TLC, as a result of the abuse allegations. Staehle, however, says that's not the case.
"We were not fired or reprimanded. We were given time to deal with our family matters privately. Our payments and income was not affected. TLC and Sharp have both been very considerate to our situation," Staehle wrote on his Instagram story.
"We highly appreciate them giving us time to deal with our private matters off camera. We are hopeful and eager to possibly return in the future in a more positive time in our growing family's lives. Our contract was fulfilled and completed," he added.
It remains to be seen what the future holds for the couple and their relationship with TLC. Currently, the pair is living in Brazil, where Karine Martins allegedly inherited a farm.