'90 Day Fiancé': Tania Pushes Back Against Claims She Was 'Flirty' in Costa Rica Without Syngin
Tania Maduro hasn't attracted many fans on Season 7 of TLC's 90 Day Fiancé. She and her South African fiance, Syngin Colchester, have been at odds about several aspects of their lives since he arrived in the U.S. 
Tania, for example, wants to have children right away, while Syngin isn't sure he wants them at all. Tania and Syngin also clashed about Tania's decision to attend a monthlong intensive on herbalism and alternative medicines in Costa Rica during their 90-day waiting period. And on the Dec. 22 episode, "Judgement Day," tensions over Tania's behavior in Costa Rica came to a head. 
After the episode aired, many 90 Day Fiancé viewers criticized Tania for allegedly flirting with other men in Costa Rica. But she was having none of it, and took to Instagram to defend herself against the criticism.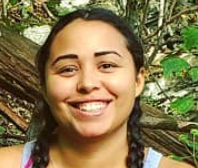 Tania seemed to live it up in Costa Rica without her fiance
While Tania headed to Costa Rica for her workshop, Syngin lived in her mom's she-shed behind her Connecticut home. Syngin told Tania's mom he often felt isolated and ignored by Tania, especially when he called her and didn't get much of a response. 
"Even at times when I talk to her, it's kind of like, she's also talking to her friends in the background," the 90 Day Fiancé star told his future mother-in-law on "Judgement Day," adding that he felt like he "never [got] 100% Tania." 
"I just hope she's not, like, getting cold feet on me or something," he worried.
The '90 Day Fiancé' star told her friends Syngin struggled with jealousy
Out in Costa Rica, things were a little more fun for Tania than they seemed to be for Syngin.
Many 90 Day Fiancé fans accused her of flirting with her salsa instructor, whom she said was "good looking." She also said she loved to hit the town with her new friends and casually chatted about "cute guys" at the club with her roommates as they pregamed and applied makeup.
"Do you tell Syngin if you're talking to someone? Or like if you're dancing with someone, do you share that stuff with him?" one of Tania's friends asked. The 90 Day Fiancé star responded, "He knows I like to go out. He knows I like to dance." However, although she explained they were in a "monogamous relationship," she said she didn't feel the need to tell him every time she danced with or talked to a guy.
Next, Syngin and Tania had an awkward phone call, in which the tension between them was crystal clear. 
"Can you sound a little happier that I'm going out?" Tania asked her fiance, annoyed. "I'm so happy for you!" Syngin declared sarcastically, clearly tired of feeling ignored. 
And when Tania urged him to have "a little more pep in [his] step," Syngin responded ominously, "If I give you more pep in my step, I'm going to be stepping out of here." 
Tania also refused to promise to call Syngin once she was safely home. "Just let me breathe and have fun and just be out," the 90 Day Fiancé star insisted before hanging up. 
The '90 Day Fiancé' star defended herself on Instagram
After "Judgement Day" aired, Tania posted a picture of herself on the beach in a revealing white dress and smoldering dark lipstick. Under the Instagram post, many 90 Day Fiancé viewers criticized her for appearing to ignore Syngin in Costa Rica. But Tania didn't take the criticism lying down.
"How about be home with your fiance instead of flirting with other dudes?" one Instagram user asked in the comments.
"If you think that's flirting then I'm sure you all aren't crazy [you're] boring and cold," Tania clapped back. 
To another, she insisted that her behavior was exactly what Syngin expected from her, given her bubbly personality.
"Being nice and friendly is not flirting," she wrote to a critic. "What I did with Syngin my first night meeting him was flirting. Hence why I slept with Syngin and not the salsa teacher. Syngin knows me and I know him, [people] will always read us as flirty because we're super nice, we use touch, and we talk, and we're inviting. But all that doesn't mean flirting." 
Tania also seemed to blame the show's editing for some negative fan reactions. On her Instagram stories, the 90 Day Fiancé star said she came across differently on the show than she does in her everyday life. "People have distortions of what flirting is. Just because I am super friendly and inviting…I know not something you see much of on the show…does not mean flirting," she argued in a post.