'90 Day Fiancé': Tania Thinks Syngin Is the 'Clingiest Man'
Tania Maduro and Syngin Colchester, stars of TLC's 90 Day Fiancé Season 7, have a number of major differences in terms of both personality and background. 90 Day Fiancé viewers were especially surprised when the much more type-A Tania of Connecticut announced that she would be leaving Syngin, a laidback type from South Africa, for a month during their first 90 days together in the U.S.
On the Dec. 8 90 Day Fiancé episode, "Premature Departure," Syngin took Tania to the airport in preparation for her monthlong workshop on indigenous and Afro-Caribbean medicine in Costa Rica. The differences in Tania and Syngin's reactions to their upcoming 30-day separation exposed just how much might be standing in the way of their relationship.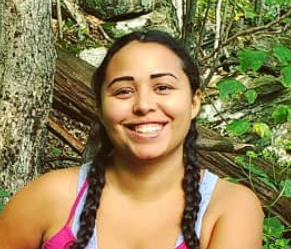 Syngin worried over Tania's upcoming departure
On "Premature Departure," Tania explained that she would be leaving for an herbal apprenticeship program in Costa Rica.
While Tania admitted that it was upsetting to be leaving Syngin behind during their first 90 days together in the United States, she defended her decision. "It's a great opportunity and it's an investment in mine and Syngin's future," she told 90 Day Fiancé producers.
Still, Tania told Syngin as he helped her pack for her trip, "I'm definitely a lot sadder than I thought I would have been."
But when Syngin asked if his fiancee was as sad as he was about their separation, she admitted, "Maybe not as sad as you are."
In particular, Syngin was concerned about how lonely and isolated he would be over the next several weeks.
Because he wasn't allowed to leave the country during the next 90 days without forfeiting the couple's K-1 visa application, the 90 Day Fiancé star worried he would feel alone surrounded by Tania's belongings in their temporary home, Tania's mom's she-shed.
"I'm literally around everything that is yours," Syngin complained. He added, "I'm all alone in the backwoods of America, you know…So I am not at all looking forward to staying here by myself. I kind of feel lost and it sucks."
Tania says her '90 Day Fiancé' husband-to-be needs 'more' from her than she needs from him
For her part, Tania didn't seem too concerned about her Costa Rica trip. "I am devastated that Syngin is going to be alone," the 90 Day Fiancé star explained. But she wasn't about to give up her opportunity, she told producers, she said: "I've put it off [before], and Syngin is being super supportive of me going."
On the way to the airport, the 90 Day Fiancé couple discussed how different their emotional needs were in terms of the number of times they spoke each day. Syngin worried they wouldn't talk much while Tania was away. "I know I seek a lot of your attention. I know you're not going to be available as much," he said in the car.
"I don't know, we have to figure this out," Tania began, adding that she wanted to meet in "the middle" and find a compromise. She explained that she'd be busy and wanted to take full advantage of the opportunity to study a topic she was passionate about in a different country.
"Your needs are a lot more…I don't need to talk as much," she said.
Tania called Syngin the 'clingiest man' she'd ever been with
"Syngin definitely is the clingiest man I've ever been with," Tania told 90 Day Fiancé producers on the episode. She added that when she's at work, he sometimes wants to talk during lunch breaks and that she wished he was more confident in their love no matter how often they spoke.
Still, the 90 Day Fiancé couple parted on good terms. Just before she got on the plane, Syngin gave his fiancee a custom-made heart-shaped gift reading "my suger" (the couple's spelling of "my sugar") with their romantic motto, "I love you a lot a lot."
"I love you and support you in whatever you do," Syngin told Tania.
But to 90 Day Fiancé producers, Syngin admitted that he was miserable about his fiancee's trip. "It's not a happy day for me," he admitted.