'90 Day Fiancé': What Did Michael's Friends Say About Angela That Made Him Almost Start a Fight?
Michael Ilesanmi and Angela Deem might be an unlikely pair, but they have fought for years to be together. The 31-year-old from Lagos, Nigeria, and the 53-year-old from Hazlehurst, Georgia, met online before they hit it off in Michael's home country on TLC's 90 Day Fiancé: Before the 90 Days. 
Since then, Michael and his much older fiancee, who is a grandmother of six, have battled K-1 visa troubles, infidelity, trust issues, cultural differences, and opposition from friends and family. Along the way, the 90 Day Fiancé couple has insisted that their love is genuine and that they'll do anything to be together in the U.S. 
On the Dec. 22 Season 7 90 Day Fiancé episode, "Judgement Day," Angela and Michael faced yet another obstacle to their relationship. They received the heartbreaking news that Michael didn't pass his K-1 visa interview. Afterward, Michael tried to drown his sorrows with his local friends, but their comments about his fiancee resulted in a volatile clash.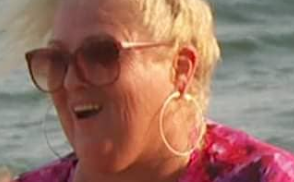 Michael and Angela received disappointing news about his visa
On "Judgement Day," Michael FaceTimed Angela to tell her his K-1 visa interview hadn't gone as well as they'd hoped. 
After Michael met with a representative at the American embassy in Nigeria about his relationship with Angela, his application was denied. He sadly read the letter he'd received to her, which stated in part: "After reviewing all of your documents and information presented, you have been found ineligible to receive a visa."
The 90 Day Fiancé star broke down as his fiancee tried to comfort him. Angela, devastated as well, told TLC producers, "I've never seen Michael cry, and seeing him cry like that, it touches my heart. It's painful." She continued, "I'll do what it takes to get Michael over here so we can become a family." 
Michael's friends called Angela 'trashy'
After his visa denial, Michael met with his close friends, Ade, Peter, and Kunde, at a local restaurant to hash out his latest relationship drama.
The 90 Day Fiancé star explained that his friends still weren't fond of Angela and that he'd even steered clear of them since their fallout with her during her last visit to Nigeria. "I haven't seen them since the last time Angela visited, and I have just been focusing on my relationship," Michael explained. 
He added that his friends didn't get along with Angela, who called them 'the goofballs' and didn't believe they supported the couple's hope of a future together. His friends questioned the 90 Day Fiancé couple's 20-year age difference and Angela's controlling, possessive ways. 
Michael asked his friends to offer more "support" and "advice" if they were really his friends. Kunde, in turn, brought up the time Angela dumped a drink on Ade in retaliation for one of his negative comments about her.
"I have this impression about her, like, why? Why would she do that?" Kunde mused to Michael. "We are in Nigeria, and you know your woman shouldn't react that way in public."
Ade went further, telling Michael, "Oh come on, now, she's trashy. It's obvious."
The '90 Day Fiancé' star defended his American bride-to-be
At that point, Michael stood up and confronted Ade. "Why would you call her trashy?" he demanded, eventually breaking a drink on the floor. "What sort of rubbish is that?" the 90 Day Fiancé star yelled as he stormed out.
"They said something like, my woman is trashy. Why would they say that? It's uncalled for," Michael said to TLC producers about Ade's disrespect. "Can I insult your woman like that?" he asked Peter, who followed him outside to persuade him to return.
His friends were ultimately able to calm him down, and Michael sat down with them to explain his heartbreak over his visa denial. Despite what it might look like, he said, he wanted Angela for far more than a visa. "I love her so much. She loves me. It's not about the visa. It's my love, my genuine love for her," the 90 Day Fiancé star confessed. 
While the 90 Day Fiancé star's friends said they still believed he was making a "mistake," they tried to comfort him as he broke down. "She's still my woman," he said, clearly devastated.