'90 Day Fiance': Why Anny Told Robert 'I Don't Know if I Can Marry You'
Anny and Robert of Season 7 of TLC's 90 Day Fiance have already had quite a tumultuous ride. The pair met on social media, and 41-year-old Robert said he fell in love at first sight before meeting up with 30-year-old Anny on a cruise to her home country of the Dominican Republic.
But once Anny arrived in Florida to spend time with Robert, things weren't so magical. She wasn't exactly impressed with his secondhand store shopping spree, and the couple argued over the expenses of their future wedding. Anny also didn't approve of or get along with Robert's five-year-old son's Bryson's grandmother Stephanie Woodcock, who works as an adult entertainer.
Most shockingly, Robert revealed to his bride-to-be that he actually had five children by four different mothers. On the Dec. 1 90 Day Fiance episode, "We Need to Talk," Robert's exes were brought up in the couple's latest argument.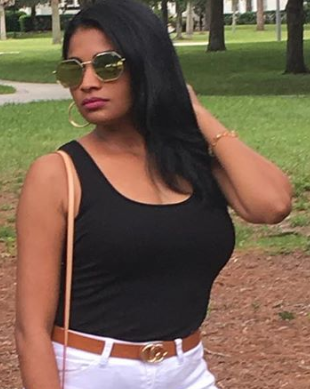 Anny wanted Robert to delete pictures of exes from social media
On "We Need to Talk," Anny and Robert headed to the local boxing gym to get in a workout…and apparently work out their issues. The unsuspecting trainer became a fly on the wall as the 90 Day Fiance couple started to fight about Robert's social media photos.
Apparently, Robert has Facebook snapshots with his exes and their children.
For Anny, deleting the photos was a matter of respect towards her. But Robert didn't see it that way, especially when it came to his kids. "I don't want to get rid of pictures with my children involved," he told her.
But Anny clapped back, saying that was just an excuse. "The photo is not with the kid, Robert," she insisted. The 90 Day Fiance star insisted that several of the photos were not with his children and that some even included PDA like making out and hugging.
Robert defended his choice to keep the photos
Robert said that he wouldn't be changing his past or altering his relationship with his kids for his new bride-to-be. "They're a part of my life until I leave this Earth," he said of his children.
The trainer suggested that the 90 Day Fiance couple come up with a compromise, like keeping the photos that include Robert's children but deleting some of the more romantic one-on-one pictures. But Robert still didn't agree to changing anything about the photos.
"She's the one who's digging in the crates, blowing off dust," he told the trainer, who told TLC producers he didn't think the relationship would last long.
Anny issued an ultimatum to her future husband
Robert told 90 Day Fiance producers that Anny needed to accept him fully, past and all.
But many viewers noticed that he seemed to have a double standard for her. When Anny asked her fiance what he'd do if she had photos of her exes on social media, he told her, "Call that dude, have him take you to the airport, and deuces."
It doesn't look like the conflict over Robert's social media will stop anytime soon. As long as the pictures stayed up, Anny warned him, "I don't think I can marry you."