'90 Day Fiance': Why Natalie Told Mike He Gave the 'Wrong Answer' About Their Future
Natalie and Mike of Season 7 of TLC's 90 Day Fiance seem head over heels for one another. Still, the engaged couple has several obstacles standing in the way of their love, including a delayed K-1 visa application.
The couple got together while they were both going through difficult divorces, and Mike is hiding his major credit card debt from his bride-to-be. What's more, Natalie wants to have children right away, while Mike wants to wait until his finances are more in order.
In the Dec. 1 90 Day Fiance episode, "We Need to Talk," 34-year-old Mike, who hails from rural Washington state, visited 35-year-old Natalie in her home country of Ukraine. The Season 7 couple seemed to love their first night together, but the next morning, things got more difficult as the pair had a hard conversation.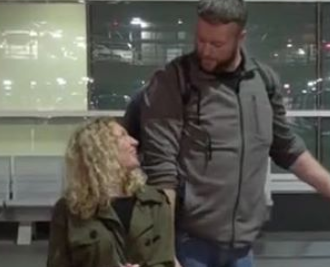 Natalie wants kids right away
The first hours of Mike's visit to Ukraine to see his bride-to-be, to whom he proposed in Paris after just weeks of knowing her in person, seemed to be magical. "Finally, I woke up with my man," Natalie gushed on the 90 Day Fiance episode while she made Mike breakfast.
Mike was a little more blunt. "The sex was incredible for me," he told TLC producers.
Things got a little more serious from there, though. Natalie told her future husband that she had something important to talk to him about.
"I want a child," the 90 Day Fiance star told Mike. "I think that we [are] both ready."
"Right now? Can we eat breakfast first?" Mike joked, looking uncomfortable.
But Natalie was completely serious. "I want to have a baby a lot," she insisted. "Especially because of my age, I'm 35. I think every woman wants a child, it's normal."
Mike isn't so sure
While Mike told Natalie he was certain he wanted children with her, he said he wasn't ready to have them right away.
"I've always wanted kids, baby, and you know that…and we're both at the age that we need to start thinking about really having kids," the 90 Day Fiance star told his future bride. "I really want to have a kid as soon as possible, but I think our main thing right now is to probably wait a little bit."
"Wrong answer," Natalie said sadly. Mike gave the complicated visa process and Natalie's impending move to the U.S. as the main reasons he wanted to wait, but 90 Day Fiance viewers knew that his debt was also a major factor (and one he was keeping from Natalie at the time).
"I do feel like I need to talk to Natalie about my debt…before we consider having a child," Mike told TLC producers on the episode. "I don't feel comfortable starting a family until I can take care of it."
Mike also said that, while he was sure Natalie was the one for him, he wasn't about to jump into parenthood. "I want to be with Natalie, but I don't want to be rushed into any situations. We have a lot to figure out," he explained.
A meeting with Natalie's close friend raised more concerns
Later in "We Need to Talk," Natalie and Mike met up with Natalie's close friend Svetlana. At dinner, Svetlana expressed her own concerns about the 90 Day Fiance couple.
Bringing up Natalie's "broken heart," Svetlana opened up a can of worms by addressing the issue of her friend's ex-husband. Natalie explained that her desire to expand her family was related to that broken heart. After she met her ex-husband through mutual friends, she finally left him in part because he didn't want children and she did.
Svetlana also reminded Mike of Natalie's longing for a bigger family. "You know that Natalie dreams about children as soon as possible," she said to the 90 Day Fiance star.
Mike responded by reiterating that he did want kids, but didn't want to rush anything. "I think family is very important. Family is everything. And me and Natalie even had a discussion about kids this morning over breakfast," he told Svetlana. However, he also said Natalie sometimes "pushed" him about children and that he wanted to take his time.