'90 Day Fiancé': Why Tania Says Syngin Should 'Suck it Up'
Tania Maduro and Syngin Colchester have become one of the most controversial couples on Season 7 of TLC's 90 Day Fiancé.
The engaged 29-year-olds are from Connecticut and South Africa, respectively, and met at a bar when Maduro traveled to Colchester's home country to meet up with someone else and things fell through. The pair traveled for months together, living off the grid, and eventually decided to marry.
Colchester's arrival in the United States was eventful, to say the least. Maduro and her two friends greeted the South Africa native at the airport (with rose petals and champagne, no less), but things turned sour quickly. Maduro has a clear idea of when she wants to have children, while Colchester wants to take things more slowly.
On the Nov. 24 90 Day Fiancé episode, "You Never Forget Your Past," tensions between Maduro and Colchester ran high again. The pair sparred over renovating the shed behind Maduro's mother's home, where they'll be living, as well as Maduro's type-A personality.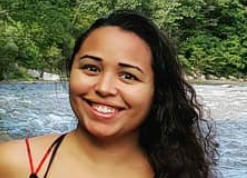 Colchester was unimpressed by Maduro's shed
Colchester and Maduro's first home in the United States was a shed behind the latter's mother's home. But it wasn't exactly fixed up when Colchester arrived.
"I always have a plan, but I'm such a procrastinator," Maduro admitted to 90 Day Fiancé producers. "I told him it was ready, and it's really not."
Colchester, meanwhile, wasn't sure what to expect from his new home with his American bride-to-be. "I'm used to thorn trees and barefoot in the South African bush," he admitted.
When Maduro and Colchester arrived, the shed was in disarray. Boxes and tools were scattered around the room. Colchester confronted his future wife about the state of their new bedroom. "So you were totally lying to me when you said…it was a perfect renovation, yeah?" he asked her.
"I came halfway across the world for this, so that for me was frustrating," he explained.
Maduro thought her '90 Day Fiancé' future husband was being dramatic
Colchester's criticism of the shed and Maduro's lack of preparation didn't stop there. "I'm not walking into a cozy environment. It's a construction site," he said.
Maduro, meanwhile, said the renovations wouldn't take too long if they just worked hard. "To me, it's like, 'suck it up,'" she said. She added that she'd put plenty of effort into Colchester's arrival in the U.S., including a mountain of paperwork and financial responsibilities, so she didn't see why he was so frustrated.
But her 90 Day Fiancé other half didn't agree. "It's a pretty daunting task," he said of the necessary renovations. "I'm feeling a little overwhelmed at the moment."
Maduro wasn't happy with Colchester's choice to sleep on the couch that first night instead of getting their living space ready. "I definitely could have pulled an all-nighter," she complained.
The couple later clashed over Maduro's criticism of how Colchester was handling power tools. Colchester admitted that their personality differences could cause trouble in the future.
The '90 Day Fiancé' star took to Instagram to defend herself
Maduro didn't stay quiet on social media about fans' criticisms over her behavior or the unfinished shed. After the 90 Day Fiancé episode aired, Maduro fielded questions from viewers on her Instagram stories.
She told one 90 Day Fiancé fan that there was a "lot of assuming the worst is happening" by viewers. Another fan said she was "definitely the most hated this season." Maduro responded with a cheeky reference to a Billie Eilish lyric from "All Good Girls Go to Hell": "'Cause even God herself has enemies."
To another critic, Maduro clapped back, "Who woulda thought 5 boxes and some paint, and brand new [TV], would be the end of the world for you all and there'd be no way to [the] finish line in the near future."
Although Maduro certainly has been taking the heat from 90 Day Fiancé fans this season, it doesn't look like she'll stop defending herself any time soon.