'90 Day Fiancé' Star Nicole Nafziger's Most Questionable Parenting Choices
Nicole Nafziger and Azan Tefou have always had a stormy relationship. With allegations of cheating, lying, and possibly even a "get rich quick" scheme, their appearances on the show have been dramatic, to say the least.

This has some fans feeling worried for Nafziger's child, May. May is only 5 years old, and already she's been thrown into the thick of a seemingly unstable relationship.

Couple that with Nafziger's behavior and tendency to make abrupt and questionable choices, and you can see why fans might be concerned. Should they be worried?

Baby daddy, begone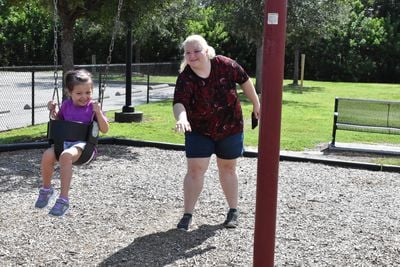 Nafziger was 34 weeks pregnant with May when she decided to split up with her then-boyfriend. Her baby daddy has since had very little contact with Nafziger or May and is not very involved in their lives.

"May's bio dad and I are in contact for May only," explained Nafziger. "He video chats her once and a while but he hasn't met her in person before. We live states away. He asks about her but we just live our lives."

An inside source told Radar Online that it's for the best. "He's never been involved," the insider said. "He was here for May's birth, but that's the last time anyone has heard from him. The only good thing was May."

Nafziger went on to explain that May's biological father has no custody of May.

Calling him 'daddy'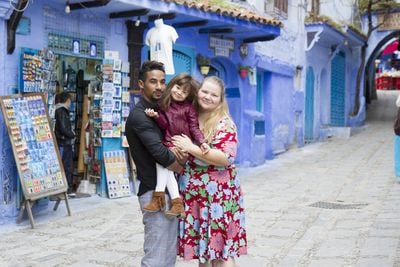 Because May was born shortly before Nafziger met Tefou, Tefou is the closest thing May has had to a father figure. Nafziger has even started pushing May to call Tefou "daddy."

However, because Nafziger's family doesn't trust Tefou, this has left a bad taste in their mouths. Some of them think Tefou may even be scamming Nafziger, and her decision to have May call him "daddy" feels wrong to them.

The same source from Radar Online reports. "Nicole has tried to make Azan a father figure," the source told Radar. "She makes May call him daddy. That upsets everybody here."

Always on the road
There's a lot to be said for travel — it broadens your horizons. But perhaps not when you're five years old.

Nafziger has been bringing her daughter with her every time she travels to Morocco to visit Tefou. This means that, not only does May lack a responsible and traditional family, but she's also being shuttled to and from her original home whenever Nafziger decides it's time.

This sort of back-and-forth can prove to be very disruptive for a young child.

Fans have started questioning whether Nafziger really has May's welfare in mind, or if she's just putting herself and her own interests first.

According to In Touch Weekly, one fan tweeted, "I'm seriously concerned about May! We all joke about Nicole but she is mentally unstable. May is not properly cared for and we already know her mom has anger issues. I hope [and] pray she is safe."

With Nafziger so wrapped up in trying to get Tefou's hand in marriage, and ship him over to the U.S., it does sometimes seem as if her focus is elsewhere.

Other fans have pointed out that Nafziger isn't exactly rolling in dough — she had a job as a barista at Starbucks, and was sending much of her money to Tefou. Now, it seems that both Tefou and Nafziger are jobless.

Nafziger fights back
With all of this in mind, it's no wonder that fans are concerned for May's wellbeing. However, Nafziger doesn't agree.

She took to Instagram to tell "mom bullies" that she doesn't have time for them, or their drama.