'The Office': Rainn Wilson's Favorite Prank on Dwight Was on His Desk
Jim Halpert (John Krasinski) put a lot of effort into pranking Dwight Schrute (Rainn Wilson) on The Office. Some of these pranks have actually been replicated by fans.
The stars also love Jim's pranks. Wilson revealed which prank is his favorite along with his former co-star.
Jenna Fischer revealed her favorite prank on Dwight on 'The Office'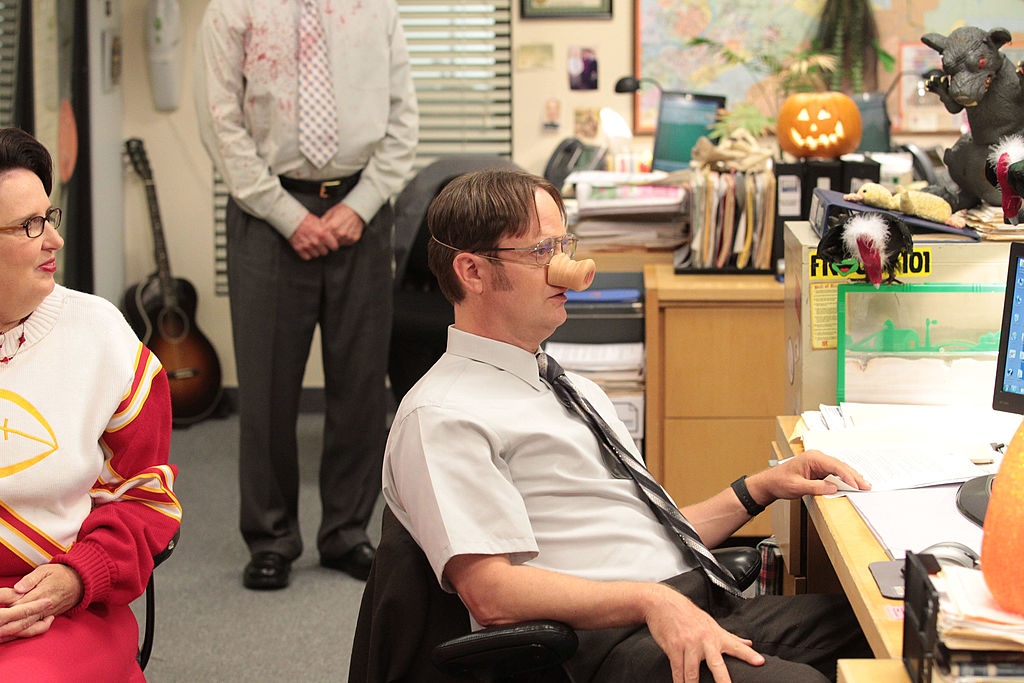 Co-hosts Angela Kinsey and Jenna Fischer talked about the episode, "Conflict Resolution" on their podcast, Office Ladies. In the episode, people's complaints about each other are exposed. Dwight complained about Jim's pranks.
There is a scene where Michael (Steve Carell) calls Dwight and Jim into the conference room to talk about it. "This is my favorite part of the episode," Fischer said.
The list of pranks include Dwight's pens and pencils being replaced with crayons, everyone in the office calling him Dwayne instead of Dwight, trying to trick him into believing he murdered someone and used a bloody glove as evidence, tricking him into going into the women's room claiming there was an abandoned child, every time he typed his name it would say diaper, and his desk was moved closer to the copy machine.
"This one is my favorite of all time of any prank ever written about on The Office. It's just a sentence. We never see this play out, but my imagination of it is so rich," Fischer said. "Dwight says he hit himself in the head with his phone."
We find out this was the result of a prank where Jim put nickles in Dwight's headset for a long time so it got heavy. One day he took them all out and Dwight hit himself when it was unexpectedly light.
"That is brilliant," Fischer said. Kinsey said it was Jim doing the slow play. "That is why I think that I like it. It is the patience required for that prank," added Fischer.
Rainn Wilson revealed his favorite prank on Dwight in 'The Office'
Wilson answered fan questions in an AMA session on Reddit in 2016. Someone asked if he had a favorite prank that was played on Dwight. "When he put my desk in the bathroom," he answered.
This prank happens in the episode, "The Fight." Dwight walks into the office and doesn't see his desk. He is about to go tell Michael but Jim stops him by telling him that he is cold. Eventually, Dwight is able to track down his desk and it's in the men's restroom.
That's definitely not the only prank that involved Dwight's desk. There was another one where Jim wrapped it in Christmas paper. He also wrapped every item on his desk. Jim told him he isn't allowed to open them until Christmas. The scene ends with Dwight falling down when he tries to sit in his chair.
There is another episode where Jim covers Dwight's desk with crime scene tape. Dwight actually thinks a real crime happened when Jim says it's probably a prank. Obviously Jim really loved doing things to Dwight's desk, but only one of those pranks is a favorite for Wilson.