Is This 'Parks and Recreation' Character Secretly the Smartest One On the Show?
It is no surprise that the comedy show Parks and Recreation gained such a loyal band of followers since it first aired in 2009. Amy Poehler, Aziz Ansari, and Rashida Jones are just a few of the well-known cast members that played the memorable characters that won over the hearts of their audience.
Throughout the course of the seven seasons that the show ran, none of the characters would ever quite compare to Chris Pratt's role as Andy Dwyer. Andy's sweet and silly nature often leads him to get categorized as senseless and maybe even a little dopey.
However, looking through the lens of a true fan of the show, you might just be challenged to see a whole other side of the unique character. Keep reading to revisit some of the most noteworthy moments that Andy Dwyer continued to grow and shock everyone on Parks and Recreation.
Andy Dwyer's rocky start on 'Parks and Recreation'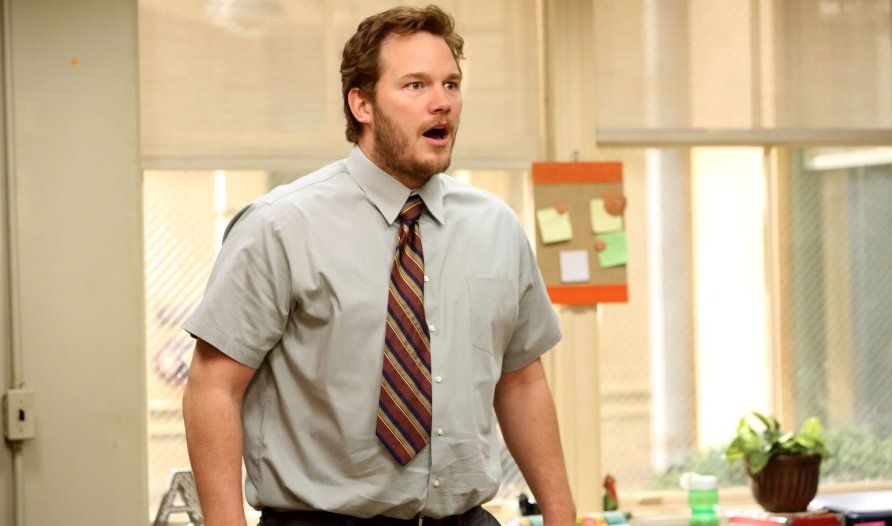 When fans are first introduced to Andy Dwyer, they know him as Ann Perkins' boyfriend. Andy's co-dependent relationship portrays a less than attractive or successful dynamic.
Despite the character's somewhat selfish and immature tendencies that will ultimately bring his relationship with Ann to an end, Andy's character is still able to prevail amidst the rocky storyline. And rocky it was if you recall the Sullivan Street pit that Andy first fell into and then later went on to live in as a last attempt at saving his relationship with Ann.
In season two, the audience gets to see the first of many subtle transformations Andy's character goes through. He takes a job at the Pawnee City Hall as a result of his efforts to put both the pit, and his past relationship, to rest.
Perhaps it is the unexpected determination and authenticity that immediately marks Andy for greatness from the start.
Andy Dwyer figuring it out on 'Parks and Recreation'
With each passing episode, you quickly begin to forget the Andy who dated Ann. With the progression of the seasons comes the continual development of the beloved character.
When Andy begins dating April (Aubrey Plaza), fans are able to learn more about his ambitions and dreams. It is April who encourages Andy to pursue his goal of becoming a police officer.
In season five, the viewers nervously watched as Andy mentally and physically prepared to take on this new challenge. Even though this career path didn't end up panning out for Andy it is definitely worth noting that he was the first person ever to receive a perfect score on the written portion of the police exam.
This plot twist suggests Andy is smarter than fans give him credit for. And maybe, underneath the goofiness, is someone with a specific niche of intelligence.
Andy Dwyer's constant creativity
One of Andy Dwyer's greatest joys is creating and performing music. Early on in the show, we learn that Andy plays with a band named Mouse Rat.
Despite a lack of consistency and the occasional band feud, Andy's musical efforts and the band remained close to him all throughout the series. It is only fitting that Andy finally settled on a career in the entertainment field.
Andy's charismatic nature, passionate talent, and dedication to the things he loved led him to be a very successful kids' TV show host known as Johnny Karate. Andy used these episodes as an opportunity to teach the kids five moves to success. Even for an alter-ego Johnny Karate and Andy Dwyer sure do seem to have a lot in common.
At first glance, you might underestimate Andy Dwyer. The character's antics and humor might make it easy to often write him off, but these are the things that make him surprisingly brilliant.