A List of the Best Episodes of 'Brooklyn Nine-Nine'
Brooklyn Nine-Nine does not return for its seventh season until January 2020. While this might seem like a long time to wait, six seasons are available for fans to binge watch until then. For fans who just want to watch the very best of Brooklyn Nine-Nine before season 7, these are the show's best episodes.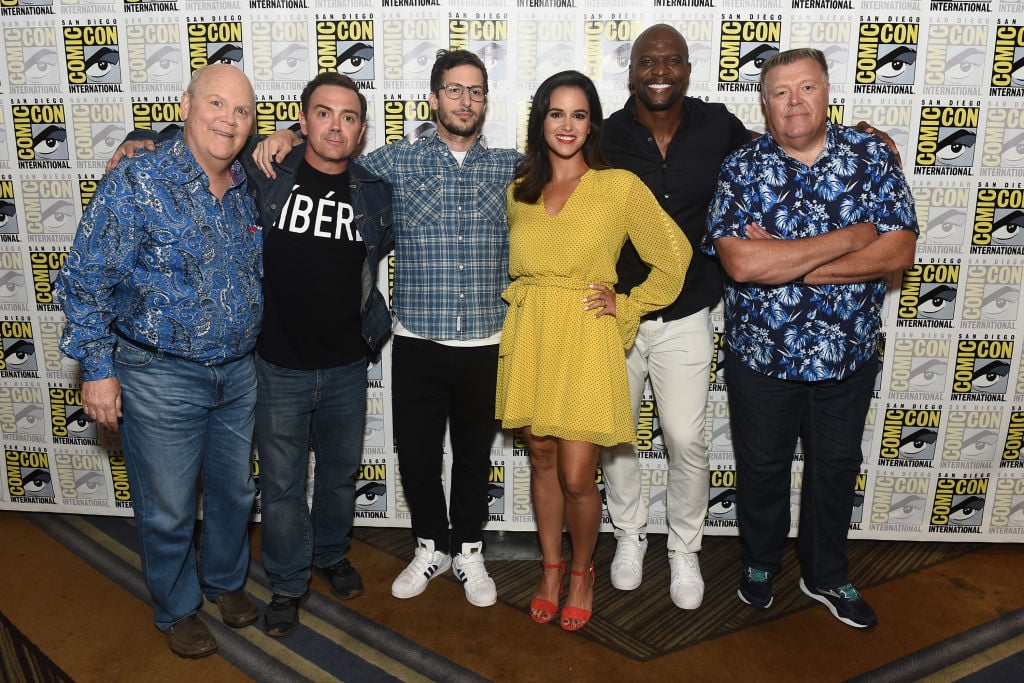 All of the Halloween heist episodes in 'Brooklyn Nine-Nine' are superb
How can one be expected to just pick one Halloween heist episode? That's an impossible task because every Halloween episode makes up the best episodes of Brooklyn Nine-Nine. Every year, the show manages to outdo itself and find new ways to make the heist episodes hilarious. It would not be surprising if season 7 of Brooklyn Nine-Nine has Cheddar outsmarting everyone in the heist.
'The Pontiac Bandit Returns' is another highlight of the show
Just like the Halloween episodes, Craig Robinson reprises his role as Doug Judy every season of Brooklyn Nine-Nine. While the Pontiac Bandit episodes are always a highlight, "The Pontiac Bandit Returns" from season 2 is a standout. The episode proves just how smart Judy is and solidifies his rivalry and friendship with Jake Peralta.
'The Party' from the first season of 'Brooklyn Nine-Nine' is hilarious
Brooklyn Nine-Nine's first season is filled with laughs as the show found its footing. "The Party" is the sixth episode from season 1 and gave fans insight to everything the show would become. In the episode, Captain Holt's husband invites the squad to their home for a dinner party. What follows is hilarity.
Aside from Terry, none of the characters know how to properly navigate an adult party. Jake feels that Holt does not actually want him at the party and tries to bond with Holt's husband, Kevin Cozner. Gina attracts the attention of a group of psychologists because of her emboldened personality, and so on.
On an emotional note, the Brooklyn Nine-Nine episode humanizes Holt. Jake finds out that it was actually Kevin who did not want to invite the squad. It turns out Kevin resents the police force for the discrimination Holt faced as a gay man throughout his career. Brooklyn Nine-Nine never shies away from tackling social issues, and "The Party" manages to explore the discrimination Holt faced while remaining funny.
'Brooklyn Nine-Nine' explored social issues again in the fourth season
"Moo Moo" is an episode in the fourth season of Brooklyn Nine-Nine. In the episode, Terry is racially profiled as he searches for his daughter's toy at night. After the police officer who profiled him shows little remorse, Terry grapples with what to do.
With Terry busy, Amy and Jake try their hand at parenting and teach Terry's daughters about racial prejudice. Holt and Terry find themselves at odds with how to handle the situation. The episode successfully details the complicated issue of the corrupt justice system.
Jake and Amy finally get together in 'Johnny and Dora'
Everyone loves slow-burn couples. While it's usually quite easy to spot which couples are endgame in a show, it sometimes takes awhile for the pair to finally get together. In Brooklyn Nine-Nine, Jake and Amy are that couple.
The two started as rivals and later became friends. While Jake pined after Amy for almost two seasons, he always respected her decisions and never tried to force a relationship. In "Johnny and Dora," Jake and Amy pose as an engaged couple while undercover. This leads to them kissing twice, and as they pretend to be a couple they realize they are not actually pretending.