Aaron Carter Just Got a Face Tattoo and Fans Are Horrified
Pop and hip hop superstar Aaron Carter has been a major source of speculation and controversy lately. The "I Want Candy" singer has been in the headlines several times within the past month after a disturbing feud with his older brother, Nick Carter of The Backstreet Boys that resulted in a restraining order.
Over the course of the past decade, Carter has been struggling with drug-related arrests, severe mental health issues, and the death of his father in May 2017. Carter has demanded the attention of his fans yet again, taking to Instagram to reveal a brand new face tattoo. On the evening of Friday, Sept. 27, Carter posted a Livestream of himself getting the tattoo on Instagram. As a result of the wild allegations and Carter's troubled past, his erratic behavior has fans questioning the 31-year-old singer's state of mind.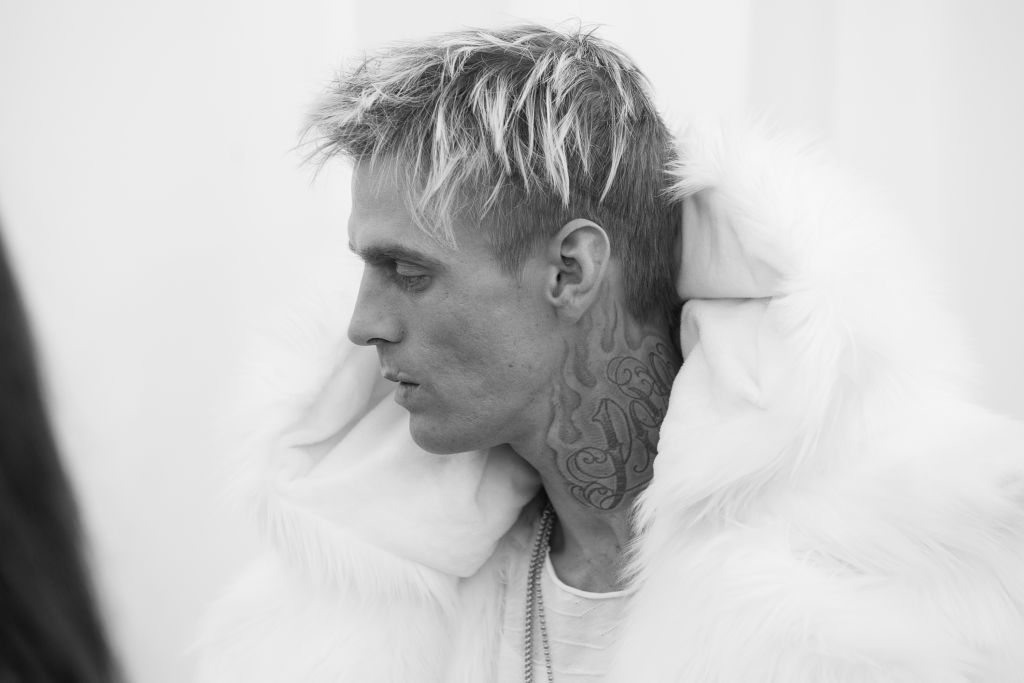 Aaron Carter's troubled history
Aaron Carter, known best for his pop hits of the 1990s, has been a source of concern for his family, friends, and fans. In the late fall of 2013, Carter filed bankruptcy after collecting over $3.5 million in debt, most of which being comprised of taxes owed during the zenith of his stardom.
He settled his debts in 2014 but continued to land into trouble with the law after being arrested for driving under the influence in the summer of 2017. The singer admitted himself to Alo House, an addiction treatment center in Malibu, California.
Earlier this month, Aaron Carter opened up about his mental health issues on The Doctors, reporting that he suffers from manic depression, multiple-personality disorder, schizophrenia, and acute anxiety. To cope, Carter takes six prescription medications. Things seemed to be improving for the singer until his brother, Nick Carter surfaced with disturbing allegations against Aaron Carter.
Roughly two weeks ago, Nick Carter announced on Twitter that he would be filing a restraining order against his younger brother after Aaron allegedly admitted to having thoughts of killing Nick's pregnant wife. On Twitter, Nick Carter wrote:
After careful consideration, my sister Angel and I regret that we were required to seek a restraining order against our brother Aaron today. In light of Aaron's increasingly alarming behavior and his recent confession that he harbors thoughts and intentions of killing my pregnant wife and unborn child, we were left with no choice but to take every measure possible to protect ourselves and our family. We love our brother and truly hope he gets the proper treatement he needs before any harm comes to himself or anyone else.

Twitter
Aaron Carter denied the allegations with a response to his brother on Twitter, where he wrote: "I am astounded at the accusations being made against me and I do not wish harm to anyone, especially my family. This is obviously a chess game of some sort." Since then, Aaron Carter posted a statement on Twitter, revealing that he got rid of his firearms, selling three of them and surrendering two to the police.
Aaron Carter's new statement
After some radio silence, Aaron Carter returned to the center stage of the Internet to show off his new tattoo. He posted a picture on Instagram on the morning of Sept. 28, 2019, writing "IM THE BIGGEST THING IN MUSIC RIGHT NOW. I CAN'T BE DENIED. FACT CHECK ME." The tattoo itself is a large portrait of the mythological gorgon, Medusa, complete with a full head of hair-like snakes.
In an earlier post, Carter gave a shoutout to the artist, writing "@johnnydangandco you're the greatest in the game everyone needs to know and they will after THIS PIECE."
How fans reacted to Aaron Carter's face tattoo
Social media was absolutely erupting with images of Carter's new tattoo. The timing of this tattoo, appearing right after the brutal social media feud with his brother, Nick, had his fans and followers concerned. Some fans commented on his original Instagram post asking if the singer was okay and offering support. Others criticized Carter for his caption that claimed that he was "the biggest thing in music." One Instagram user wrote, "Most of us out here are just shaking our heads at you and [your] behavior lately."
The Internet community was buzzing after Carter's picture first hit Instagram. Fans speculated that Aaron Carter might be experiencing a manic episode, a symptom of bipolar disorder, otherwise known as manic depression, where the individual experiences high energy, euphoria, and a loss of touch with reality.
On Twitter, fans expressed their concerns, fears, and overall horror at Carter's new permanent fashion statement. Some compared the tattoo to the facial piercing that actress Amanda Bynes got after her own struggle with mental health came to a boiling point. Others supported Carter's decision and complimented the tattoo. Most, however, were mortified. "Guys. I really think Aaron Carter is unhinged right now getting that face tattoo," wrote one Twitter user.
Aaron Carter appears to be unfazed by the criticism. One of Carter's Instagram followers commented, "You'll regret it later Aaron … I'm sorry. I supported everything. But this is much." Carter replied by simply saying, "My identity. Not yours."