How Do Aaron Carter and Michael Jackson Know Each Other?
There was a time when Aaron Carter was spending a lot of his time with pop singer Michael Jackson. The two formed a friendship at the height of Carter's career, which happened to be when he was only a teenager. Carter has always defended the King of Pop, despite allegations made by others that he was sexually abusive or acted inappropriately toward them. But how do these two pop stars actually know each other?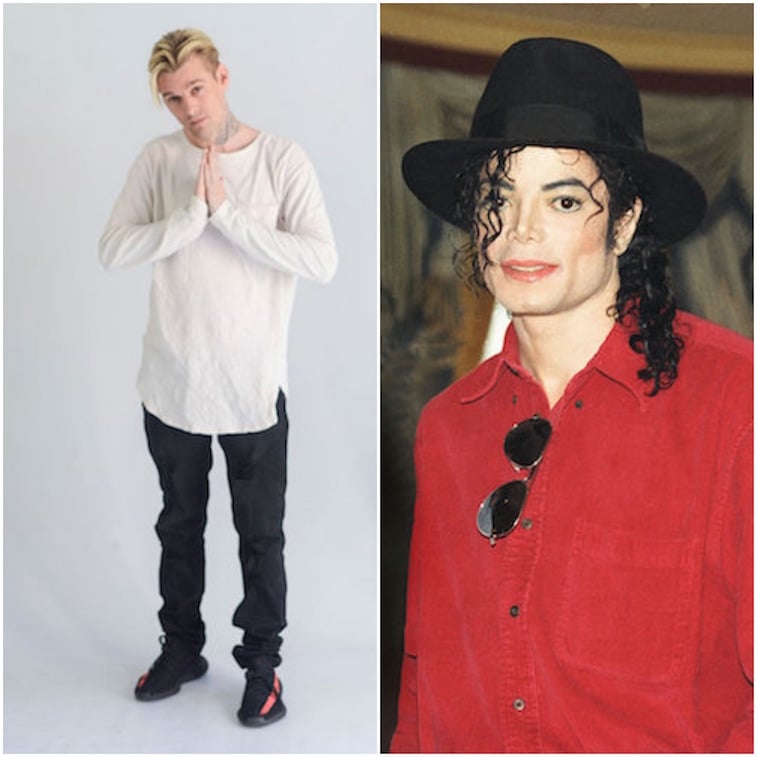 Since 1993, there have been various sexual abuse claims against Jackson
Allegations against Jackson first appeared in 1993, when Jackson allegedly asked a young boy referred to a "Jamie" to sleep in his bed with him. His estranged sister, LaToya Jackson, said later that year that the allegations against Jackson were true. He went on trial for separate allegations in 2005, but he was acquitted of all charges, despite stories of kids claiming Jackson allegedly acted inappropriately toward them while sharing a bed. Jackson died in 2009, and in 2013 and 2014, two lawsuits were filed against Jackson's estate over sexual abuse. After Leaving Neverland aired in 2019, the allegations against Jackson felt real, leading some of the public to believe he was sexually abusive and leading his estate to sue HBO for airing the documentary.
Carter and Jackson first met when Carter was only 14 — and rumors quickly started
Carter was a teenage music sensation who reached fame along with his brother, Nick Carter of the Backstreet Boys, in the early 2000s. Both "Aaron's Party" and "I want Candy" flooded through the stereos of teenage girls and boys everywhere. And when Carter was in the recording studio at age 14, he met Jackson for the first time. At the time, Jackson was preparing to record his charity song "What More Can I Give," and he asked Carter to participate. Carter accepted, and the two began working closely together.
Over the next several months, Carter and Jackson spent a lot of time together and developed a close friendship. Carter even performed "I Want Candy" at Jackson's anniversary celebration that same year. But over the next few years, rumors spread that things were more than platonic between the two. Carter consistently shut down the idea of anything romantic or sexual between them. "We didn't sleep in the same room," Carter said. "We didn't share a bed. We have a normal friendship. There's nothing sexual to it."
Carter claimed Jackson is a 'great guy' but admits he acted inappropriately 'one time'
Carter is a contestant on the next season of Marriage Boot Camp: Reality Stars Family Edition, which has not yet premiered. But People got access to footage of the upcoming show and revealed that Carter said Jackson acted inappropriately toward him once. "Michael was a really good guy, as far as I know, a really good guy," Carter said. "He never did anything that was inappropriate. Except for one time. There was one thing that he did that was a little bit inappropriate," Carter said. He doesn't explain Jackson's actions any further. Right now, it's still unclear what Carter was referring to, but the public is asking him to speak further on what happened.
Check out The Cheat Sheet on Facebook!