Aaron Carter's Fans Say He Looks 'Healthy' Since His Break-Up With Melanie Martin
Aaron Carter and his ex-girlfriend, Melanie Martin, recently went through a nasty split that involved the police being called and Martin going to jail. She was arrested on Sunday, March 29 on a felony domestic violence charge. Since the split, Carter has posted some images of himself out and about and fans are here for it.
Aaron Carter and Melanie Martin break-up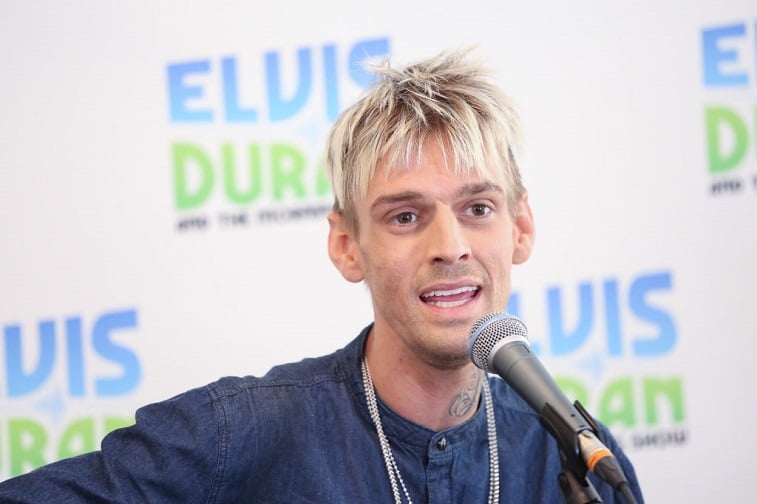 The police were called to Carter's Los Angeles home on March 29. TMZ reports that the situation occurred at about 11 p.m. The L.A. County Sheriff's Department was called after a verbal altercation got physical. Police told the outlet that Carter had marks on his body. Martin was determined to be the aggressor. Carter shared images with TMZ of the marks and he claims that she scratched him. Police confirmed the marks to the outlet. Martin was being held on a $50,000 bond before she posted bail and was subsequently released.
The pair broke up after the situation went down and Carter took to Twitter to comment on the situation. He took the time to share the TMZ story with his fans on his Twitter page. He also added a comment: "So sad, ;( I hope she gets the help she needs. no one deserves domestic abuse female OR MALE #DomesticAbuse #Cheater she literally chocked me out…. I'm devastated."
Carter goes out with his all-terrain vehicle after the split
It's now common knowledge that Carter and Martin are broken up. Carter recently posted an image of himself out and about with his all-terrain vehicle. He looks like he's enjoying the sunshine while practicing social distancing.
Fans seem to be glad that Carter is getting out and trying to do things, within reason during this time, of course. A number of fans commented on the fact that he looks "healthy" and "happy," which they're glad to see.
"Love seeing you happy and healthy 💕 been a fan since the 90s, and I wish you nothing but happiness ❤️," a fan commented on Instagram.
Other fans seem to agree and they love what they're seeing. "You look so good and healthy," someone else said.
"Great pic Aaron I love that you look so healthy and happy," another fan commented.
Someone else commented on Carter's "glow" he seems to have at the time the image was taken. "Such a vibrant glow you're emanating," the fan said.
People seem to like what they're seeing in Carter's latest post. "Back on track I see looks good on you," another fan wrote.
Someone else commented on the fact that Carter looks very chilled and "at peace." "You look like you're at peace ✌️, I'm so glad to see you in your element 😊," someone else commented.
Nature can be calming for a lot of people, especially during this time of social distancing. "Being in nature frees the mind," a fan mentioned.
Aaron Carter is doing just fine since the split with Melanie Martin and fans seem to be giving off a lot of positive vibes.