ABC News Correspondent Amy Robach Caught on Hot Mic Saying ABC Was Pressured to Kill Story on Jeffrey Epstein
Amy Robach of "Good Morning America" and "20/20" unknowingly discussed how outside pressure caused ABC News to squash a controversial story.
Journalist Amy Robach of ABC's 20/20 and Good Morning America is considered a top journalist in the news industry. Now, Robach is the subject of headlines with the recent release of a leaked video, where she reveals her network squashed the story of wealthy pedophile Jeffrey Epstein due to pressure from the British royal family.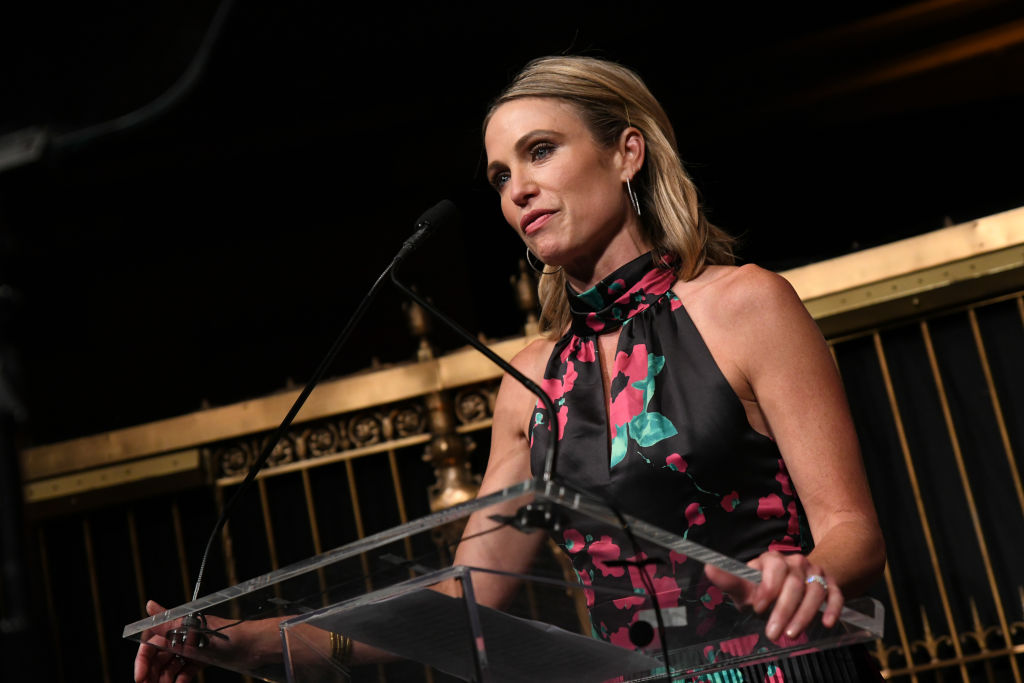 Royal pressure
Yahoo! News reported on Tuesday that the video was released by Project Veritas, describing the group as "a right-wing organization" that tries to orchestrate "sting" operations on media outlets. 
The video shows Robach at the ABC anchor desk apparently speaking to her colleagues off-air. The journalist was clearly frustrated that ABC did not air her 2015 interview with Virginia Giuffre, who claimed she was pushed into a sexual relationship with Epstein when she was a teenager. Giuffre accused other men of abuse, including Prince Andrew, Queen Elizabeth's second son.
"I've had this interview with Virginia [Giuffre]," Robach said in the video. "We would not put it on the air. First of all, I was told, 'Who's Jeffrey Epstein?'… Then the palace found out that we had her whole allegations about Prince Andrew and threatened us a million different ways. We were so afraid we wouldn't be able to interview Kate and Will, so I think that had also quashed the story."
Robach also spoke of evidence involving former President Bill Clinton, who had flown on Epstein's plane. Both Clinton and Prince Andrew have denied Giuffre's accounts. "It was unbelievable what we had," Robach said, according to Yahoo! News. "Clinton — we had everything, I tried for three years to get it on to no avail and now it's all coming out and it's like these new revelations."
In Giuffre's words
This is not the first time the network has been outed for killing the Epstein story. NPR wrote in August that Robach and ABC News' Jim Hill interviewed Giuffre on tape for over an hour regarding Epstein and his abuse. "I really wanted a spotlight shone on him and the others who acted with him and enabled his vile and shameless conduct against young girls and young women," Giuffre wrote in an email to NPR.
Giuffre saw the major network interview as a chance for justice. "I viewed the ABC interview as a potential game-changer," she wrote, according to NPR. "Appearing on ABC with its wide viewership would have been the first time for me to speak out against the government for basically looking the other way and to describe the anger and betrayal victims felt."
NPR went on to report that ABC never aired the story, and Giuffre was not given a reason as to why. "I was defeated, once again, by the very people I spoke out against and once again, my voice was silenced," she told NPR. "I could not believe that a formidable network like ABC had backed down and given in."
Statements from Robach and ABC
According to NPR and Yahoo! News, there were speculations that famed lawyer Alan Dershowitz, who served on Epstein's legal team that prevented him from facing charges in Florida, had something to do with the story being killed. The Harvard law professor emeritus was also accused of abuse by Giuffre, which he vehemently denies.
Dershowitz admitted to NPR that he had spoken to two ABC producers and a lawyer regarding the Giuffre interview. "I did not want to see [Giuffre's] credibility enhanced by ABC," he told NPR.
After the video leaked, Robach and ABC News released statements saying that the interview with Giuffre did not meet editorial standards. "As a journalist, as the Epstein story continued to unfold last summer, I was caught in a private moment of frustration. I was upset that an important interview I had conducted with Virginia [Giuffre] didn't air because we could not obtain sufficient corroborating evidence to meet ABC's editorial standards about her allegations," Robach said, according to Yahoo! News. "My comments about Prince Andrew and her allegation that she had seen Bill Clinton on Epstein's private island were in reference to what Virginia [Giuffre] said in that interview in 2015. I was referencing her allegations — not what ABC News had verified through our reporting."
Robach added that she was never ordered to stop gathering information on the Epstein story. "The interview itself, while I was disappointed it didn't air, didn't meet our standards," she said. "In the years since no one ever told me or the team to stop reporting on Jeffrey Epstein, and we have continued to aggressively pursue this important story."
ABC News released a statement saying that "at the time, not all of our reporting met our standards to air, but we have never stopped investigating the story. Ever since, we've had a team on this investigation and substantial resources dedicated to it. That work has led to a two-hour documentary and six-part podcast that will air in the new year."
With the recent publication of Ronan Farrow's book "Catch and Kill" which documents NBC's alleged squashing of the Harvey Weinstein scandal story, this most recent discovery on a network's debatable editorial decisions may cause viewers to further question today's network news process.