ABC's Sam Champion Officiated the Wedding of This Former 'Good Morning America' Co-Host
Meteorologist Sam Champion of ABC was asked by a former "Good Morning America" colleague to serve in this special role on their wedding day.
This year, meteorologist Sam Champion returned to ABC full-time after his stint at the Weather Channel. Champion was a valued member of the Good Morning America team at the time of his departure in 2013, having built a genuine chemistry and camaraderie with fellow co-hosts Robin Roberts, George Stephanopoulos, Josh Elliott, and Lara Spencer.
Champion's friendships with his GMA colleagues continued after his exit, where he was asked to serve in a very special role for one of his previous co-workers.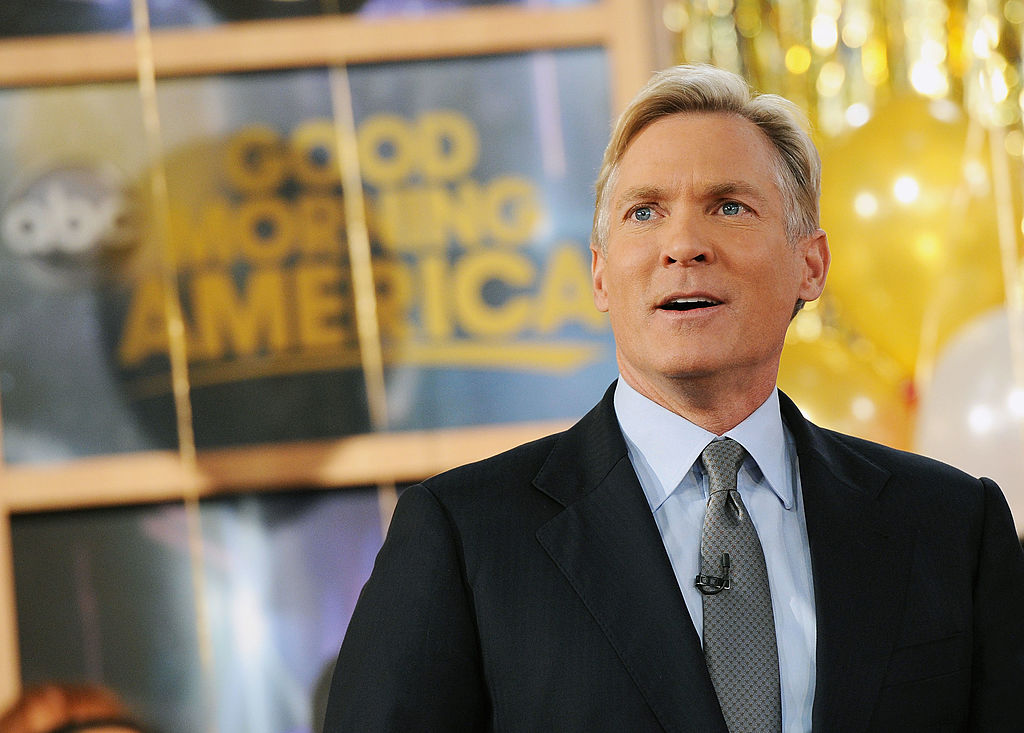 Left on a ratings surge
According to Deadline, Champion left Good Morning America shortly after a huge victory for the morning program when it shot to number one in 2012. Though he was excited about his new venture as managing editor at the Weather Channel, saying goodbye to his GMA team was tough.
Co-hosts Roberts, Stephanopoulos, Elliott, and Spencer gave him a warm, memory-filled sendoff on his last day, including presenting him with a weather-themed cake. "You are a Renaissance man," Roberts told Champion, according to USA Today. "You encompass all that is good and right in this world and you show it each and every day when you show up here."
Champion had formed a particularly close bond with Elliott, where the two were sometimes teased about their on-air 'bromance'. "I just want to say thank you because it's been a gift each and every day to work with you, Sam," Elliott said, tearing up. "A lot of people talk about our bromance. For me it was just a friendship. I promise there's happy on the inside, but the tears… aw, I'm going to miss you… I love you, Sam."
After the two hugged, Champion needed a moment. "This is a lot harder than I thought it would be," he admitted. "Let's just go to break."
Another departure
Despite Elliott's success on GMA, he chose to pursue an opportunity with NBC Sports shortly after Champion's exit. At the time, Champion offered his congratulations and support to his former colleague.
"He's a great guy and a very good friend, and what folks need to understand is just like The Weather Channel was an incredible opportunity for my heart, NBC Sports is a great opportunity for Josh's heart," Champion said in 2014, according to The Wrap. "It puts him right in the middle of the sports world and that is what he loves. In every major sporting event all over the world from World Cup to the Olympics to everything and this is a happy, happy time for Josh."
Champion also acknowledged that loyal viewers of GMA would miss seeing Elliott each morning. "I know that fans of GMA are not loving it," the weatherman added. "But it's a happy day for Josh. And folks, we'll follow him no matter where he goes."
Special day, special role
In July 2015, Elliot wed WABC-TV news anchor Liz Cho in Montecito, California surrounded by 70 of their closest friends and family. Not only was Champion invited, but Elliott asked him to officiate the ceremony. "It's going to be a great beautiful weekend in a great beautiful place that means everything to us, with people that are just the fabric of our lives," Elliott told People prior to the wedding.
Elliott had tragically lost his mother just three weeks before the event due to septic shock. He honored her memory with "an empty chair at the ceremony and at the reception to make sure that she's with us throughout," he shared. "She'll be missed but in the best ways, she'll be there."
The former GMA co-host had doubts about proceeding with his wedding plans after the tragic passing of his mom, but then saw the event as an opportunity to savor life. "At first we were really overwhelmed by the whole notion of the wedding," Elliott said, adding that he gained perspective on what truly mattered. "You don't really care about what flavor taco to have at the rehearsal dinner… we realized it's a great chance to cherish time with friends and family."
Elliott's daughter Sarina, 6, and Cho's daughter, Louisa, 8, both from their first marriages, served as maids of honor in the ceremony, making the nuptials a true family affair.