Actors Who Have Died of an Overdose
Actors really influence us through the work that they do. So when they die, it can hit the public very hard. Sadly we have a lot of our favorites die due to drug overdose. Many of those actors started out as child stars and had their lives cut short. But there are more that have come to fame at a later time in their lives. Here are 10 actors who have died tragically of an overdose.
1. Philip Seymour Hoffman (1967–2014)
The actor was undoubtedly talented. He was nominated for an Academy Award for his work in The Master, Doubt, and Charlie Wilson's War. He finally won by portraying the famous author in Capote in 2005. He was not only in critically acclaimed movies. He was also still making blockbusters like The Hunger Games saga before he died. His last picture happened to be the last installment of the franchise. That's why when news of his death came out, many fans were shocked and heartbroken.
Hoffman died of an accidental overdose of heroin, cocaine, benzodiazepines, and amphetamine according to New York's Office of Chief Medical Examiner. Mixing heroin and cocaine is known as "speed-balling" and can be deadly. His body was found on February 2 in his bathroom of his New York apartment with a syringe still in his forearm, according to Los Angeles Times. There were also 70 bags of heroin and 20 syringes found in his apartment, according to Daily Mail.
The actor had a history of struggling with addiction. Less than a year before his death he went to rehab after relapsing. He was previously clean for 23 years. He reportedly went back to using at an after party in 2012 for his movie, The Master. 
2. Cory Monteith (1982–2013)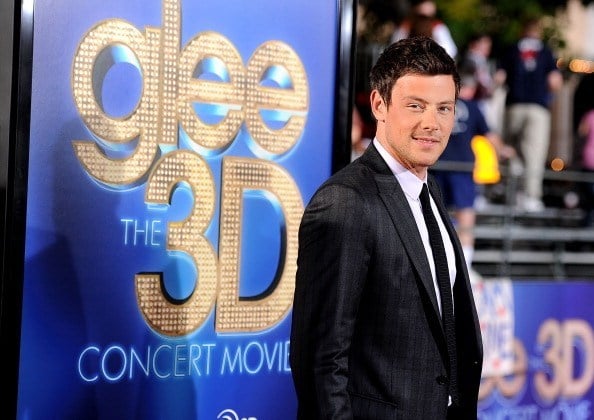 The majority of the young actor's work was on television. He played Charlie Tanner on Kyle XY and Gunnar in Kaya. But he wasn't a household name until he made it on Glee. There he was Finn Hudson, a cute football player who seemed too cool to join the Glee club until many people started joining. One of the main story lines of the show was his romance with drama nerd Rachel Berry (played by Lea Michele). The show was a huge hit with a big following so it was surprising to the world when Monteith's death was announced.
The actor was found dead in a hotel room in British Colombia, Vancouver on July 13. According to coroners his death was caused by a mix of heroin and alcohol at the young age of 31, according to CNN. Investigators found a spoon, drug residue, a hypodermic needle, and two empty champagne bottles at the scene, according to Celebuzz. The death was ruled as an accident.
Monteith voluntarily checked himself into rehab two months before his death for substance addiction. He also went to rehab when he was 19, so he had been struggling for years.  His death broke many hearts including that of Lea Michele, his costar and real life girlfriend. The show did kill off his character and gave him a memorial.
"I feel like, for me personally, I lost two people: Cory and Finn," Lea Michele told TV Week. "We had a beautiful memorial for Cory in the auditorium and some of the cast members sang; people spoke about him. It only felt right that we would do the same thing for Finn, so I felt it was very therapeutic."
3. Judy Garland (1922–1969)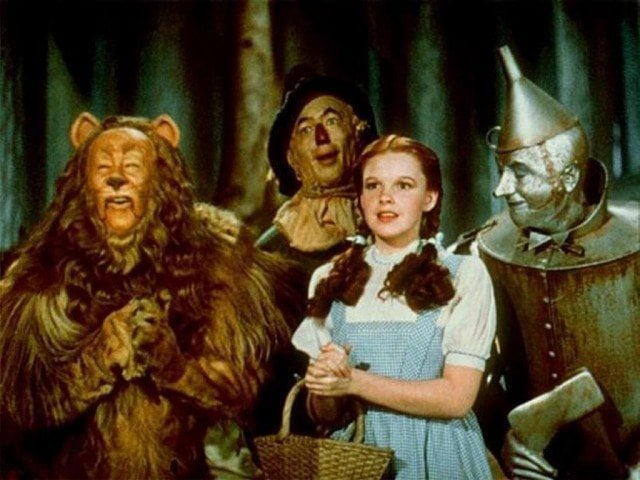 Most known for her role as Dorothy in The Wizard of Oz, the legend had a very interesting career. She was able to pull at heart strings as she acted, danced, and sang. Her work was nominated for an Oscar in A Star is Born and Judgment at Nuremberg. However she only ended up winning the "Juvenile Award" in 1940 for her work that year.
Although Judy was usually cute on screen, her real life was a different story. The sweetheart died in June 22 from an overdose in her London hotel. She was found by her fifth husband, Mickey Deans. At that point the actress was 47 and her husband was trying to revive her career that had been over for some time. The medical examiner also found her to be malnourished and dehydrated, according to Examiner.
After being a child star, the actress lived fast. When she had a contract with MGM she was given "pep pills" to suppress her appetite and keep up her energy, according to Biography. This was because the studio wanted her to lose weight. This along with the stress of fame may have started her addiction.
She might not have been at the height of her career, but the actress was definitely not forgotten. At her funeral more than 22,000 came to mourn her and a big percentage of that were gay men. The legend is undoubtedly a gay icon and some have tied the rainbow flag to The Wizard of Oz's "Over the Rainbow."
4. Heath Ledger (1979–2008)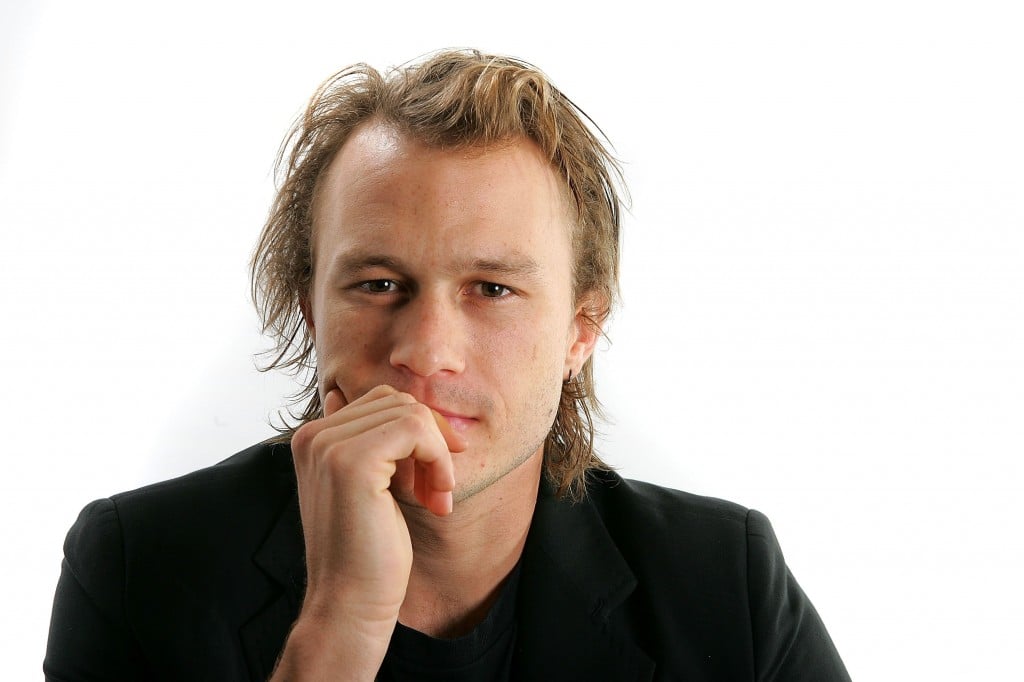 The handsome and talented actor has a pretty diverse filmography. He was in romantic comedies like 10 Things I Hate About You, critically acclaimed movies like Brokeback Mountain, and blockbusters like The Dark Knight. He didn't corner himself and therefore showed his talent and range. Sadly at the height of his career he died from an overdose.
On January 22 the actor died in his apartment in New York. His death was also ruled as an accident and was an overdose from prescription medications, pain killers, anti-anxiety drugs, and sleeping pills according to CNN. A masseuse arrived at the apartment to give him a massage. When he was unresponsive she called his friend Mary-Kate Olsen who told her she would call private security people in New York. The masseuse then called the police.
The actor had a daughter with actress Michelle Williams who he was previously engaged to. "My heart is broken," Williams said in a statement. "I am the mother of the most tender-hearted, high-spirited, beautiful little girl who is the spitting image of her father. All that I can cling to is his presence inside her that reveals itself every day. His family and I watch Matilda as she whispers to trees, hugs animals, and takes steps two at a time, and we know that he is with us still. She will be brought up in the best memories of him."
Sadly the actor won his first Oscar after he died for his portrayal of The Joker in The Dark Knight. The award was accepted by his father, mother, and sister.
5. Marilyn Monroe (1926–1962)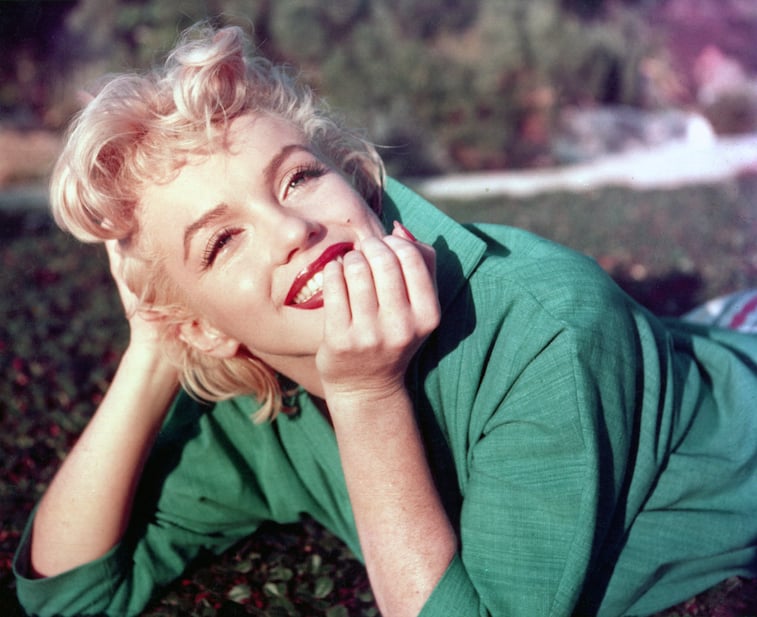 She is cemented as an icon, and she had some fun comedies under her belt. The blonde was in Some Like It Hot, The Seven Year Itch, and Gentlemen Prefer Blondes. She never was nominated for an Academy Award, but she has proven that actors can certainly be a huge part of movie history without one.
The actress died August 5 in her Los Angeles home naked in her bed with a telephone in her hand. Investigators found bottles of prescription pills for her depression empty around her room, according to History. The cause of death was ruled an overdose and probable suicide. The actress wasn't happy during the months leading up to her death.
She was being treated for her depression by a psychiatrist. She was reportedly a recluse in the last months of her life, and her maid was the one who found her body. There have been a lot of conspiracy theories surrounding her death due to the interesting life of the actress, including the fact that she had a notorious affair with President John F. Kennedy.
The actress didn't have any children and wasn't married at the time of her death. She divorced playwright Arthur Miller in 1961. She was previously married to New York Yankee Joe DiMaggio and James Dougherty. All of her personal effects went to her acting teacher, Lee Strasberg. Although she was still working at the time of her death, her funeral was an intimate affair with 31 attendees according to Los Angeles Times. Joe DiMaggio was one of them, and he reportedly sent a bouquet of roses to her grave three times a week.
6. Chris Farley (1964–1997)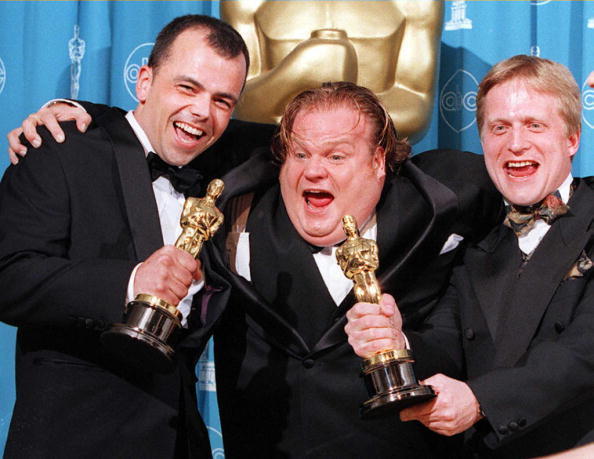 The comedian was a cast member on Saturday Night Live for six years. He also branched out into movies with fellow comedians in Beverly Hills Ninja, Wayne's World, and Coneheads. People loved him for being able to do impressive physical comedy despite his weight. He also had some memorable characters. So that made it all the more heartbreaking when he died.
The actor died of an accidental overdose from cocaine and morphine on December 18, according to CNN. He was found in his Chicago apartment after a four-day binge according to Entertainment Weekly. During his last two years he was struggling to get clean by going into rehab 17 times.
He reportedly tried to change multiple times by going cold-turkey, trying drug purges, and even went to "fat farms." The actor was close to 300 pounds, and although it was a big part of his act as a comedian, he reportedly was uncomfortable with not knowing whether people were laughing at him or with him. Part of what might have added fuel on the fire was his exit from Saturday Night Live.
"Where we saw Chris really start to have problems is when, all of a sudden, he leaves the team atmosphere of SNL and he's now on his own," Derik Murray explained in the documentary, I Am Chris Farley. "He's the superstar, and every director and studio wants to put him in their next movie, millions of dollars are coming at him and it's all about him, and that was a pressure that was very difficult for him to contend with."
7. Whitney Houston (1963–2012)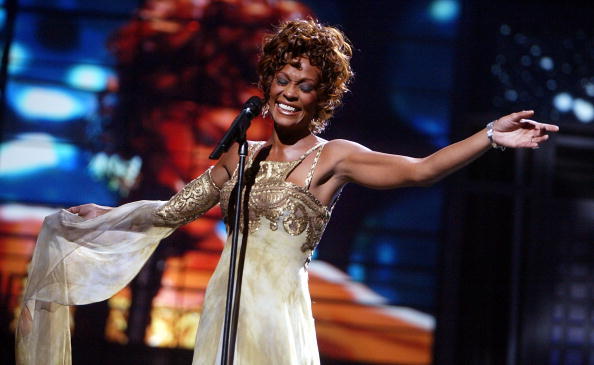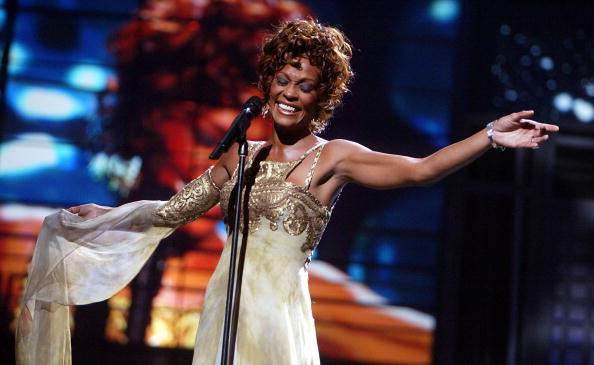 She is more known for her impeccable vocals, but she also has some good acting credits on her resume. Her take on "I Will Always Love You" for The Bodyguard became one of her biggest hits. She was also in The Preacher's Wife, Waiting to Exhale, and Sparkle. The talented woman, however, had a long struggle with addiction.
Technically the actress died from drowning in the bathtub of her Beverly Hills hotel room. However, she had traces of marijuana, Xanax, a muscle relaxer called Flexeril, and Benadryl in her system according to the L.A. County Coroner. Due to this she possibly had a heart attack then lost consciousness and drowned. The actress and singer had a long struggle with addiction that affected her career.
Before, she was America's sweetheart, but somewhere along the way her addiction took over her life. In 2000 she got a misdemeanor possession charge for having marijuana on her at the Hawaii airport. In 2002 she had an interview with Diane Sawyer where her addiction was brought up. There she denied doing one certain drug, "First of all, let's get one thing straight. Crack is cheap. I make too much money to ever smoke crack. Let's get that straight. OK? We don't do crack. We don't do that. Crack is whack." In 2004 she went to rehab for a week, and from there her addiction became more apparent and more public.
Near the end of her career she was trying to make a comeback by touring. However, fans began criticizing her saying her voice was croaky and she seemed disoriented, according to International Business Times. Sadly the tragedy didn't end with her death. Her daughter with Bobby Brown also died in 2015 after being found unresponsive in her bathtub.
8. Lisa Robin Kelly (1970–2013)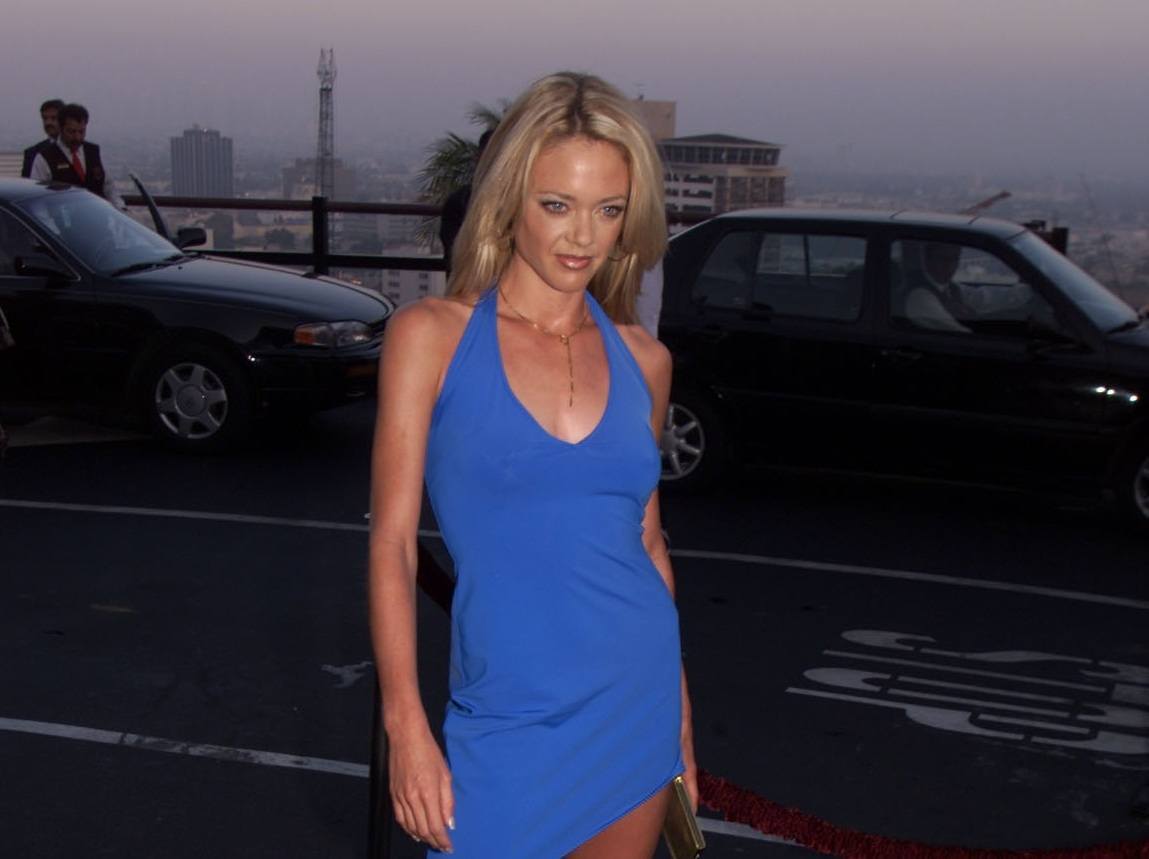 You know her as the cool older sister Laurie Forman on That '70s Show. Laurie was often manipulative and made fun of Eric. Their father also spoiled her because she was his only daughter, but it balanced out with their mother favoring Eric. Laurie also would hook up with different men including Kelso played by Ashton Kutcher. The actress was let go from the show in the fifth season. Later on, her death would shock many.
The actress died from an accidental overdose in her sleep in the rehab center, Pax House LLC. After being found she was admitted into a hospital where her blood/alcohol reading came to .34, according to Daily Mail. She was struggling with her addiction for quite some time. She was arrested four times throughout the last four years of her life due to driving under the influence, spousal abuse, and assault.
Her family filed a lawsuit against the rehab center claiming "negligence resulting in wrongful death." The lawsuit also alleges the facility is "negligent in the hiring, retention, training, and supervision of their agents, employees, servants, and/or independent contractors whom they assigned to care for patients." The case is still ongoing.
The actress did open up about her addiction through an appearance on Good Morning America. "I had lost a baby, as a result of that, I lost everything," she said. "And I was abusing alcohol, which I no longer do. With the 70s show, I was guilty — of the drinking problem — and I ran. And I am not running from this. And I have paid my dues."
9. John Belushi (1949–1982)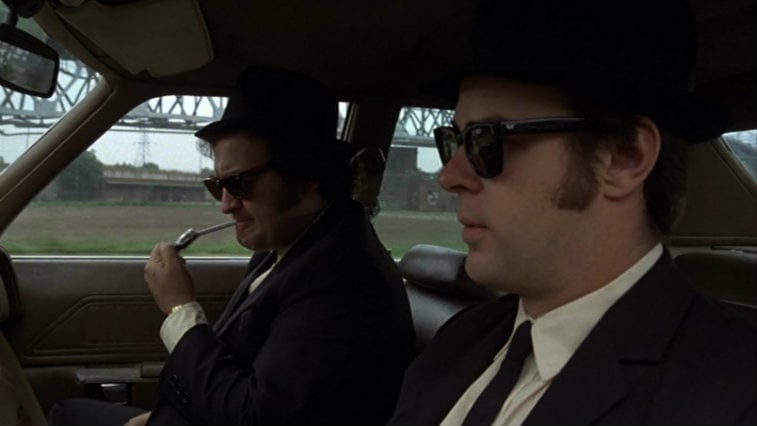 He also was on Saturday Night Live from 1975 to 1979. Then he left to pursue a movie career and did not disappoint. The actor was notably in The Blues Brothers and Animal House. John Belushi was known for being very energetic and would play belligerent characters at times. Sadly his movie career ended way too early due to an overdose.
The comedian was hanging out with Cathy Smith and Nelson Lyon at Chateau Marmont and reportedly ingesting liquor and cocaine according to Los Angeles Times. Lyon testified in grand jury proceedings that he heard Smith say to Belushi, "I have a big surprise for you. Roll up your sleeves." She then injected him with what was apparently cocaine. Lyon also claims she injected both of them four more times that day. After that night of partying, Belushi was found dead the next morning.
"I put him to bed," Smith allegedly told Lyon over the phone the next morning, "went in the living room to write a letter … He was breathing funny and I heard these noises." She later continued, "I didn't think anything was wrong … If he was in trouble I would have known what to do. But I didn't think he was in any trouble. (So) I got in the car and I did some business and I came back and it was, you know, the place was — it was 'Dragnet.'"
This changed the death from being ruled an accidental overdose to a first degree murder charge. Smith was extradited from her home in Toronto to the United States and was eventually sentenced to prison for three years for manslaughter, according to Los Angeles Times.
10. Elvis Presley (1935–1977)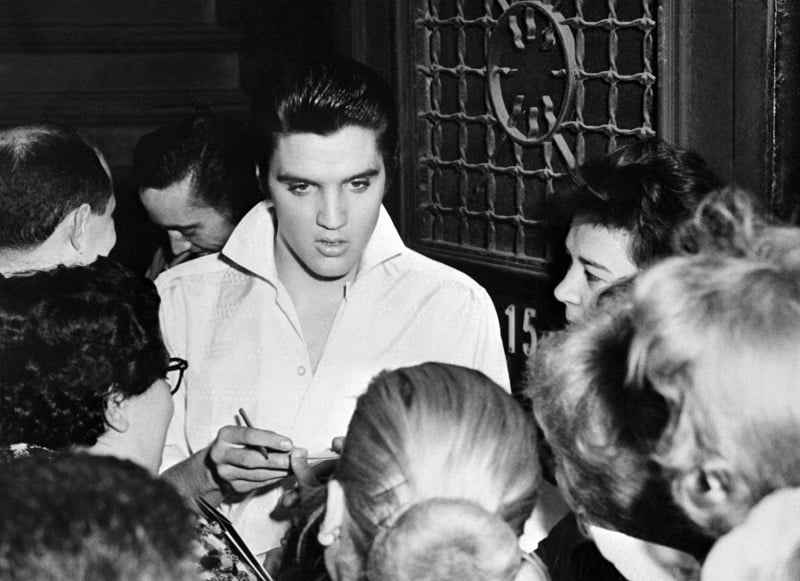 The King of Rock and Roll was not only an icon on the music scene. But he also danced and sang in movies including Love Me Tender, Blue Hawaii, and more. His good looks, voice, and risky (for the time) dance moves made him the bad boy that everyone loved. However the icon also had a tragic end.
On August 16 the pop star dropped in his bathroom in his Graceland mansion. After three days the coroner announced the musician died of "hypertensive cardiovascular disease with atherosclerotic heart disease" according to The Huffington Post, but this wasn't the full truth. Two people told responding paramedics that he possibly overdosed according to a paramedic in Elvis Presley: A Southern Life.
He was then sent away in an ambulance to Baptist Memorial Hospital, which was farther than an emergency room blocks away in order to cover up the overdose. Presley had prescriptions for at least 8,805 "pills, tablets, vials, and injectables" according to the book. The morning he died he had his bodyguard pick up his prescription for six doses of Dilaudid. He gave it to Presley who took it in front of him.
In order to further cover up what happened the medical examiner told the press "a conclusion that [the team of doctors] had not reached." However Dr. George Nichopoulos who wrote prescriptions for the dead icon was later found guilty for over prescription by The Medical Board Tribunal. He was suspended for three months and was given three-year probation, according to The Guardian.