The Actors That Need to be Cast in the Eventual Trump-Russia TV Series or Movie
No matter how things shake out with Robert Mueller and the FBI's investigation into the Trump campaign and Russian collusion, there has to be a movie about all of this someday. If not a movie, maybe a TV series. But seriously, somebody call Martin Scorsese or Oliver Stone.
With the knowledge that such a film is almost inevitable, we turn the attention toward casting one of the most intriguing true stories of all time. Who would play Donald Trump? What about Sean Spicer, Melania Trump, and Kellyanne Conway? Let's take a look at who could be vying for those starring roles, with the only caveat being that we don't include actors that have previously parodied the character.
1. Ivanka Trump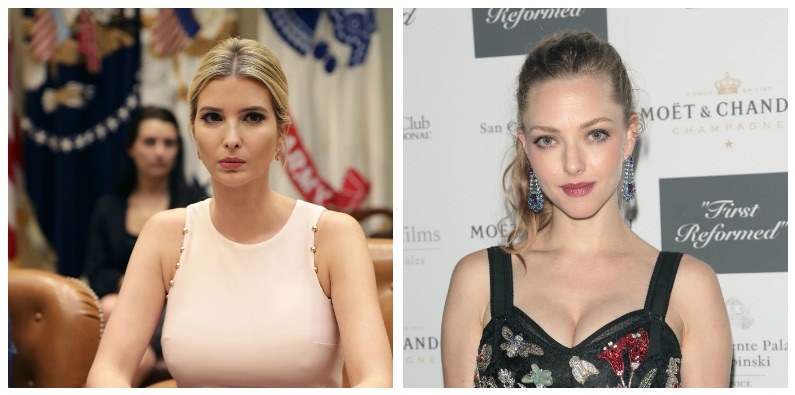 Ivanka Trump is President Trump's daughter and one of his key advisers. In addition to selling clothes around the world, Ivanka has also tried her hand at foreign relations since her father took office.
Amanda Seyfried has the look to play Ivanka, and her well-remembered role in Mean Girls is a notch in her favor as well. More recently, Seyfried is known for Les Miserables and a recurring role on Twin Peaks.
Next: Who would play Jared Kushner?
2. Jared Kushner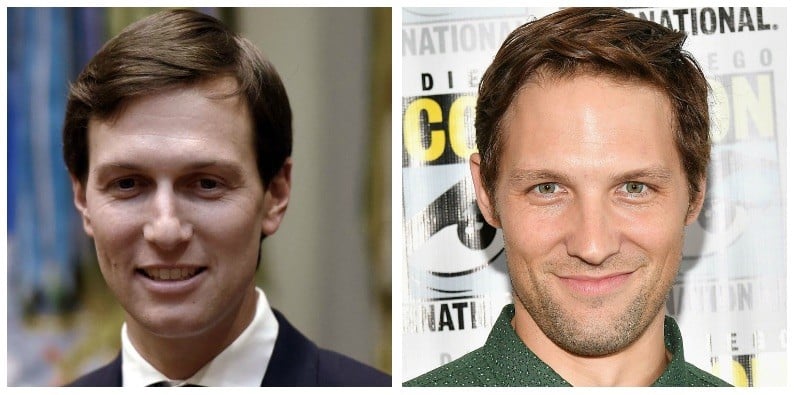 Pairing up with Seyfried to play Ivanka's husband, Jared Kushner, should be Michael Cassidy. He's not a household name as of yet, although fans of TBS comedy People of Earth will know him as Jonathan Walsh.
However, Cassidy's most prominent role has to be as Dylan West in the 2006 Tim Allen hero-comedy, Zoom. While Cassidy is a good actor, he fits right alongside Seyfried in the big-but-not-too-big category of movie stars. Not to mention, he kind of looks like Kushner.
Next: Our choice for Sarah Huckabee Sanders
3. Sarah Huckabee Sanders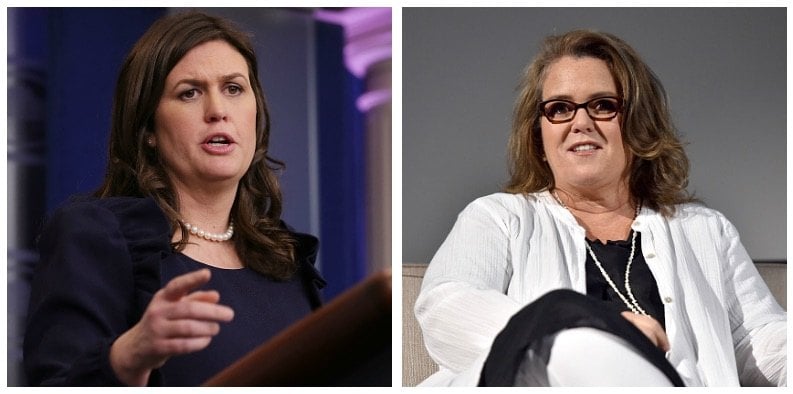 If anything, this would be fun just because it would really stick in Trump's craw. Casting long-time Trump foe, Rosie O'Donnell, as White House Press Secretary Sarah Huckabee Sanders just seems too perfect.
The only issue here is the age difference, with O'Donnell coming in at over 20 years older than Sanders. We can suspend a little disbelief, right? If O'Donnell truly isn't a fit, however, maybe Amy Schumer with some freshly dyed hair.
Next: Here's a good option to play Paul Manafort.
4. Paul Manafort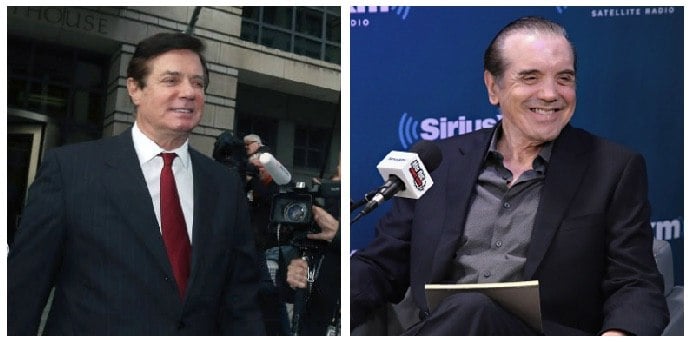 Known for his raspy voice and roles in '90s hits, such as The Usual Suspects and A Bronx Tale, Chazz Palminteri is the perfect pick to play former lobbyist and Trump campaign manager Paul Manafort. The two are around the same age and have both have a tan complexion with black hair, so Palminteri knocks the Manafort look out of the park.
He's also an accomplished actor, of course, so there's that. Manafort would be a smaller part in the movie, and Palminteri wouldn't overshadow any of the bigger roles.
Next: This star may be the perfect choice to portray Michael Flynn.
5. Michael Flynn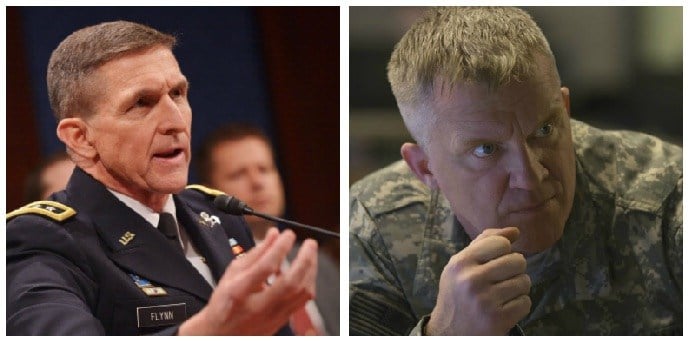 Casting Anthony Michael Hall as General Michael Flynn is easy because the former Sixteen Candles star has essentially already played him. Hall's role as Greg Pulver in 2017's War Machine was based on Flynn and required the actor to pack on 20 pounds and really dive into the psyche.
Robert Mueller's key witness would play a semi-regular part in the movie, at least in the beginning. Hall would likely need to be aged slightly, and he doesn't truly look like Flynn at all. But if you've seen War Machine, you know he can pull it off.
Next: The actor who could pull off Anthony Scaramuuci
6. Anthony Scaramucci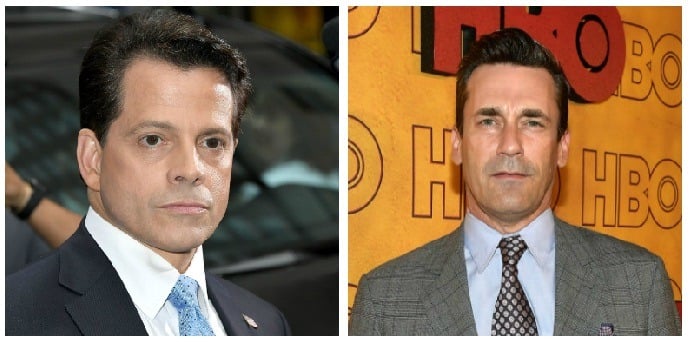 In the big, Trump-Russia movie, Anthony Scaramucci would be nothing more than a cameo role. The former White House Communications Director held his role in the Trump administration for just a few weeks, and then he essentially rode off into the sunset.
So why not bring in Mad Men star Jon Hamm to take on the cameo? Sure, Hamm could be a little distracting from the main plot, but there's probably not another actor in Hollywood that's more suited for the job. Unless we're counting the '80s guy from Futurama, and we're not because he's just a cartoon.
Next: Will this actor finally get his wish to play Stephen Miller?
7. Stephen Miller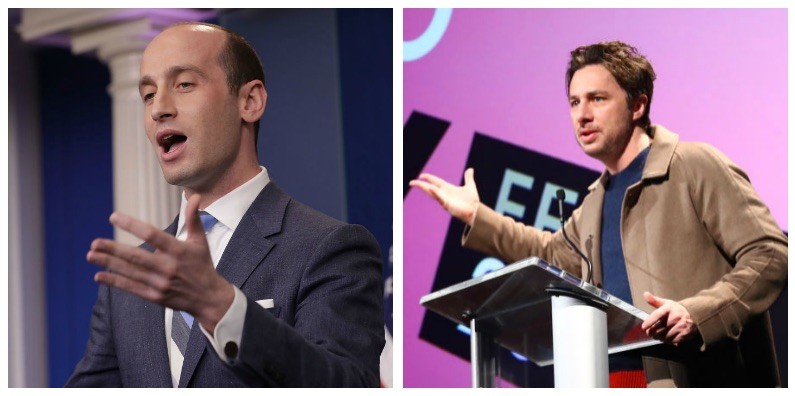 White House aide Stephen Miller and fan-favorite of KKK leader, David Duke, once argued that the poem about huddled masses yearning to breathe free on the Statue of Liberty isn't actually a part of the statue. This, from a third generation Jewish-American.
At any rate, actor Zack Braff of Scrubs fame has lobbied unsuccessfully to play Miller on Saturday Night Live, and the fit is solid. Since Braff hasn't technically played Miller in a parody as of yet, that's who we're going with.
Next: This guy could play Steve Bannon.
8. Steve Bannon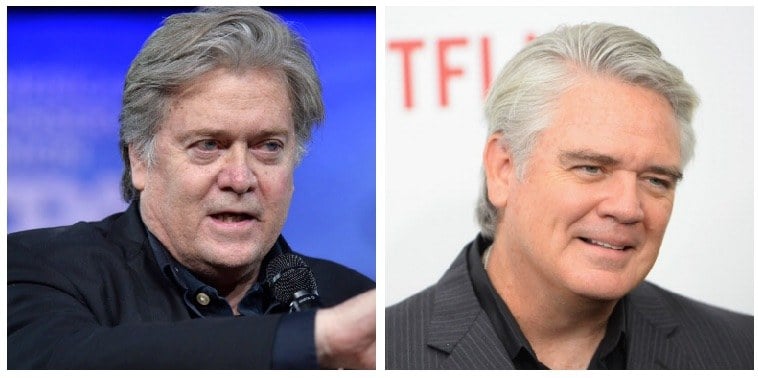 It's not hard to find someone to play former White House chief strategist Steve Bannon. Not only did Trump fire Bannon, but he also claimed that the alt-right nationalist had lost his mind.
Actor Michael Harney seems like he's probably a great guy, but he certainly pulls off the "gray haired, disheveled, alcoholic with a few loose screws" very well. For evidence, look no further than his roles in Jenji Kohan's series' Weeds and Orange in the New Black. If Harney downed a 24-pack of beer and stayed up for 48 straight hours, he'd be a dead-ringer for Bannon.
Next: A dead ringer for Bernie Sanders
9. Bernie Sanders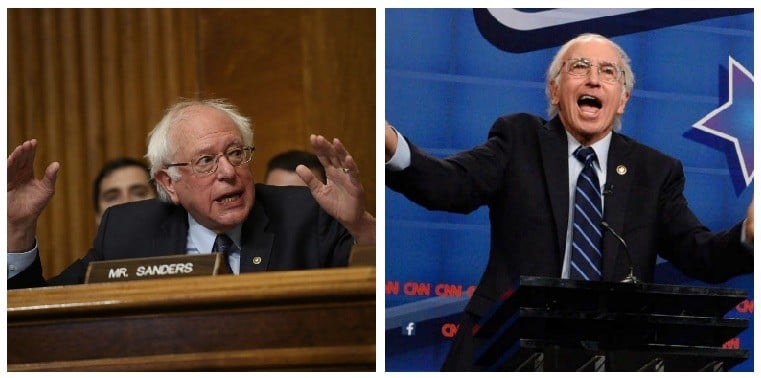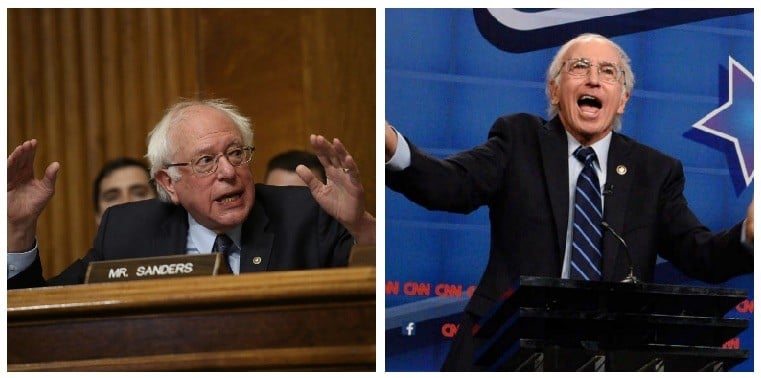 This Trump-Russia drama would need more than just the Jon Hamm cameo, and in fact could use a little comedy infused into it. Senator and former Democratic presidential candidate, Bernie Sanders, would certainly have to make a quick cameo, and there's universal agreement that the only actor suited to play the cranky octogenarian is Curb Your Enthusiasm's Larry David.
Our rules specifically state no parody actors, but we're willing to let it slide here. The two even recently found out they're distant relatives!
Next: Who would play the crucial role of Melania Trump?
10. Melania Trump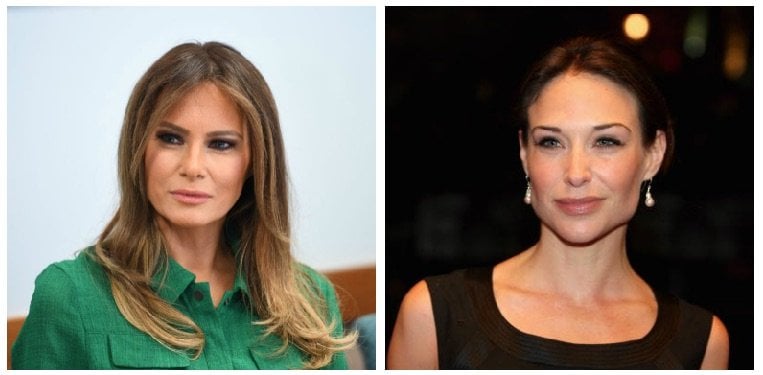 Melania is an important person to cast in the Trump-Russia movie. The actress has to have the look and the acting chops to pull it off, but also not overshadow the biggest stars of the movie.
For that reason, we're going with NCIS: Los Angeles' Claire Forlani. She's also known from her role opposite Brad Pitt in Meet Joe Black and the Kevin Smith cult-classic Mallrats. Forlani is just about a year older than Melania and certainly looks enough like her to make it work.
Next: Who could be a good match for the role of Sean Spicer?
11. Sean Spicer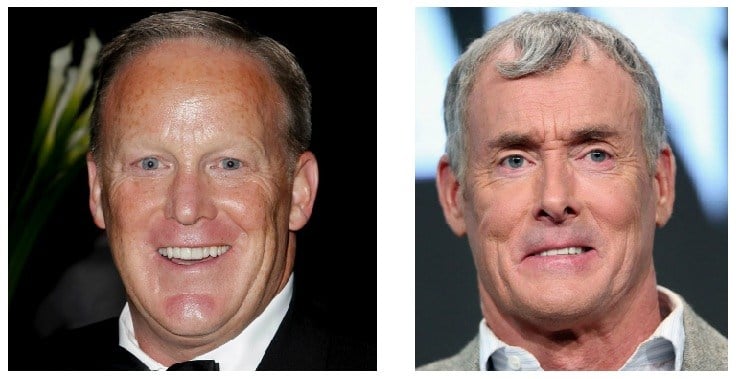 Another Scrubs alum to make the list is John C. McGinley, playing the role of Sarah Huckabee Sanders' Press Secretary predecessor Sean Spicer. Known for his brief stay in the role and the time he hid behind a shrub to keep the press from noticing him, Spicer is another small role fit for a quality character-actor like McGinley.
If you're unfamiliar with his role of Dr. Cox on Scrubs, you may remember McGinley as one of the Bobs in Office Space.
Next: Our choice for Jeff Sessions
12. Jeff Sessions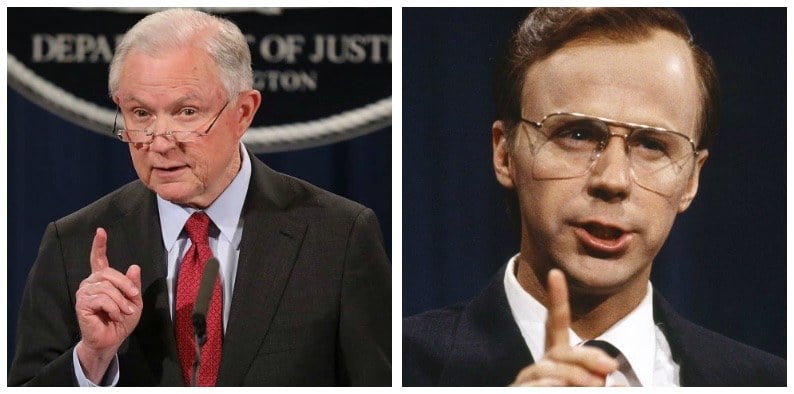 Can we cast the Keebler Elf in a movie? It's unfortunate that actor Henry Gibson passed away in 2009, because he was both accomplished enough and looked enough like Jeff Sessions to do the job. Comedian and actor Dana Carvey doesn't look much like Sessions on his own, but check back on his early-90s impressions of Ross Perot on SNL. We're thinking Carvey could nail it in the role of Trump's Attorney General and America's most prominent Confederate sympathizer.
Next: Here's who could play Paul Ryan.
13. Paul Ryan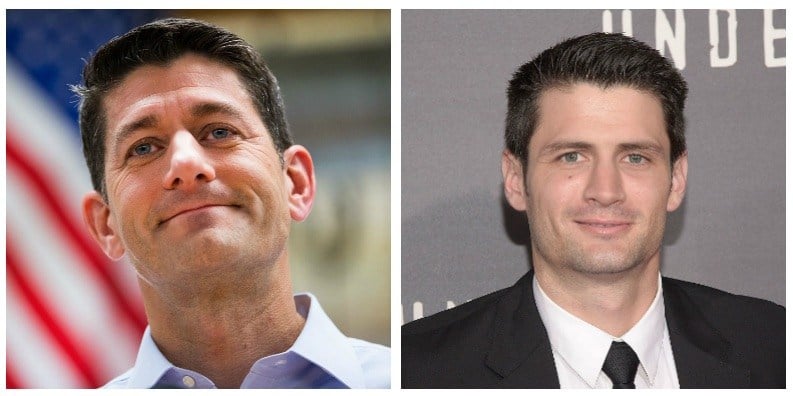 It would be hard to do a movie about Donald Trump without at least an appearance by Republican Speaker of the House, Paul Ryan. That goes double for if the Russia investigation eventually takes us down the path of an impeachment vote.
Ryan has, at times, been both Trump's biggest cheerleader and most ardent adversary, depending on which favors his political agenda the most on a given day. As for this role, One Tree Hill's Jason Lafferty fits nicely.
Next: Who will portray Mike Pence?
14. Mike Pence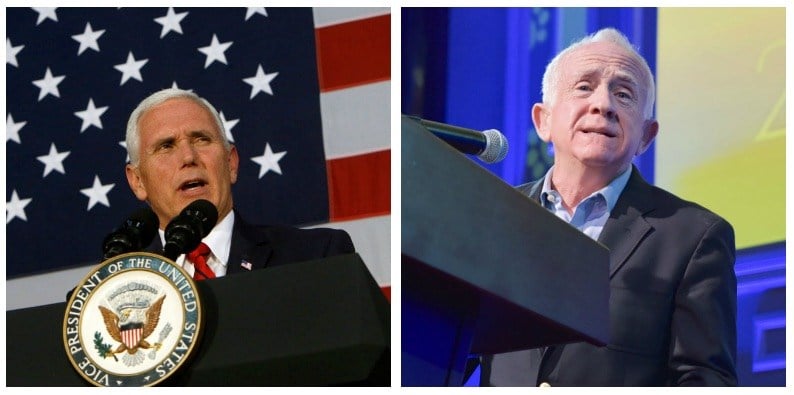 Vice President Mike Pence would have to be one of the larger roles in the film, which is why an accomplished character-actor would need to be cast. It's unfortunate that Hank Hill's father, Cotton Hill, from King of the Hill, is just a cartoon, because he and Pence are otherwise separated at birth.
Leslie Jordan may not be a household name, but he can pull off the look of Pence while his diminutive height would give the proper allusion against a taller Trump actor. Add in the fact that Jordan is openly gay, while Pence is often criticized for his anti-gay stances, and it's hard to find a better pick for the vice president.
Next: Eric Trump.
15. Eric Trump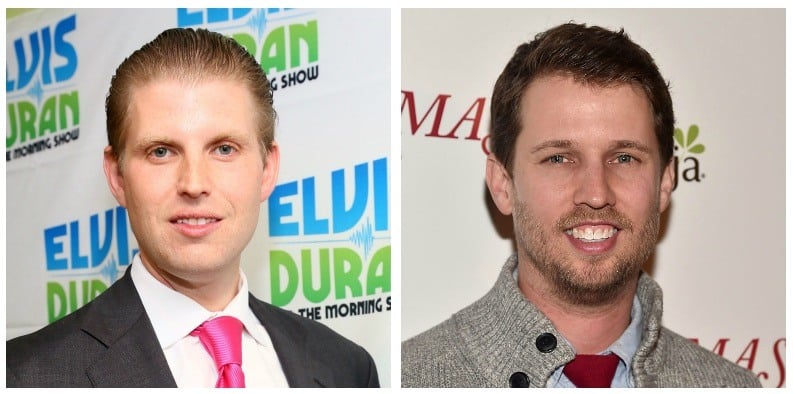 President Trump's middle son, Eric, would probably be frequently seen but not often heard throughout the movie, so for this role we need an actor that pulls off the visage in a really big way. Look no further than Napolean Dynamite lead actor Jon Heder.
When you see Heder here without the orange, curly afro, and his thick glasses, and you can understand why he is such an excellent pick for Eric Trump. Heder is actually around eight years older, but his youthful looks cover it up easily.
Next: This actor would make a great Donald Trump Jr.
16. Donald Trump Jr.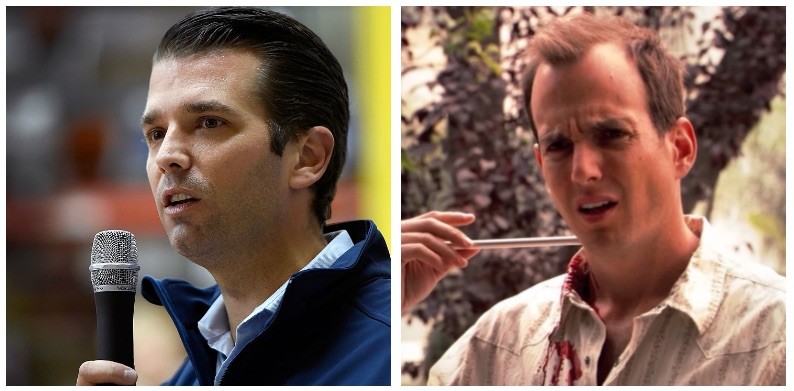 The oldest Trump son, Donald Trump Jr., has to be played by none other than Will Arnett. This casting would be an excellent inside joke for fans of Arrested Development, the Fox/Netflix series about a real estate mogul's and his family who are actually loosely based on the Trumps.
Arnett appears in the series as the oldest son, Gob Bluth, and carrying that over into a movie about the Trump-Russia investigation would be a no-brainer.
Next: This actress would be a great pick to play Kellyanne Conway.
17. Kellyanne Conway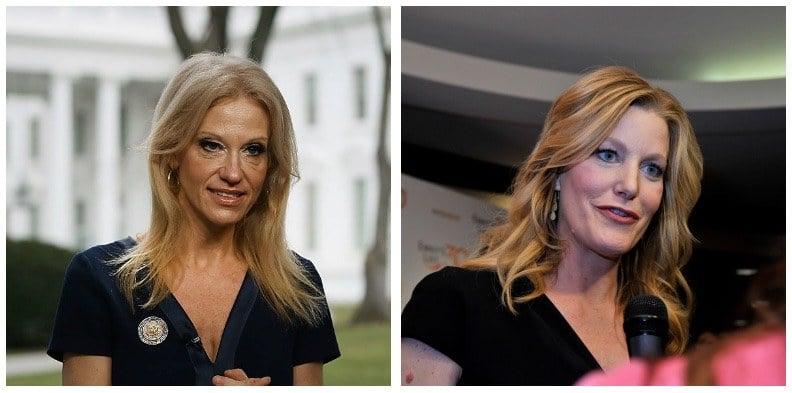 Kellyane Conway would easily be one of the most unlikable characters in the movie, and Breaking Bad's Anna Gunn has a ton of experience playing a character that the audience found easy to hate. Gunn's Skyler White was along for the ride with her husband Walter, eventually becoming involved in his criminal schemes.
Gunn isn't exactly Conway's doppelgänger, but she is an excellent actress and would could easily pull off the role as one of Trump's key counselors.
Next: The actress who would make the ideal Hillary Clinton
18. Hillary Clinton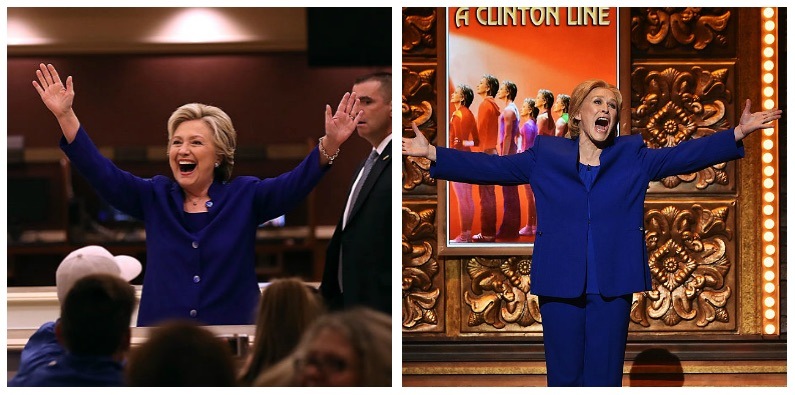 How could there be a Trump movie without an appearance or two by Hillary Clinton? For better or worse, these two American politicians are forever connected at the hip in the annuls of history.
The first major party female presidential candidate could be played by Glenn Close, a criminally underrated actress with a whole lot of movie credits to her name, who spoofed Clinton at the 2016 Tony Awards That includes Fatal Attraction, The Natural, and Sarah, Plain and Tall. She even has experience playing the first lady of the United States, in Mars Attacks!
Next: An option for Robert Mueller
19. Robert Mueller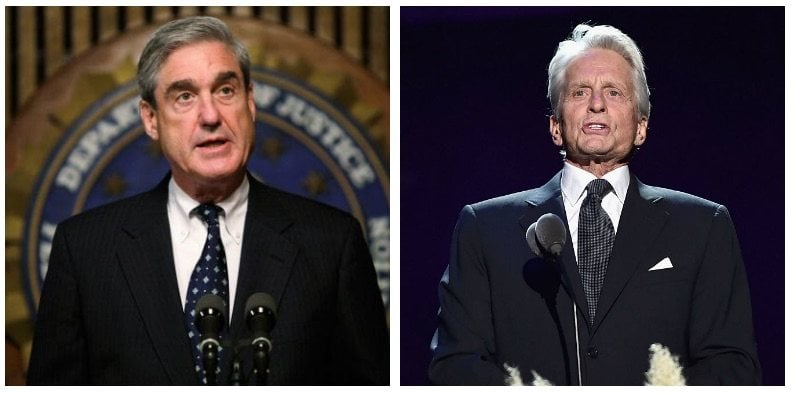 For the FBI lead investigator, Michael Douglas fits like a glove. There are probably actors that look more like Mueller who could be cast, but outside of the president this would be the biggest and most important role in the movie.
With Mueller you have to think big, and Douglas certainly fits the bill. His credits include Wall Street, Fatal Attraction, and Basic Instinct. Another Hollywood legend that could possibly take on this role would be Robert Redford.
Next: This actor would nail a portrayal of Donald Trump.
20. Donald Trump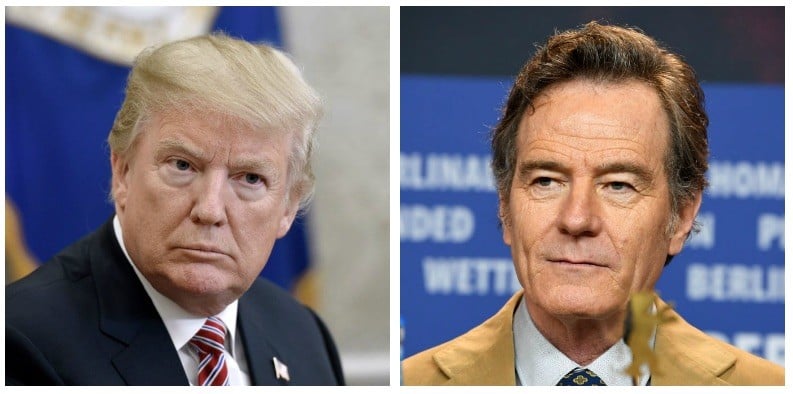 For Donald Trump, there would likely a massive list of actors vying for the role. It would be the "who's who" of Hollywood. It might even include President Trump, himself, because who is better to play the role of Donald Trump than Donald Trump? It's impossible to narrow this down to just one, although Alec Baldwin is immediately cut due to our parody rule.
Blue Collar Comedy Tour comedian Ron White has the right look to play Trump, while Back to the Future's Tom Wilson (Biff Tannen) has the experience playing a character based on Trump. Jon Voight, Robert DeNiro, and Bryan Cranston are all a fit here, too.
Check out The Cheat Sheet on Facebook!