15 Actors Who Got in Amazing Shape for a Movie Role
Everyone knows movie stars must stay in shape, but many actors go above and beyond for a big role. Whether they're bouncing back after pregnancy or getting fit for the first time, these celebrities got in amazing — even scary — shape for a starring role. One popular actress shocked her co-star with her incredible transformation (page 10).
1. Christian Bale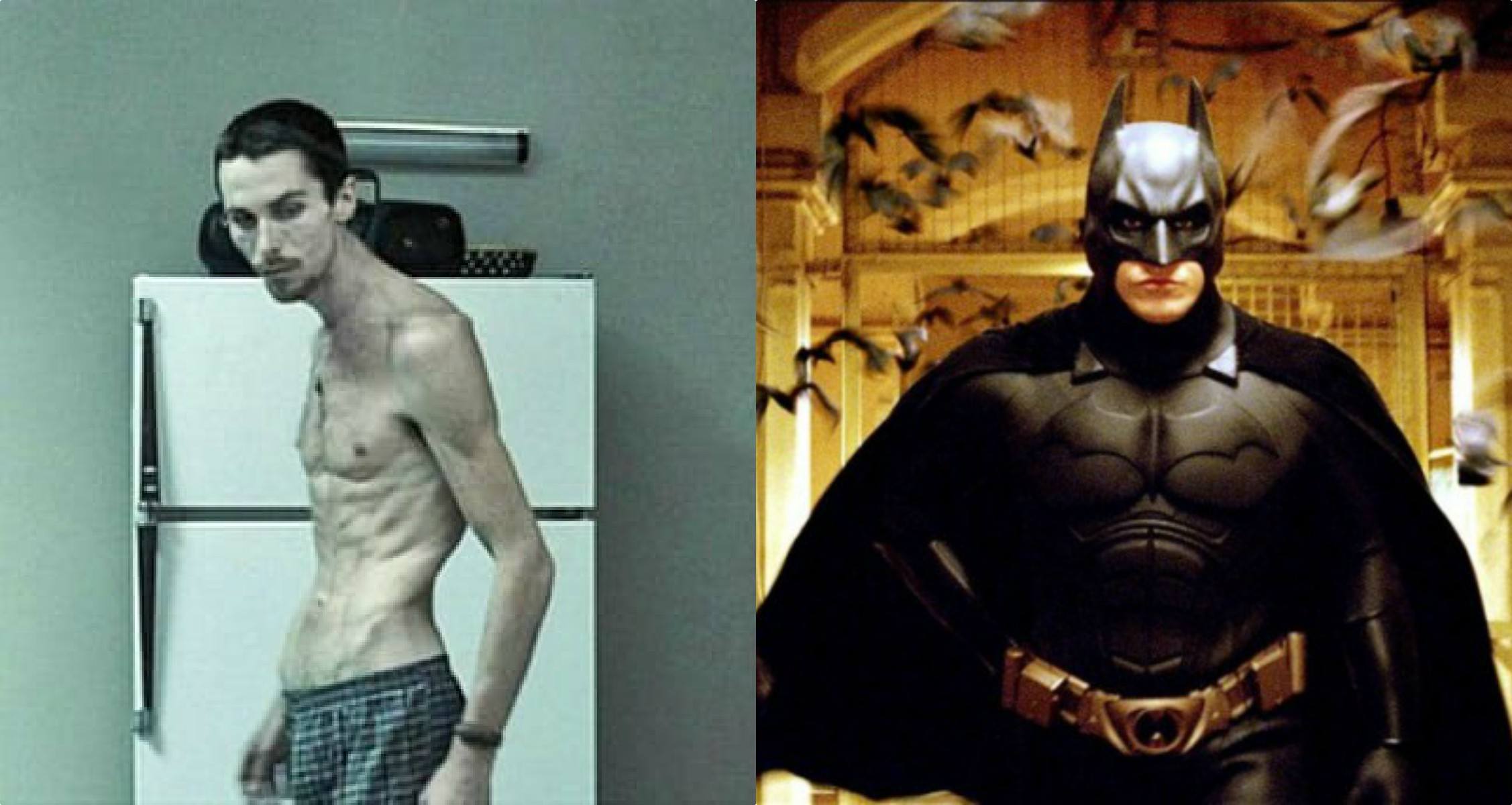 How he did it: weight-lifting, pizza, and ice cream
Christian Bale's most famous transformation was for The Machinist (he lost so much weight he was literally starving himself to death). After the film wrapped, Bale needed to bulk up to be Bruce Wayne in Batman Begins. So the actor completely shifted his mindset toward diet and exercise. Bale's secret? In addition to working out, he credits pizza and ice cream for helping him put the pounds back on.
Next: This "fighter" went from muscular to absolutely jacked.
2. Brad Pitt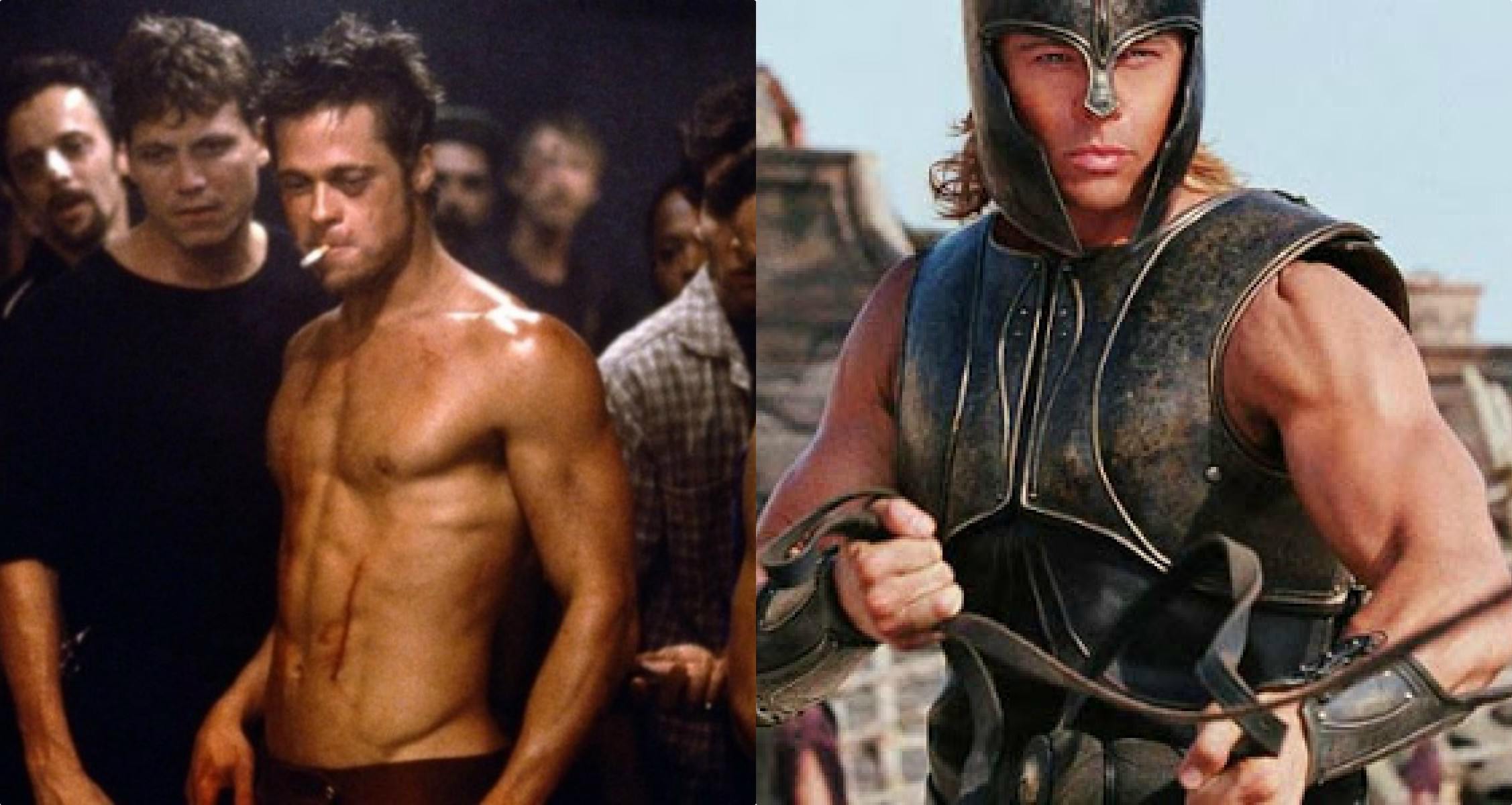 How he did it: focused mostly on upper-body strength training
Praised for his slim, defined frame in Fight Club, Brad Pitt had to pack on 25 pounds of muscle to play Greek warrior Achilles in Troy. Nerd Fitness analyzed Pitt's workouts, explaining, "You're looking at a guy who had 7 months to train for this role and had a personal trainer, strength coach, stretching coach, masseuse, yoga coach, and more." With very little body fat and a fast metabolism, Pitt had to focus on two phases, aka a "Bulk and Cut" routine. Learn more about it here.
Next: From singing on stage to X-Men superstar
3. Hugh Jackman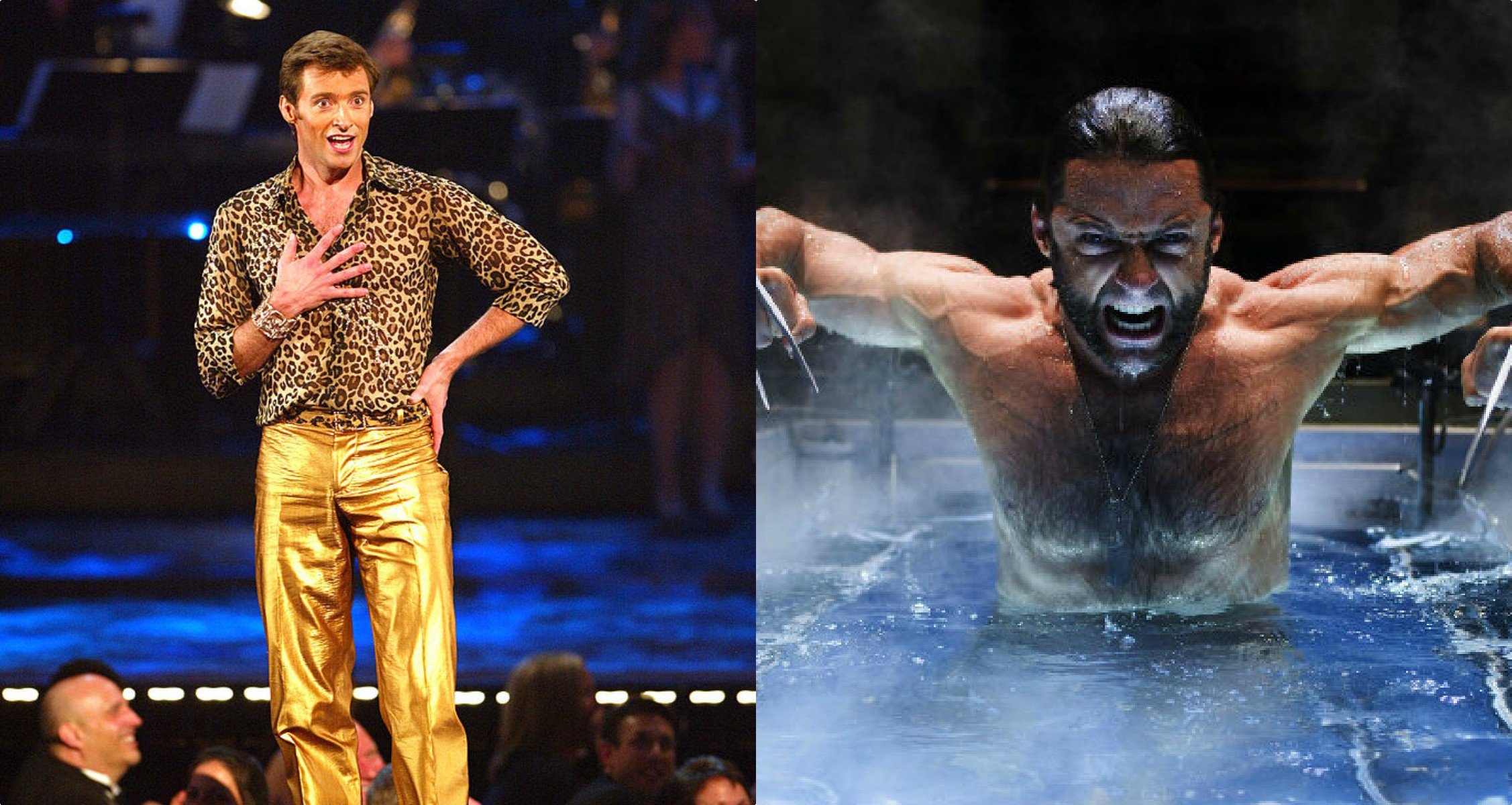 How he did it: extreme strength training, intermittent fasting, water dehydration, and more
When he was first cast as X-Men's Wolverine, a lean Hugh Jackman was singing in Oklahoma — not who you'd picture as a scary mutant. But, appearing in nine X-Men films, Jackman has had to bulk up, slim down, and bulk up again. The lengths he's gone to are astonishing. As Screen Rant details, Jackman can do 100 clap-back pushups, he intermittently fasts for 16 hours a day, and he can deadlift a total of 1,000 pounds within a single workout.
Next: This actor proved age is just a number.
4. Mickey Rourke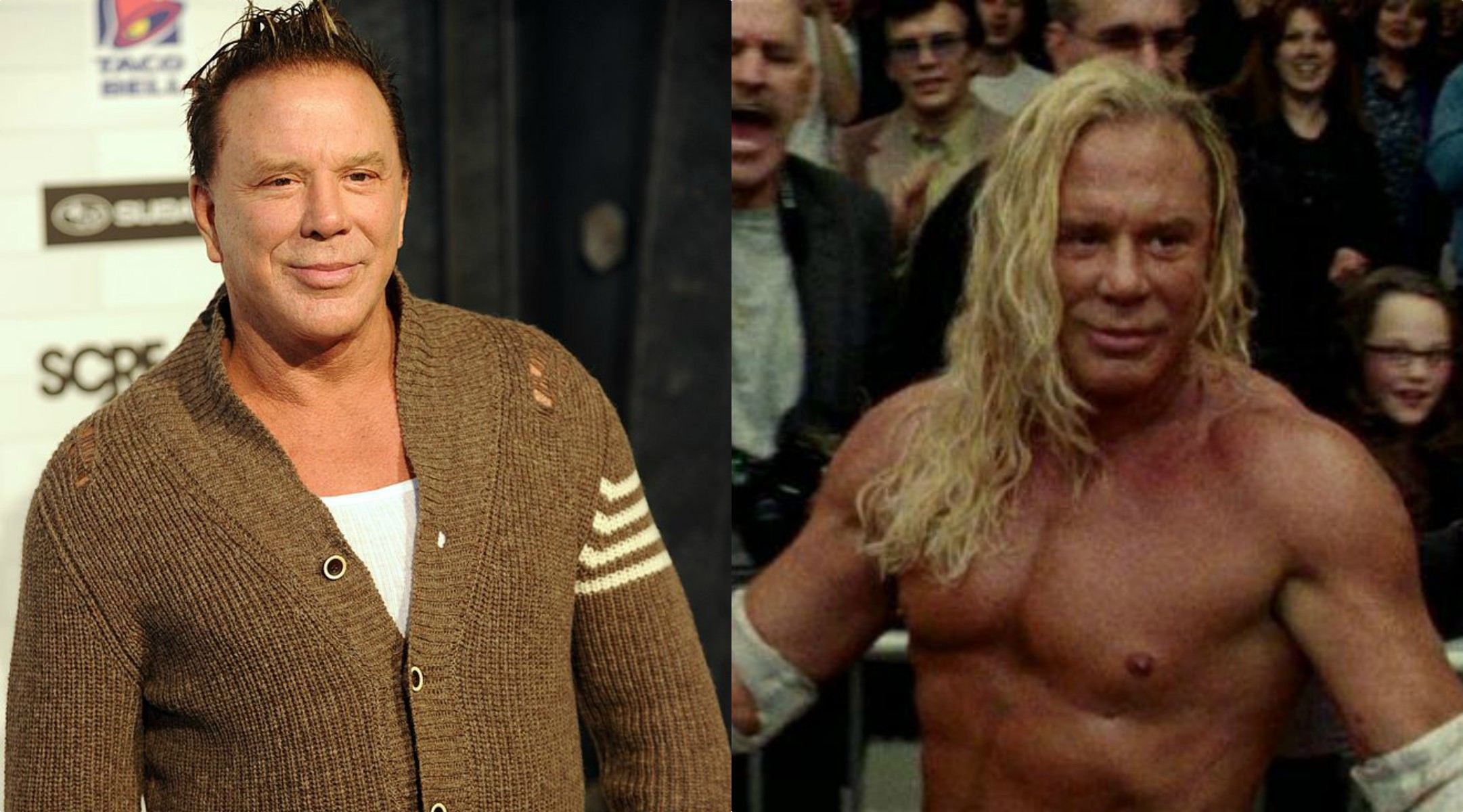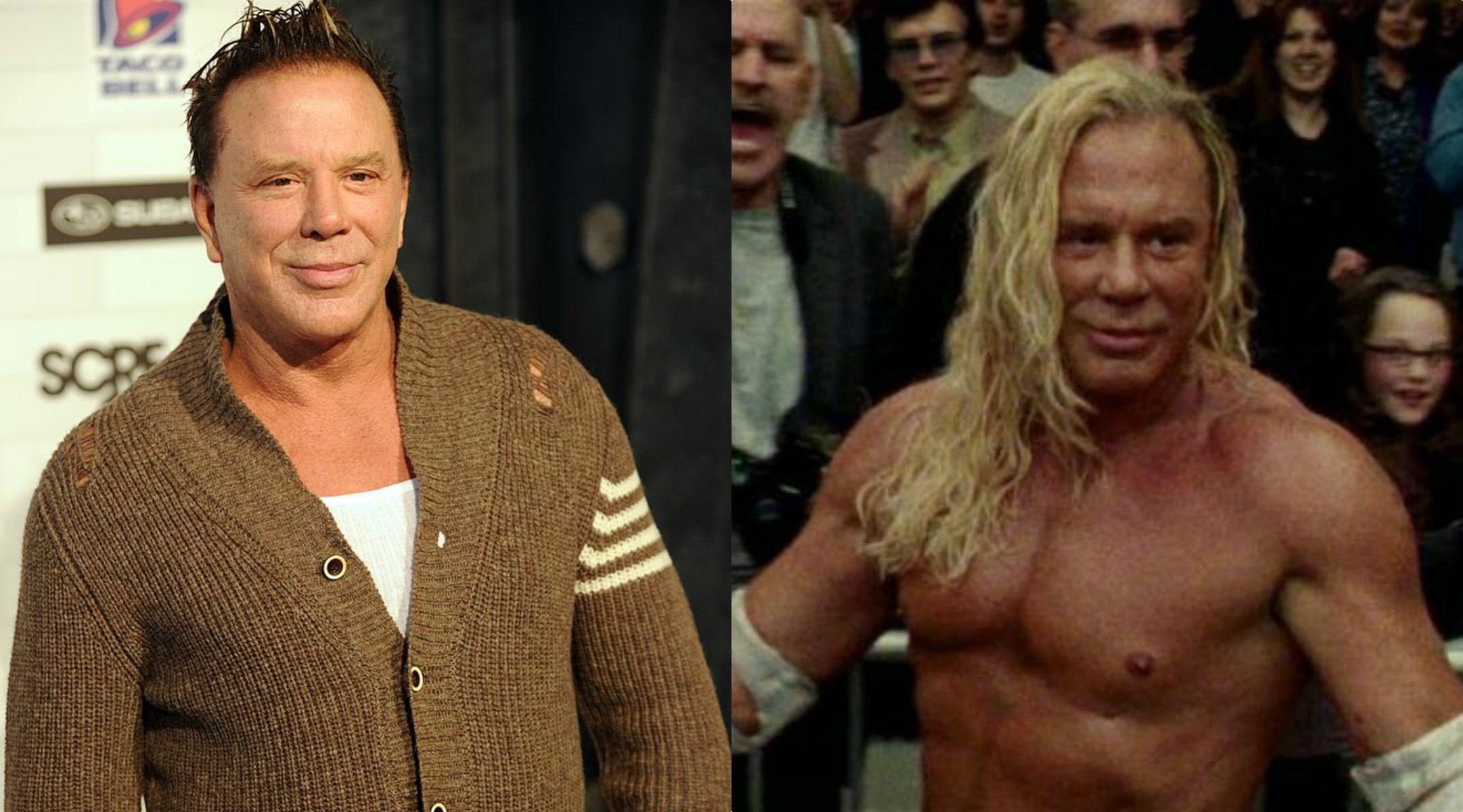 How he did it: 90 minutes of intense resistance work followed by 30-60 minutes of cardio
Mickey Rourke was in his fifties when he played a retired wrestler who tries to maintain his sport despite his waning health. Rourke himself is a retired athlete, but as he explains, comparing "wrestling and boxing is like [comparing] Ping-Pong and rugby." He worked with an Israeli trainer for months, and, according to The Wrestler director Darren Aronofsky, Rourke was "better than 80 percent of the WWF guys out there."
Next: This actor regrets "damaging" his body as he gained and lost weight.
5. Tom Hardy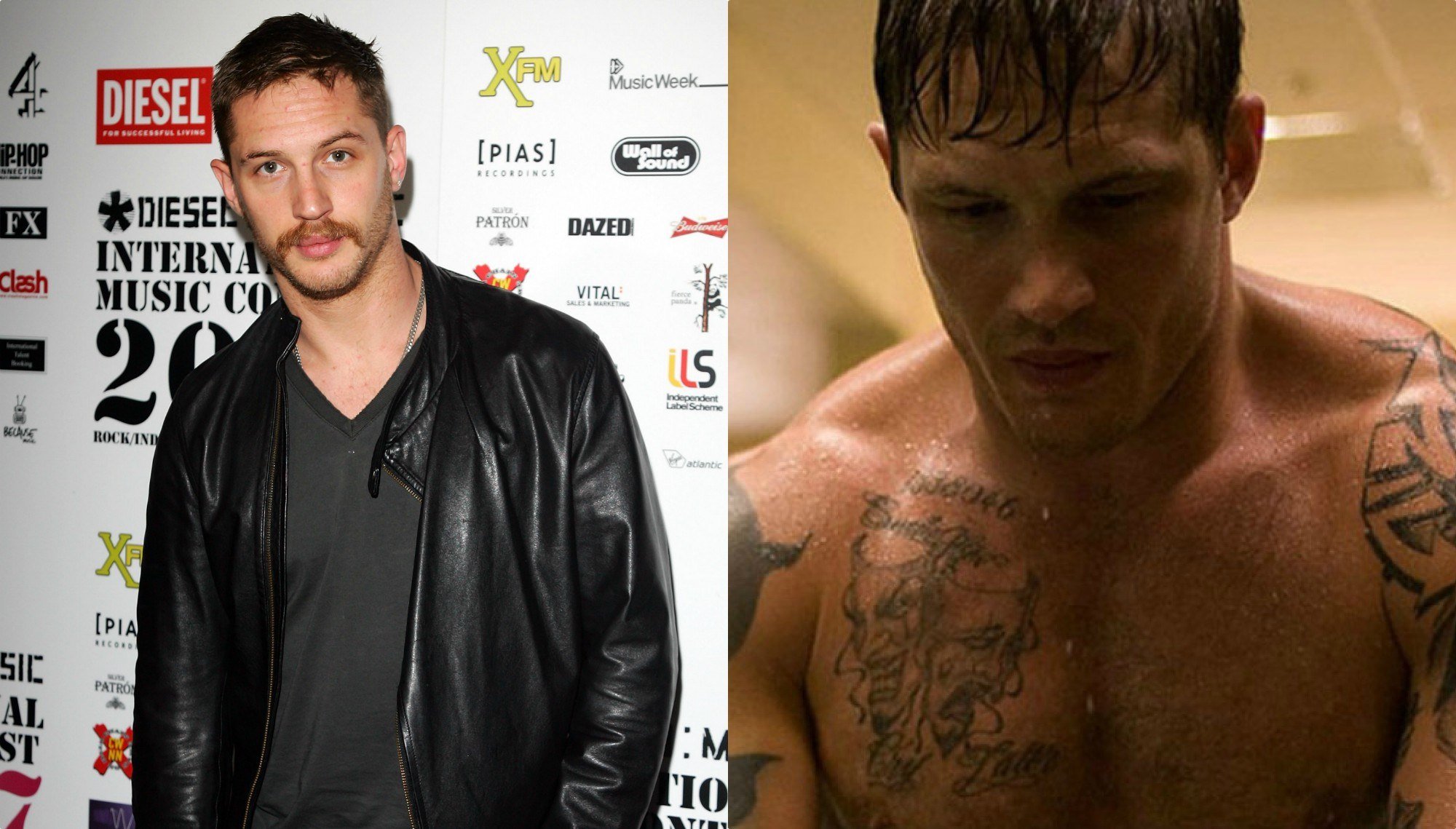 How he did it: boxing, muay thai, jiu jitsu, and weight lifting
Tom Hardy has said he's "damaged" his body due to the number of times he's gained and lose weight. According to Hardy, he was fatter than he'd ever been when filming wrapped Bronson. And his roles in Warrior and The Dark Knight Rises required him to pack on muscle.
"For Bronson I just ate chocolate and pizza…" he told Shortlist magazine in 2011. "By the time I went to Pittsburgh to film Warrior I had two hours of boxing, two hours of muay thai, two hours of jiu jitsu, two hours of choreography and two hours of weight lifting a day, every day for eight weeks."
Next: This actor is known for his humor — not his hot body.
6. Paul Rudd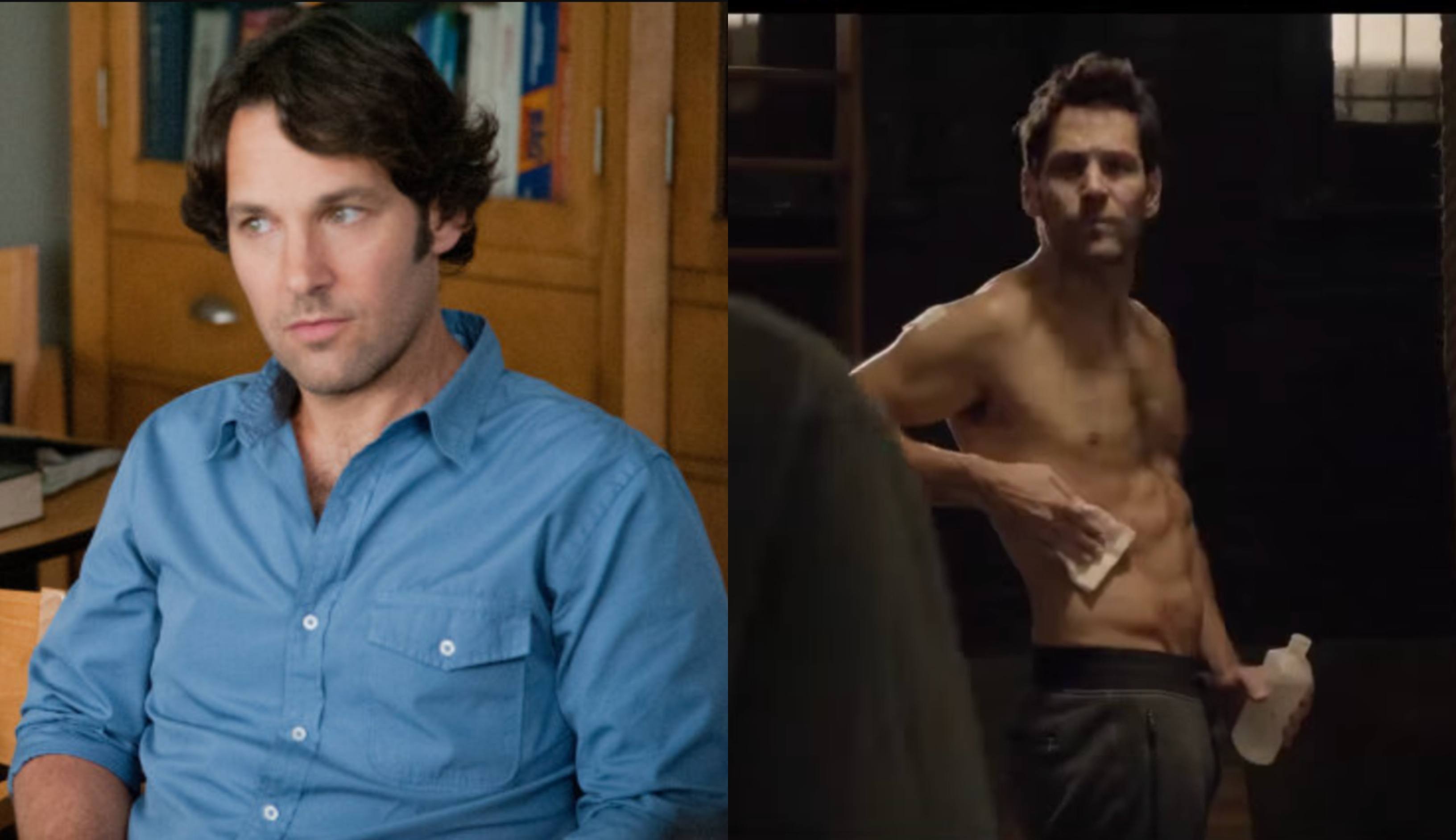 How he did it: cut carbs and alcohol for a whole year
Good guy Paul Rudd was better known for his lovable characters in This Is 40 and I Love You, Man — then he got the lead role in Marvel's Ant-Man. Rudd told Men's Journal, "I took the Chris Pratt approach to training for an action movie. Eliminate anything fun for a year and then you can play a hero." The actor focused on intense workouts and refrained from any carbs or alcohol.
Next: Men everywhere envied this Spartan's ripped body.
7. Gerard Butler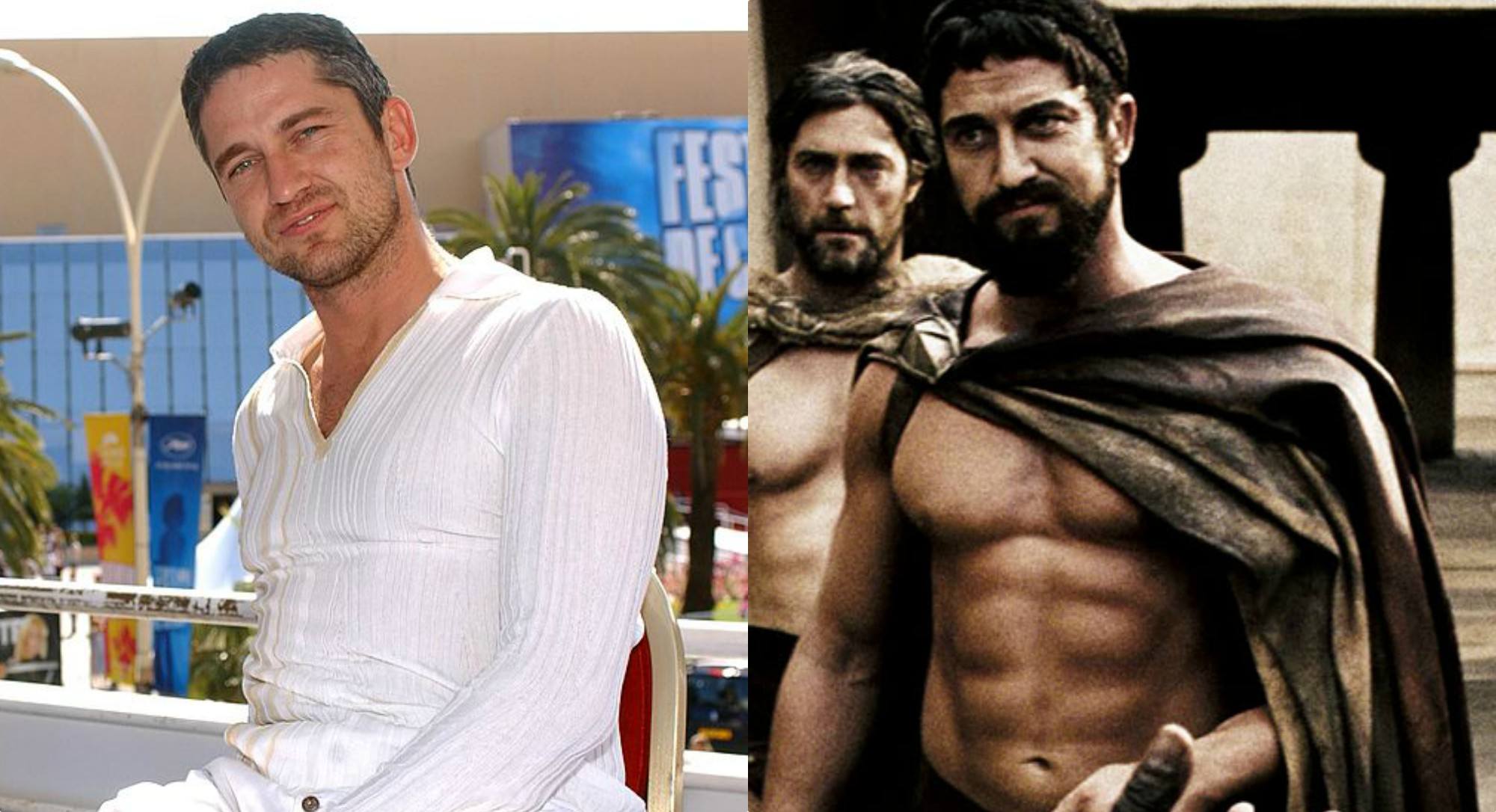 How he did it: weight training, Venezuelan bodybuilding, and sword-and-shield work
One of the most sought-out workouts is still Gerard Butler's for 300. To be the Spartan king, Butler endured four months of legendary training. His trainer created the "300-rep Spartan workout," which will make you "queasy" to read. Five weeks before filming, Butler added extra workouts with a Venezuelan bodybuilder. Then, he completed hours of daily sword-and-shield workouts. At one point Butler's body was so overtrained, the burned-out actor took eight months off working out once 300 wrapped.
Next: Everyone takes this goofball seriously now.
8. Chris Pratt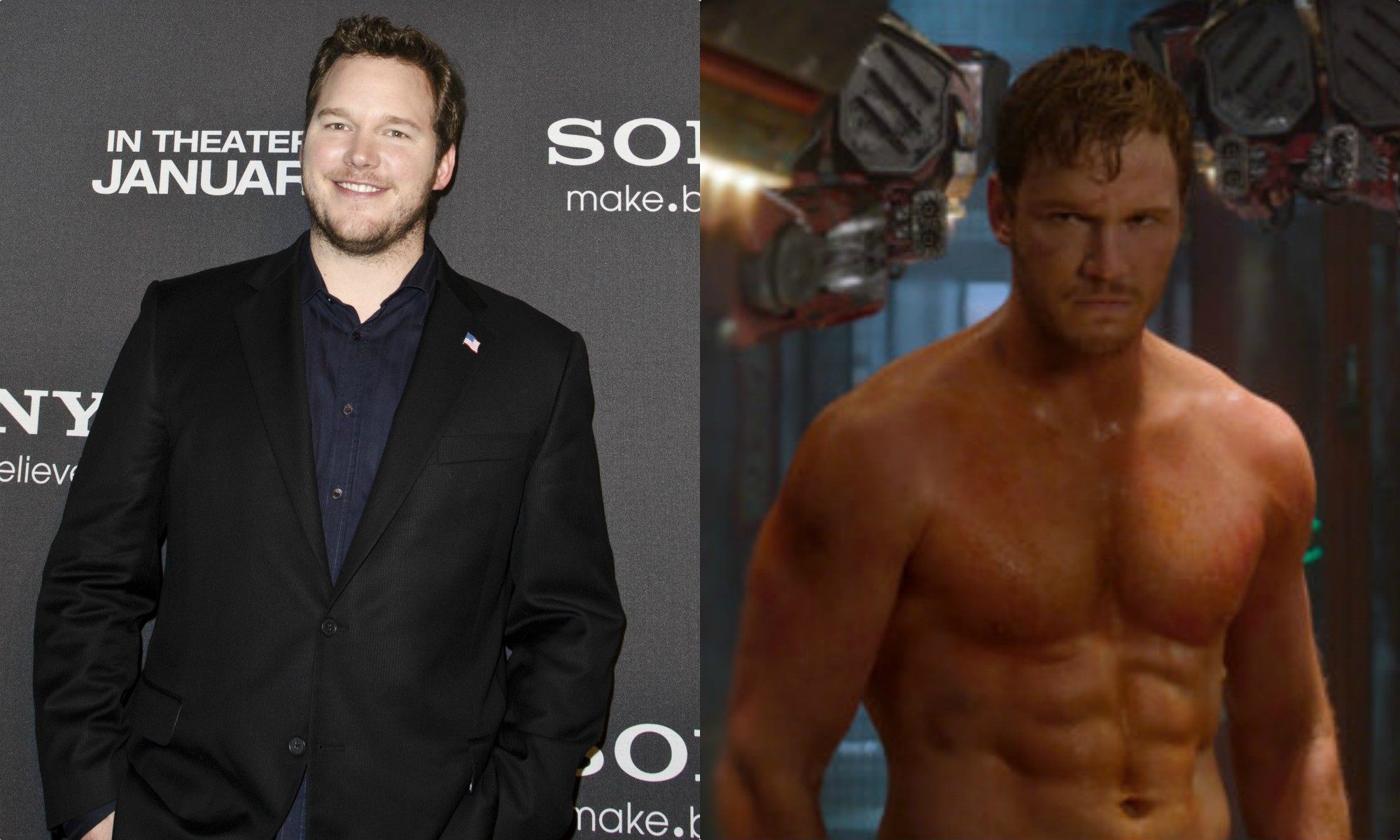 How he did it: complete nutrition and exercise overhaul
Chris Pratt went from lovable to an object of lust when the Parks and Recreation goofball brought his talents to Guardians of the Galaxy. To drop fat and gain muscle, Pratt began an intense daily fitness regimen and employed a strict diet. The actor still reminisces about the days he could eat what he wanted. In fact, Pratt's obsession with food results in hilarious Instagram videos under #WHATSMYSNACK.
Next: This actress proved to be "Army Strong."
9. Demi Moore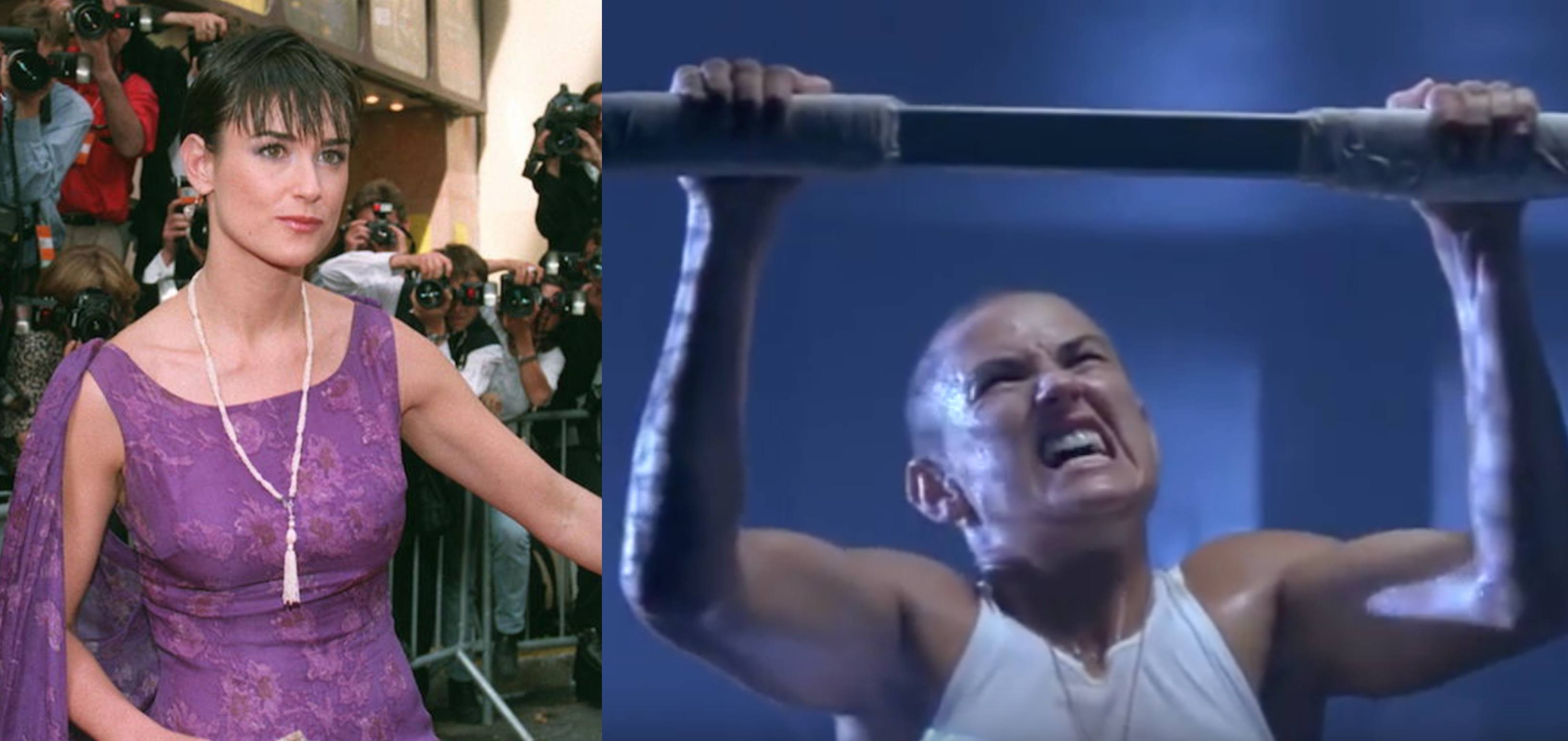 How she did it: training her body and mind military-style
The star shocked audiences when 
G.I. Jane 
premiered in 1997. With a shaved head, Demi Moore demonstrated insanely physical feats, making it clear she was a serious actress in seriously good shape. She
utilized two different trainers
; one for the physical fitness elements, and another specifically for teaching her the Navy SEAL mindset. To sneak in her workouts before filming, Moore would get up at 4 a.m. and run around Central Park with security guards in tow.
Next: This popular actress shocked her bodybuilder co-star.
10. Linda Hamilton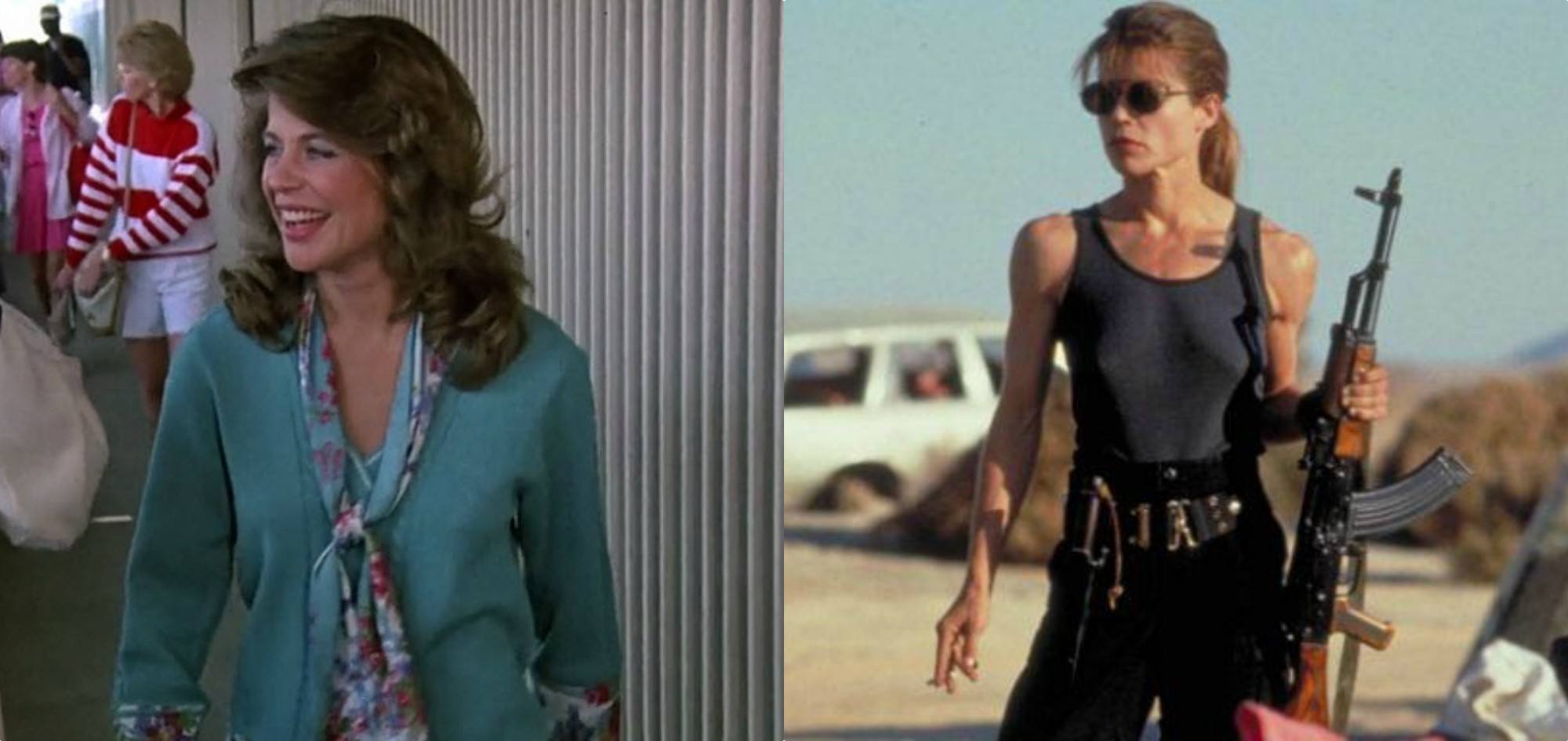 How she did it: a nonfat diet, aerobic exercise, weight training, and trampoline work
After hurting her ankle during the first film, Linda Hamilton returned in Terminator 2: Judgment Day a changed woman. For 13 weeks, the new mom trained three hours a day, six days a week. Her nonfat diet focused on cereal with skim milk, dry salads, and chicken. For action scenes, Hamilton added heavy military training with an Israeli commando. "It was sheer hell," she told Entertainment Weekly. By filming time, Hamilton could bench press 85 pounds and was skilled with an assault rifle. Even her famously muscular co-star Arnold Schwarzenegger was "thrilled."
Next: Wonder Woman
11. Gal Gadot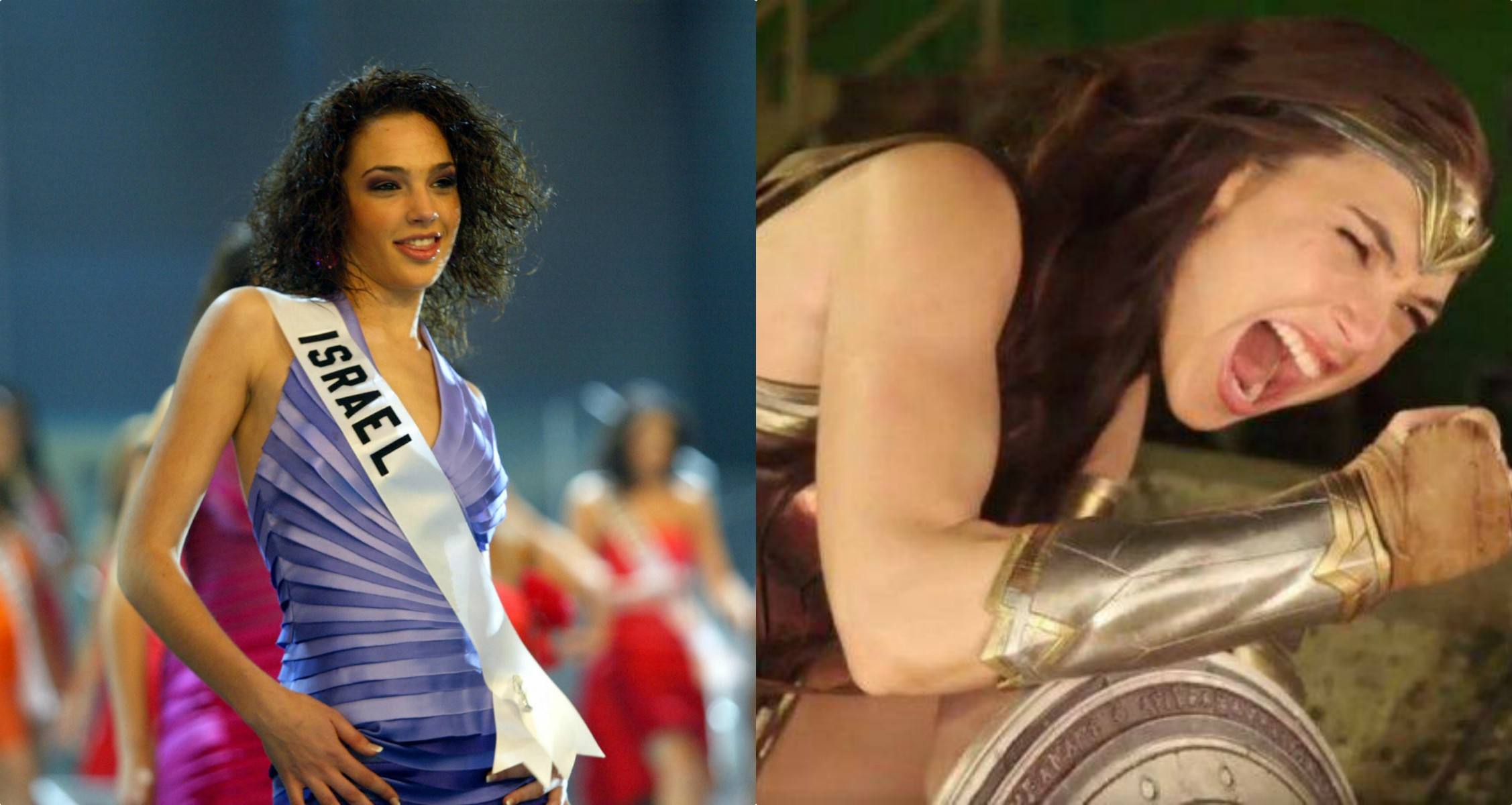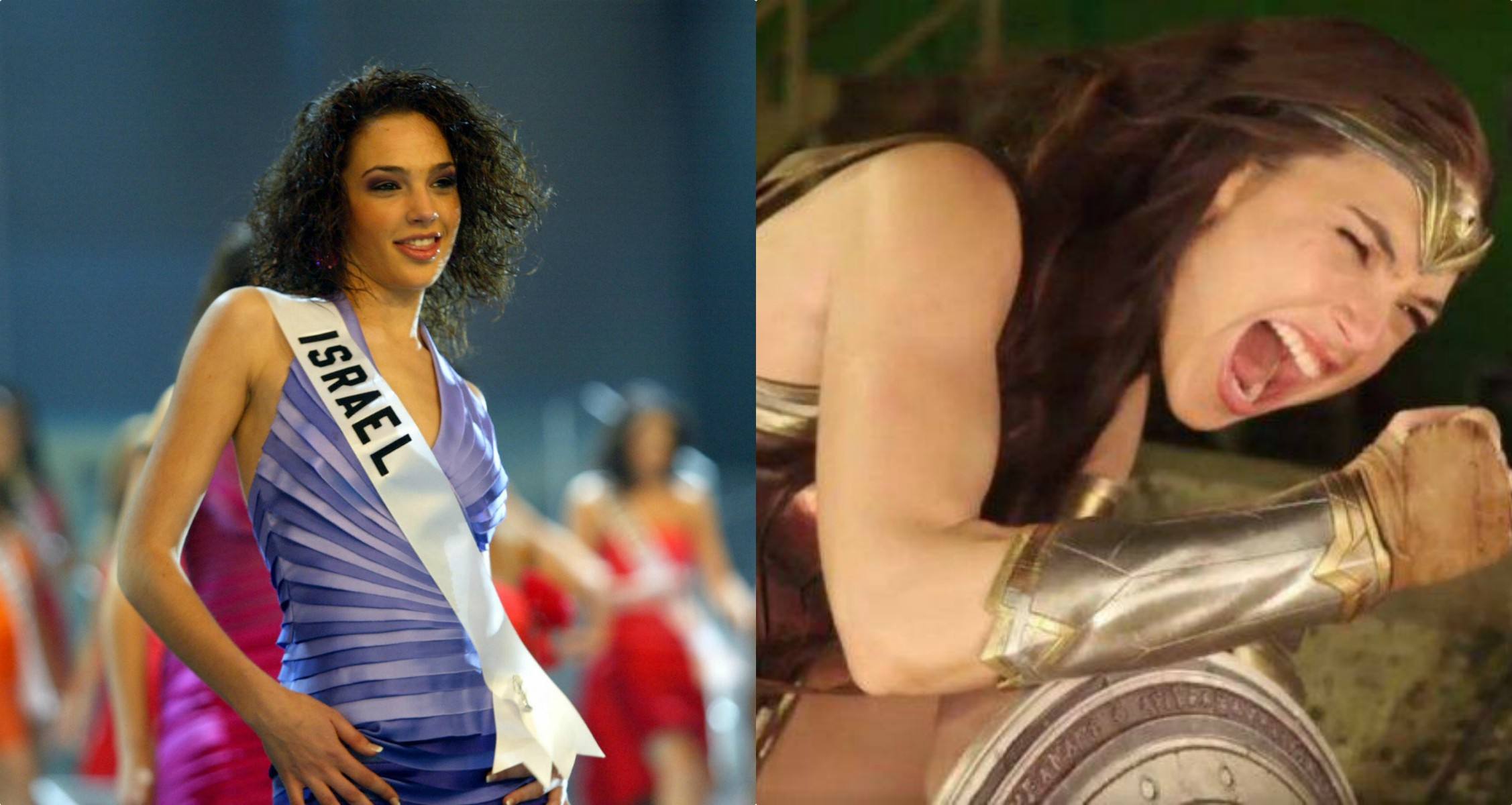 How she did it: a strict diet and tons of strength training
Before she was Wonder Woman, Gal Gadot was in three Fast and the Furious films, remaining quite slim for her role. To play an Amazon warrior, the Israeli actress had to gain muscle. Gadot underwent a lot of physical training and watched her nutrition closely. During reshoots, she was five months pregnant, so production used a green-screen to cover up her belly.
Next: This actress built muscle but maintained her curves.
12. Scarlett Johansson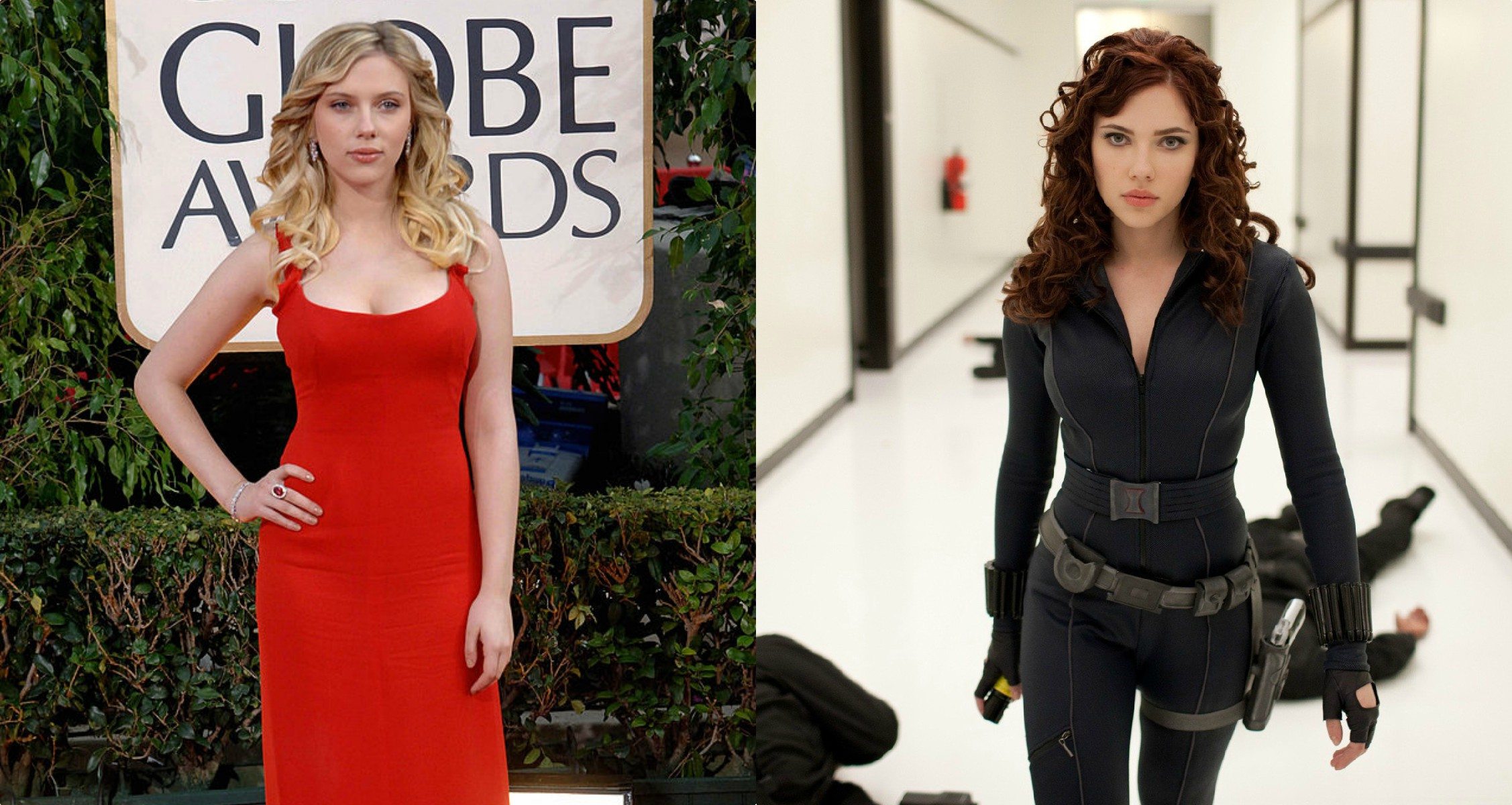 How she did it: 90-minute exercises involving kettlebells, core work, pull-ups, and lunges
Known for her curves, Scarlett Johansson knows it's twice as tough to both maintain a womanly figure and lose weight. When she took on the role of Marvel's Black Widow, the actress both toned up and slimmed down. She maintained this for many films — completing 90-minute workouts seven days a week — and, while shooting Avengers: Age of Ultron, was actually pregnant.
Next: With every "alias" came another transformation.
13. Jennifer Garner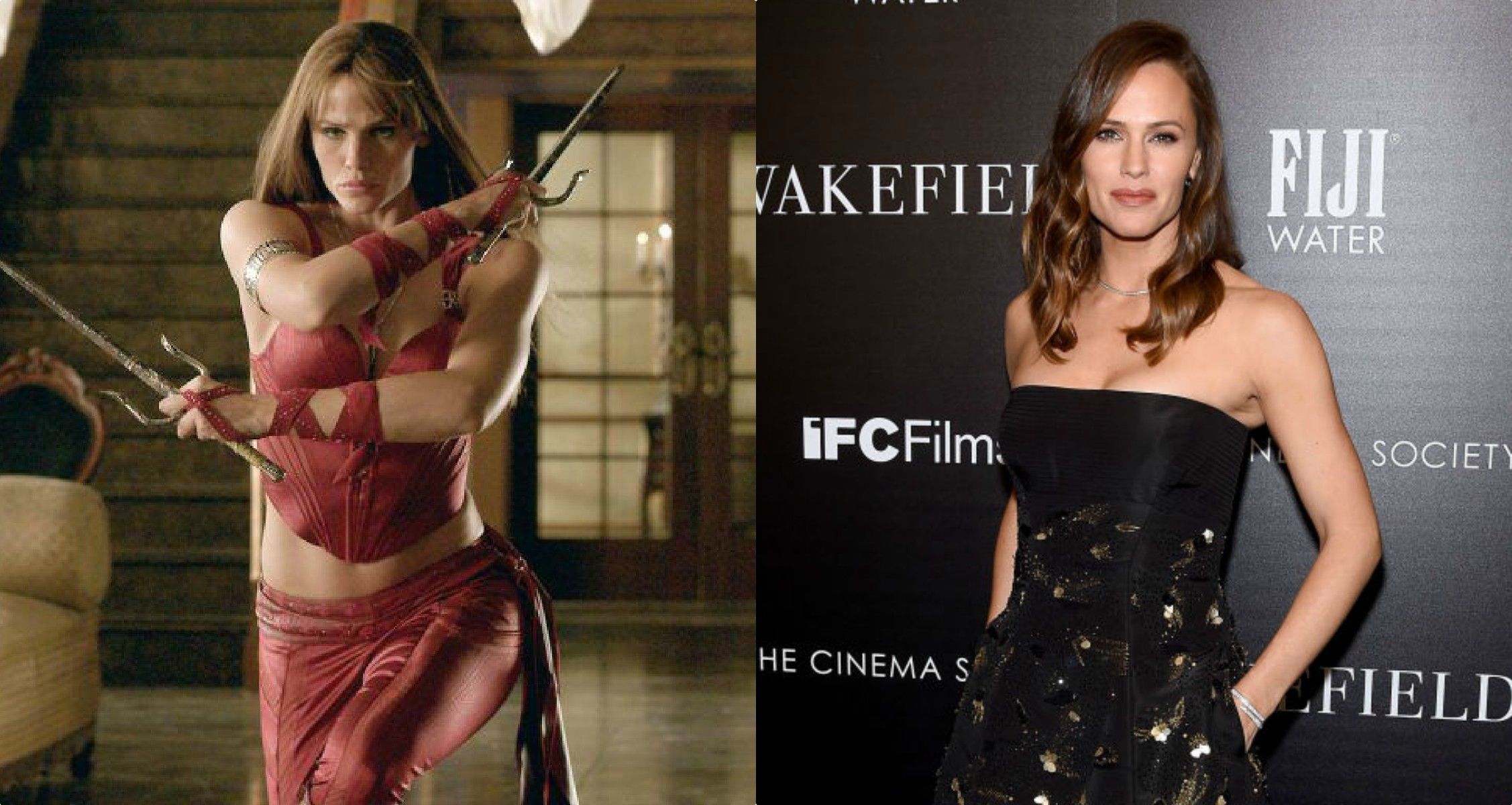 How she did it: circuit training and focused nutrition
Not long ago, Jennifer Garner played two superheroes at the same time: She was a badass spy on Alias and Elektra in Daredevil. Both slender and muscular, she maintained a stringent diet and did 45-minute workouts five days a week. Garner's strict approach took a toll on her; now she refuses to go to extremes, sticking to a manageable lifestyle.
Next: This actress gained 19 pounds of muscle.
14. Hilary Swank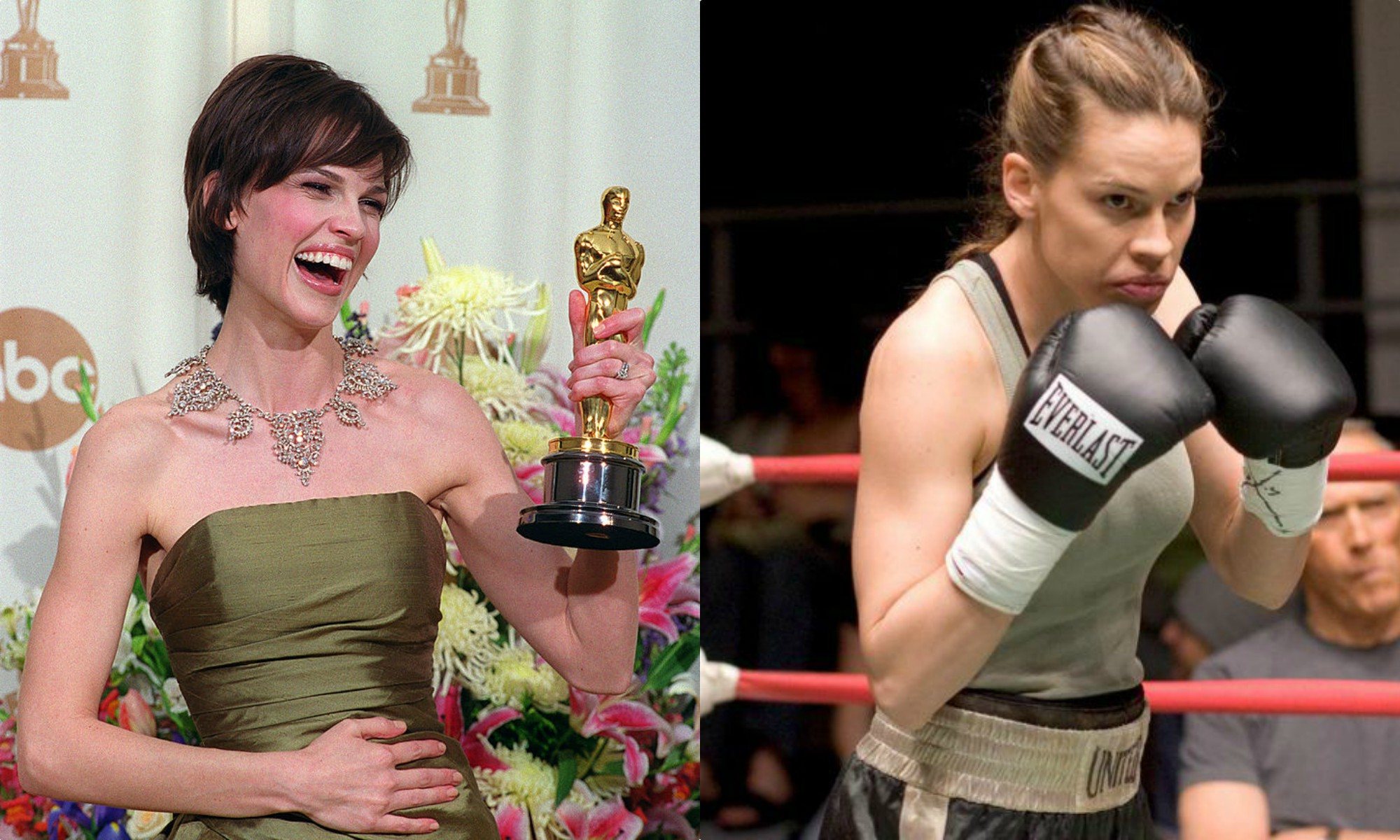 How she did it: intense boxing and a high-protein, low-carb diet
After portraying a skinny transgender teen in Boys Don't Cry, Hilary Swank gained 19 pounds of muscle for Million Dollar Baby. With 90 days to get in shape, the actress boxed for two hours a day, completed weight-lifting workouts, and ate 4,000 calories daily. Swank even woke up in the middle of the night to drink a protein shake in order to consume 210 grams of protein daily.
Next: This actor came a long way from The Wire.
15. Michael B. Jordan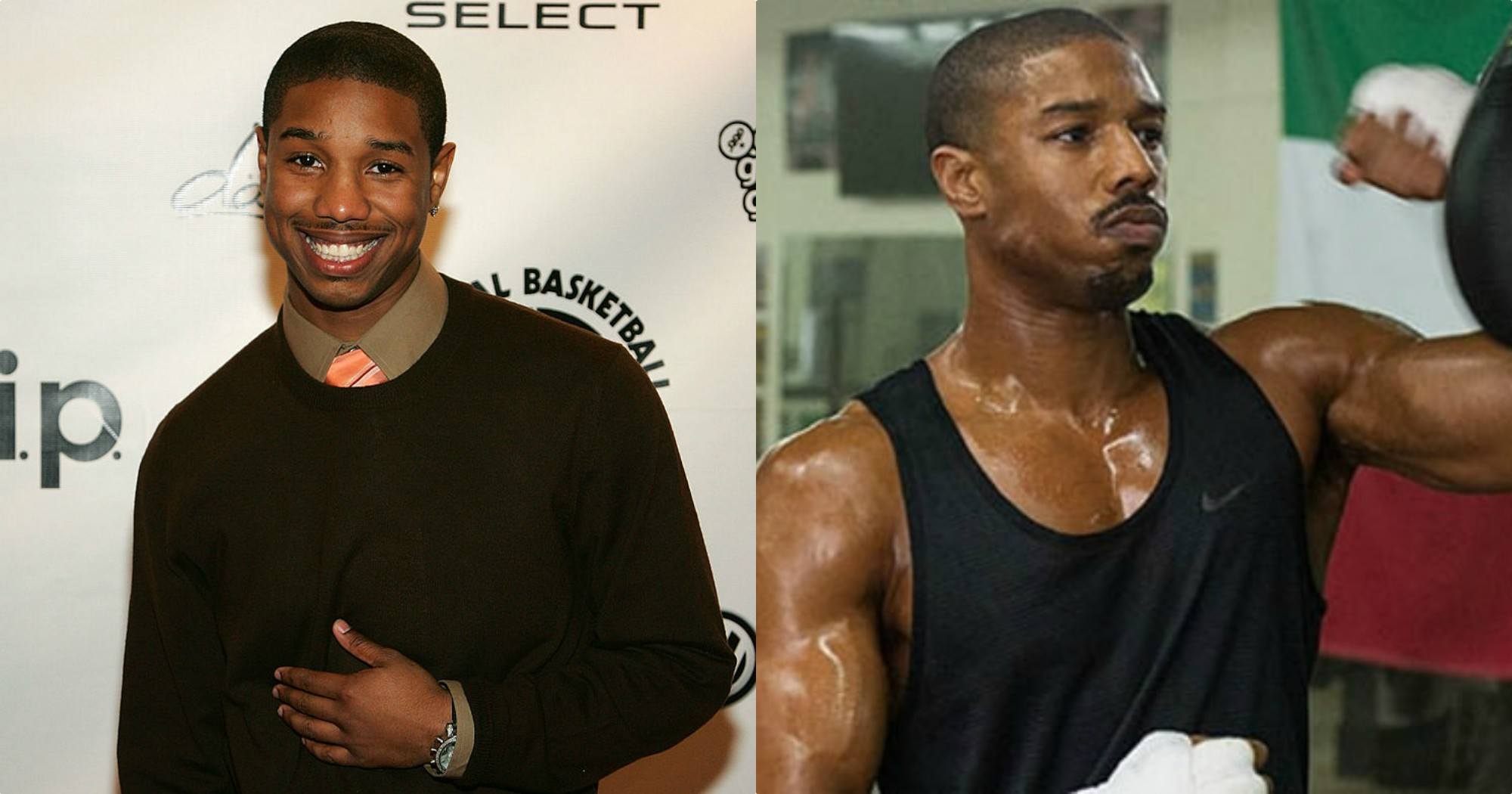 How he did it: cardio, boxing, and protein consumption
While he filmed Fantastic Four, Michael B. Jordan was up for the part of a young boxer-in-training in Creed. So his on-set trainer prepared him for the role until he landed the gig. His trainer Corey Calliet said, "I would feed him creatine types of food so his muscles would pop on a specific day." Each day, Jordan did 60 minutes of cardio, and then weight training and boxing sessions. His Creed co-star Sylverster Stallone was reportedly very impressed.
Next: Pregnancy complicates every transformation.
16. Zoe Saldana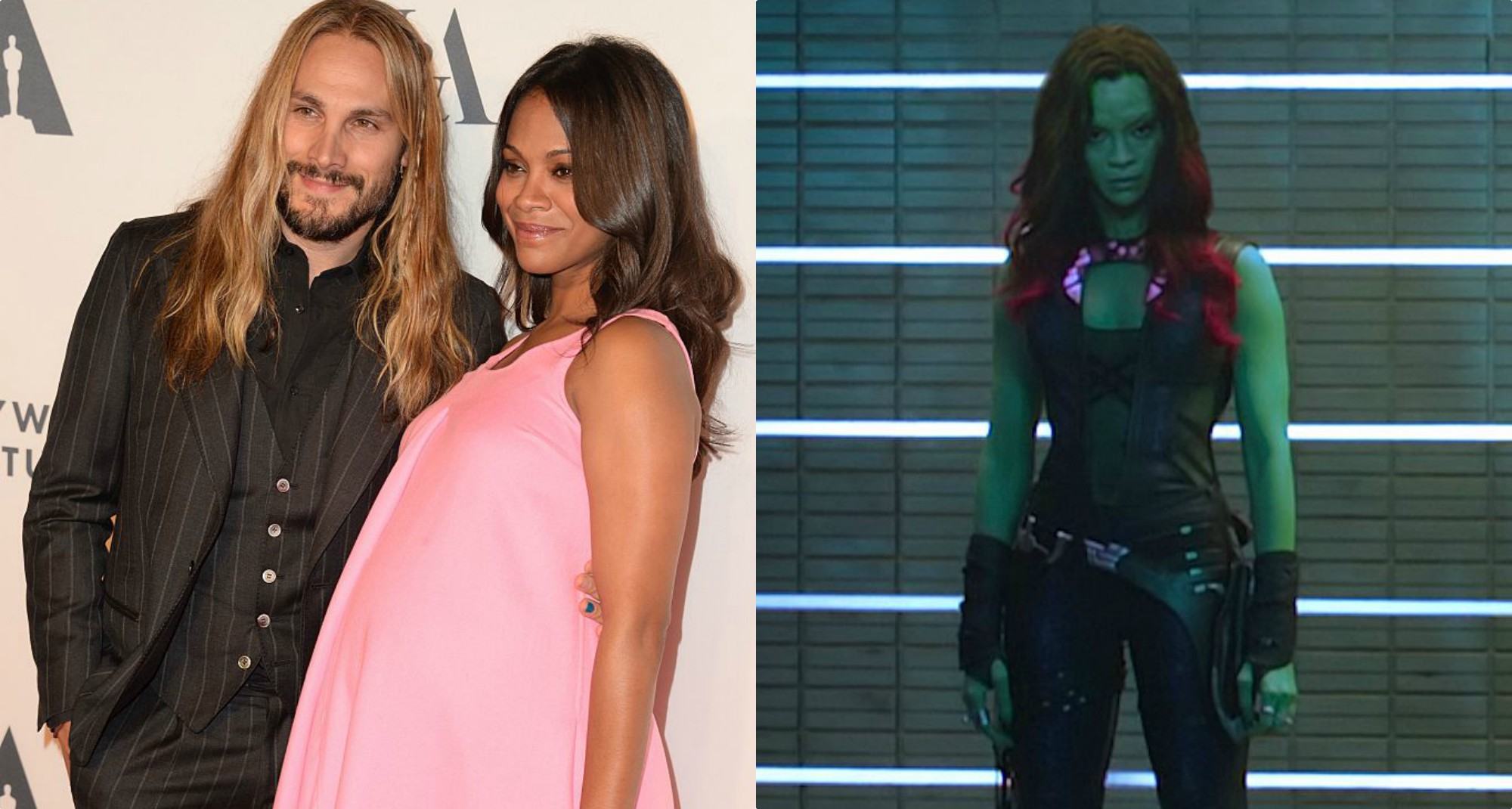 How she did it: a strict diet, Pilates, and plyometrics
The sci-fi queen is known for Colombiana, Avatar, and Star Trek Beyond. In fact, for that last film, Zoe Saldana gave birth to twins months earlier and got back into such good shape that she fit into her Guardians of the Galaxy costume from the year prior. Her trainer says the actress isn't into heavy cardio. A former dancer, Saldana did Pilates and plyometrics to help her get toned instead. Concerning food, Saldana has an autoimmune disease, so she is strict about what she eats.
Next: This "ballerina" shocked everyone with her rather terrifying frame.
17. Natalie Portman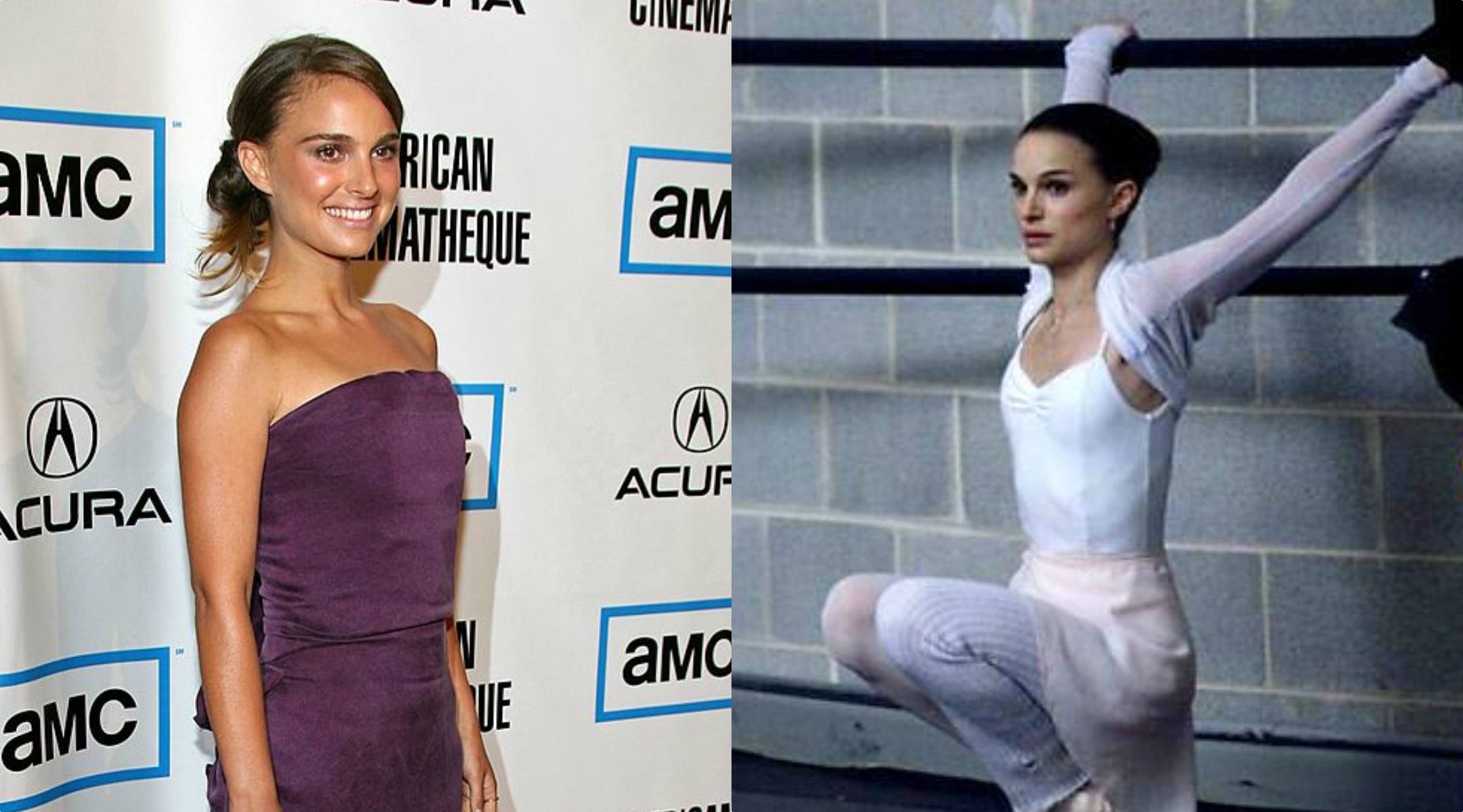 How she did it: dance training and an extremely limited calorie intake
Dropping 20 pounds in the process, Natalie Portman prepared extensively to play a troubled ballerina in Black Swan. The former dancer explained she put herself through much of what professional dancers deal with. Portman barely ate and turned to cigarettes and coffee to slim down further. On top of this, she did dance training for up to 16 hours a day.