Adam Sandler Movies That Actually Made Money
Adam Sandler's career has been full of ups and downs, but the actor has seemingly reached a new low lately. The star — who has always been one of the most polarizing figures in Hollywood — has released a string of box office disappointments in recent years, like Blended, The Cobbler, and Pixels.
Sandler's deal with Netflix hasn't done much to help him rebound, with films like The Ridiculous Six and The Do-Over earning dismal reviews (the former even spurring public accusations of racial insensitivity). As Sandler's work continues to take a turn for the worse, it's easy to forget that the comedian once had a Midas touch at the box office. Here are five Adam Sandler movies that actually made big money.
5. The Longest Yard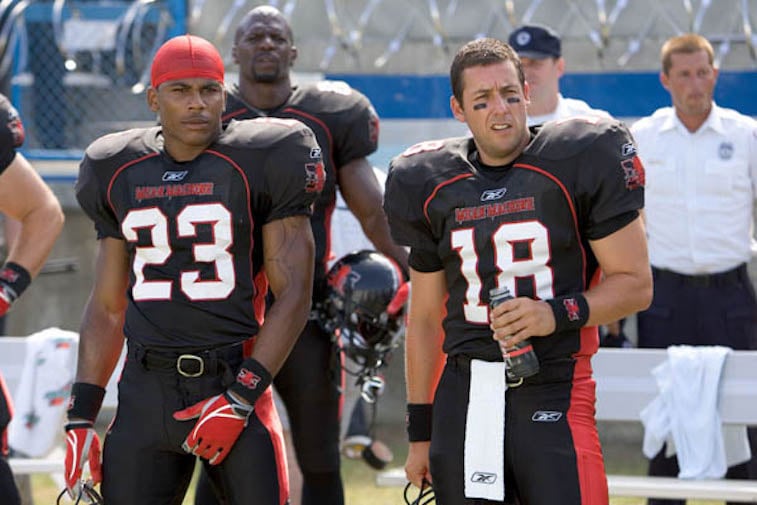 The 2005 sports comedy — a remake of the 1974 film by the same name — starred Sandler as Paul Crewe, a disgraced former professional quarterback for the NFL's Pittsburgh Steelers, who gets sentenced to three years in a Texas Federal Prison after violating his parole. Once there, he is forced to form a team of prison inmates to play football against their guards.
The movie co-starred frequent Sandler collaborator Chris Rock as Crewe's friend the Caretaker, as well as Burt Reynolds (the original movie's Crewe), James Cromwell, and Nelly. Several former and current professional athletes were also featured, including Terry Crews, Michael Irvin, Bill Goldberg, Kevin Nash, "Stone Cold" Steve Austin, and Dalip "The Great Khali" Singh Rana.
Though the overall critical response was negative (as seen by the 31% score on Rotten Tomatoes), the film became a commercial success. Its $47.6 million opening weekend was one of the biggest of Sandler's career, and it eventually grossed a total of $190.3 million worldwide. Even with the slew of remakes that have hit theaters in recent years, Box Office Mojo reports that The Longest Yard remains the highest-grossing comedy remake of the modern box office era (from 1980 onward).
4. The Waterboy
Over a decade and a half since its release, this 1998 sports comedy is one of the most popular, fan-favored titles of Sandler's career. In the movie, the actor plays Bobby Boucher, a 31-year-old waterboy for a college football team, who eventually discovers that he has a unique ability for tackling and becomes a member of the team. Kathy Bates, Fairuza Balk, Henry Winkler, Jerry Reed, and Larry Gilliard Jr. also co-star.
The Waterboy earned mostly negative reviews from critics, with a 35% score on Rotten Tomatoes. Despite the lackluster critical response, the movie was a major box office hit, grossing $186 million worldwide against a $20 million budget. Thanks to its highly quotable gags and characters, it remains a cult favorite of Sandler's many features.
3. Grown Ups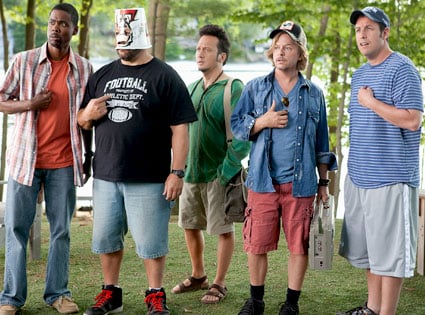 The 2010 comedy paired Sandler with his real-life friends and fellow comedians, Kevin James, Chris Rock, David Spade and Rob Schneider. The five actors star as a group of childhood friends who won their junior high school basketball championship in 1978 and reunite three decades later to mourn the death of their coach.
Meeting at a lakeside cottage they used to frequent when they were young, the friends reconnect with each other and their families. The star-studded film was heavily panned by critics, earning a pitiful 10% on Rotten Tomatoes. But that didn't stop audiences from showing up to theaters in droves. Grown Ups grossed a $271.4 million worldwide against an $80 million budget.
2. Big Daddy
Of Sandler's long list of film credits, this 1998 coming-of-age comedy drama ranks high as a well-cited fan favorite. The movie stars Sandler as 32-year-old Sonny Koufax, a grown man-child who has spent his whole life avoiding responsibility.
When his girlfriend dumps him for an older man, he makes a desperate last-ditch effort to get her back by adopting five-year-old Julian (Dylan and Cole Sprouse). But things don't go exactly as planned, and Sonny is left to figure out how to handle his new role as a guardian to a young kid.
Big Daddy earned mixed to negative reviews, scoring a 41% on Rotten Tomatoes. But viewers apparently disagreed; the film won the People's Choice Awards for Favorite Comedy Motion Picture in 2000 and earned a whopping $234.8 million — almost seven times its $34.2 million budget.
1. Hotel Transylvania 2
Though Sandler has obviously made several box office hits in his day, the highest-grossing movie of his career is actually one that he doesn't even appear in — physically, that is. The actor lends his voice to the character of Count Dracula in this 2015 animated fantasy-comedy, the second installment in the Hotel Transylvania franchise.
Set seven years after the first film, the movie follows as Dracula recruits his friends to help turn his grandson Dennis into a vampire, after noticing that the young child doesn't seem to have any vampirical traits. In addition to playing a character in the animated flick, Sandler also co-wrote the sequel.
Though the movie earned somewhat mixed reviews (with a 55% score on Rotten Tomatoes), it proved to be a huge financial success, earning $473 million worldwide against an $80 million budget. A third titled Hotel Transylvania 3, has already been green-lit and is currently scheduled to release on September 21, 2018.