Adam Sandler's Touching Tribute to Chris Farley on 'SNL'
Adam Sandler performed on the Saturday Night Live stage last night for the entirety of an episode for the first time in 24 years. He, along with his late friend Chris Farley, was fired back in 1995 after a particularly unpopular season. Many of the show's critics blamed the likes of Sandler for the SNL slump that took place in the 90s.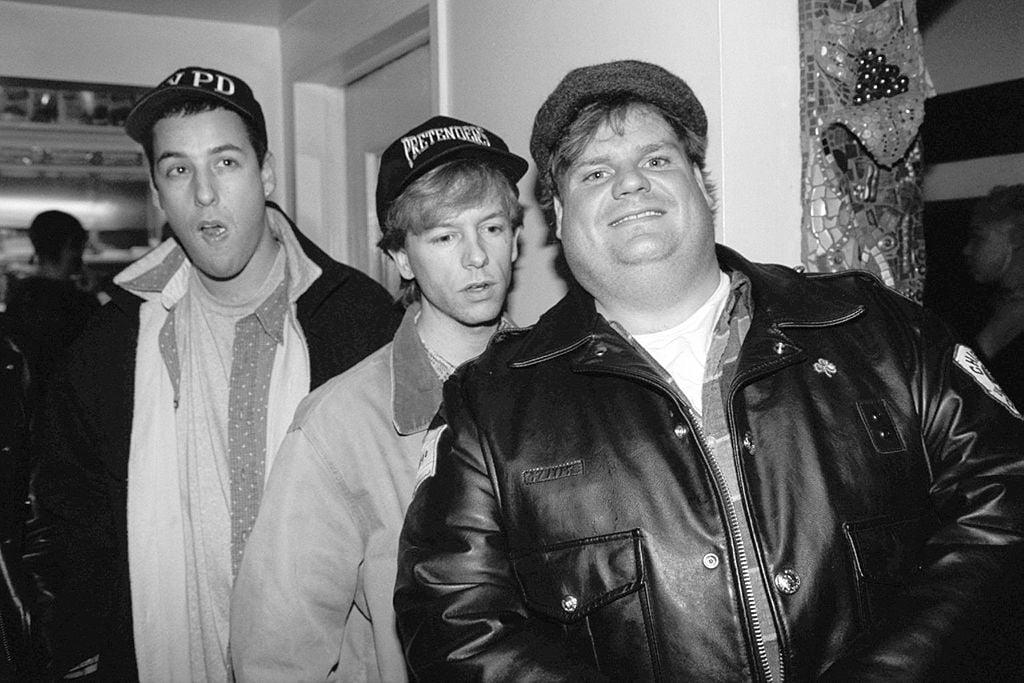 Adam Sandler was interviewed in 2014 by The Daily Beast, and he said his departure from the show was more mutual than it seemed.

"Yes, we were [fired]," he said of himself and Farley. "We kind of quit at the same time as being fired. It was the end of the run for us. The fact that me and him got fired? Who knows. We were on it for a few years, had our run, and everything happens for a reason. We kind of understood because we did our thing. It hurt a lot at the time because we were young and didn't know where we were going, but it all worked out."

Considering his touchy departure, it's not shocking that the Billy Madison actor hasn't been a regular guest on the Studio 8 stage.

The elephant in the room

SNL is not a program known for not addressing the elephant in the room, so Adam Sandler's (sung, naturally) monologue touched on his firing.

"I was fired, I was fired, I was fired, so sad to tell/ Well I never saw it coming, I got fired from 'S.N.L.'" he sang.

"I got fired, not rehired/ Well it made me sad and blue/ I told my boy Chris Farley I got fired/ And he said, 'Sandman, they fired my a**, too'"

Chris Rock made a cameo and added his own verse:

"I got fired, I was fired, I was fired by NBC/ Then I went on "In Living Color"/ Three weeks later, they took it off TV"

And, of course, Pete Davidson got in on the action to make another I-can't-believe-I-haven't-been-fired joke.

"How is that even possible?" asked the current SNL castmember when Adam Sandler told him that he had not been fired.

"I don't know, but be patient because it's coming soon," replied the Big Daddy actor.

The episode catered to Adam Sandler's wheelhouse, featuring wacky characters (he, of course, revived Opera Man–a man who reports the news in an operatic voice) and sketches with a more absurdist vibe.

The Chris Farley song

But what stood out in his performance was his incredibly touching tribute to his friend, Chris Farley, who died of a drug overdose in 1997 at the age of 33. The song first appeared on Adam Sandler's Netflix special, 100% Fresh. On the SNL stage, where the two used to perform together, with photos and videos of the late Farley behind him as he sang, this performance felt especially sentimental.

"The first time I saw him he was sweeter than honey/ Plaid jacket and belt too tight, and he wasn't even being funny/ Then he cartwheeled 'round the room and slow-danced with the cleaning lady/ He was a one-man party/ You know I'm talking about — I'm talking about my friend Chris Farley"

Check out The Cheat Sheet on Facebook!