FX's 'American Horror Story: 1984' Episode 8 Recap — Rest in Pieces
Almost every horror movie has a final girl. You know, the girl who overcomes everything and lives to tell the tale. Who will be the final girl of this Camp Redwood nightmare? Margaret Booth? Brooke? Fans are one week closer to the finale of this season of American Horror Story. Here's what you might've missed from the eighth episode of AHS: 1984, entitled "Rest in Pieces."
This article contains spoilers from the "Rest and Pieces" episode of American Horror Story: 1984!
Some characters of 'AHS: 1984' are looking forward to the future
Despite all of their trauma, Brooke and Donna are talking about their future plans over lunch. They're interrupted by a reporter, who recognized Brooke. It throws them for a loop at first, but Brooke brushes it off and the duo leaves for the Camp Redwood festival.
Remember the camp counselor from the 1970s? He's walking on the road when the hitchhiker from the last episode picks him up. He's missing two thumbs, thanks to Brooke, but that doesn't stop him from heading to this totally tubular music festival. The counselor hears a woman screaming in the trunk and when the no-thumbs-guy goes out to make another kill, the counselor bolts out of the car.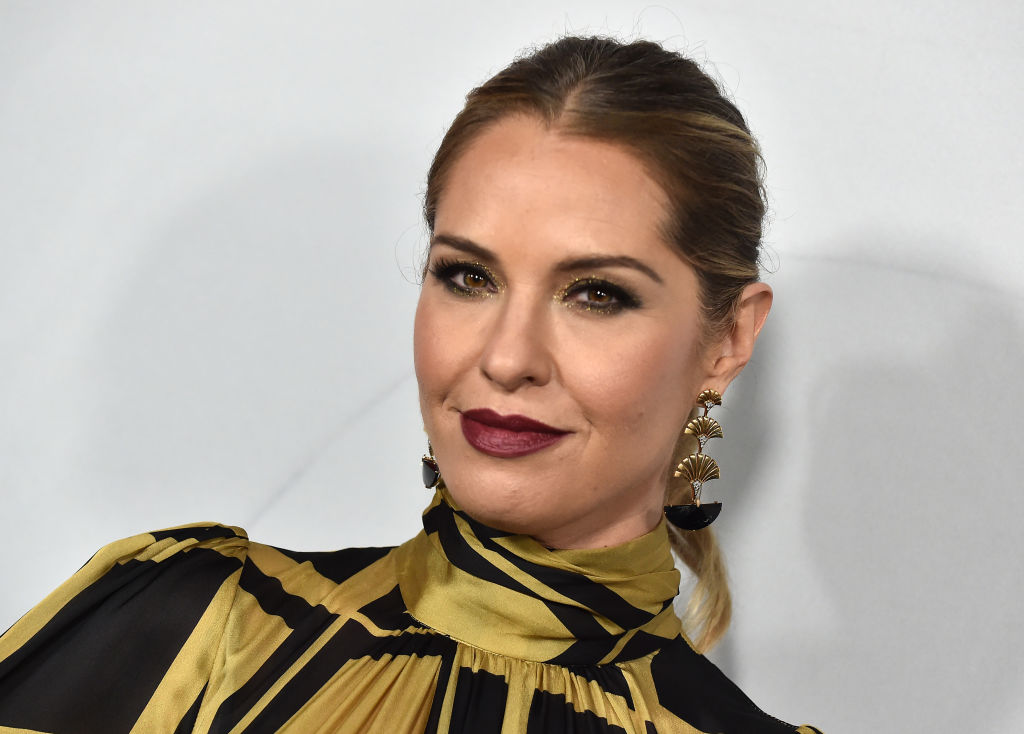 Margaret Booth is preparing for her Camp Redwood music festival
Margaret Booth found out that the Night Stalker killed her opening act of the music festival. She tells Courtney to clean up the blood-soaked tour bus and he does reluctantly. As he's shoving a garbage bag into a trunk, he hears another group rehearsing.
Of course, if Billy Idol is performing at Camp Redwood, the Night Stalker can't be far away. The character is jamming out in the forest when Mr. Jingles tackles him. The two killers tumble down to the road when the thumbs-hitchhiker-guy hits him with his car. Mr. Jingles gets away, but this murderer is a huge fan of the Night Stalker. They team up, with hopes of defeating Mr. Jingles once and for all.
Brooke and Donna may have blown their cover
The reporter knocks on the girls' motel room and she fully knows who they are. Brooke decides to cut a deal with this writer. If she shows the reporter around Camp Redwood, then Brooke and Donna go free. They all agree.
At one of the cabins, Trevor and Montana are having a romantic date. She tells him that she wants to be dead or alive, anywhere but Camp Redwood. Trevor says that he'll stay with Montana because he's in love with her. As they're walking out of the cabin, they kiss and Margaret Booth sees.
Meanwhile, the Night Stalker and the hitchhiker are gossiping about Mr. Jingles. Xavier appears and leads them directly to Mr. Jingles' body, but the ghost of Mr. Jingles stabs Xavier through the chest. Just as the Night Stalker says he'll get his revenge by murdering baby Bobby, Margaret Booth shoots Mr. Jingles in the head. She explains to the other two men that she needs all the serial killers she can get, which can't be a good sign.
Brooke and Donna finally made it to Camp Redwood with the reporter and the writer barely believes what Brooke is telling her. Donna and Brooke decide they can't trust her and, as a result, they're going to keep her at Camp Redwood. Brooke decides to murder her. Apparently, prison really changed her.
Mr. Jingles is a little tied up at Camp Redwood
The camp counselors, led by Xavier, are angry with Mr. Jingles. They tied him up and are ready to get their revenge when Mr. Jingles pleads to save his son. Oh yeah, and he lets it slip that Montana and the Night Stalker dated. So technically, he says, it's her fault that he went on a killing spree.
Brooke takes the reporter to a cabin and tells her to close her eyes. Just as Brooke is about to slit her throat, Donna lets the reporter run away. Unfortunately, she runs right into the Night Stalker, Margaret Booth, and the hitchhiker. Surprise! They kill her. Still, Margaret Booth isn't satisfied. She explains that they're going to murder every artist that comes to the festival, making Camp Redwood a Mecca for 80s music.
Somewhere in the forest, Montana is sitting alone, thinking. Trevor sits with her and says he'll kill himself for Montana, so they can stay young and together forever. Montana confesses she dated the Night Stalker but she wasn't the reason he went crazy. Why are the women always blamed when men are messed up. Anyway, she breaks up with Trevor.
Xavier and a few other ghosts stab Mr. Jingles and leave him to die on a boat. Mr. Jingles sees Montana across the lake when a very Friday the 13th-esque moment happens to Mr. Jingles. The result is that he wakes up with his mother and brother. The former killer tells his mother that he doesn't deserve happiness, especially with his son in the hands of the Night Stalker. Mr. Jingles' mom and Bobby reassure him that they're at peace. They finally enjoy some time together as a family.
The next and final episode of American Horror Story: 1984 premieres on Nov. 13 at 10 p.m. EDT.