'AHS: 1984:' Has Ryan Murphy "Had Enough [of] Sarah Paulson?"
Ever since American Horror Story enthusiasts discovered that Sarah Paulson would be absent from the anthology's penultimate season (or reduced to a cameo-level appearance), the internet has been in a frenzy. Ryan Murphy has directed Sarah Paulson in every season of American Horror Story, and the actress has been Emmy-nominated five times for her work in the show. 
First, we lost Evan Peters, which was quite the traumatizing experience in and of itself. However, losing Sarah Paulson – the other Pivotal  "P–" simply feels unfair. How could we go on without Peters and Paulson – two actors who have defined the series for so many years?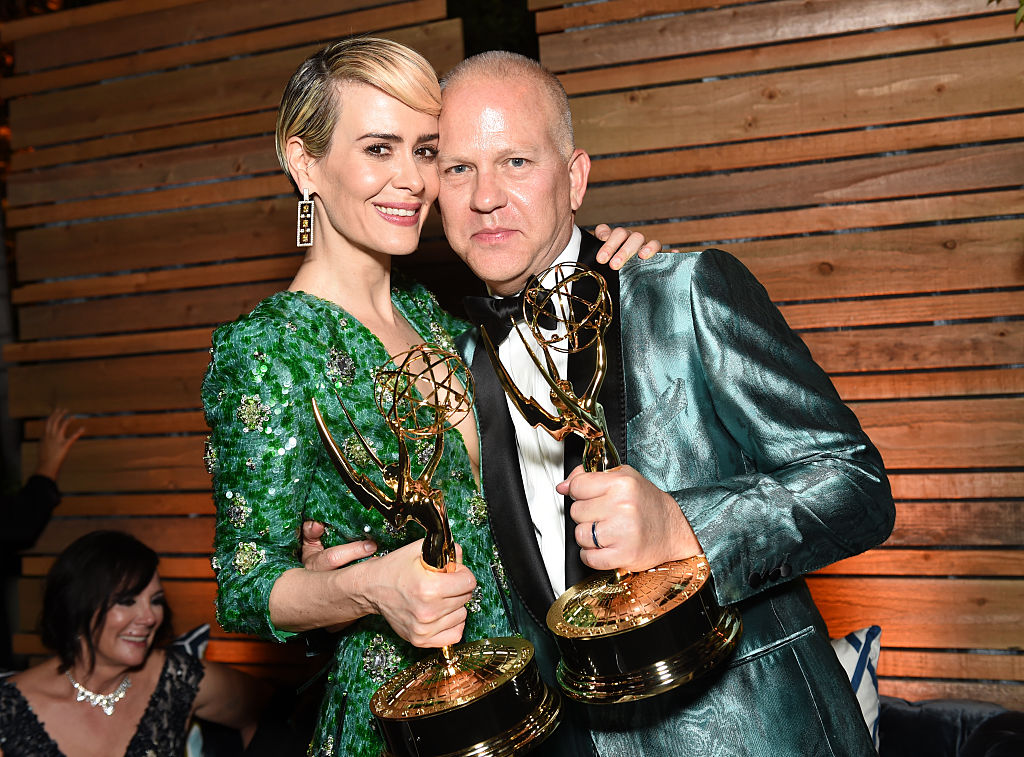 Paulson's sudden exit, which comes merely two months before season nine's premiere, seems a little suspicious. Paulson and Murphy have worked on multiple projects together and teamed-up for works pegged to hit silver and small screens later in 2019 and 2020. Following this news, fans wonder: Is everything peachy in paradise? 
Sarah Paulson once told Collider that she would never leave American Horror Story. Why the sudden change of heart?
Sarah Paulson talks commitment to Ryan Murphy and 'American Horror Story'
Many fans have wondered if Sarah Paulson needed a season to recover, as she often takes on emotionally taxing characters fraught with traumatic pasts and internal conflict in AHS. However, given the actress's comments on the possibility of "taking off a season," such an explanation seems unlikely. 
Collider once asked Sarah Paulson, "…Did you ever think about taking off a season to recover?" Paulson replied:
"My god, are you nuts?!  I'd rather be on American Horror Story than on anything I could think of, ever.  If you're in the group of actors that Ryan Murphy wants to write for, you count your lucky stars.  Going anywhere is not ever going to be something I'm gonna be looking to do, unless he's decided that he's had enough Sarah Paulson.  When he's decided that he's had enough Sarah Paulson, I'll go on my merry way, but I won't go quietly into the night. I'll be screaming and banging on his car and sending him scary notes that say, "Don't do this to me!"  

Collider
Based on Paulson's response, fans would have never expected the actress to drop a season of AHS…willingly. The AHS actress stated that – unless Murphy one day decided he was done with her – she would never leave. So, is such an explanation possible? Could Murphy have not needed Paulson's talents for the penultimate season? With Paulson and Peters out, AHS may take a hit in rankings; however, if both return for season ten, the finale may be met with some record-breaking viewership.
All factors considered, though its possible Murphy told Paulson to "sit one out," it's more probable that the actress is too busy, as she has quickly ascended to A-list status on the back of Murphy's works. Not to mention, Murphy may want her to focus on the next series he has her set to star in.
Sarah Paulson and Ryan Murphy's professional relationship (outside of 'American Horror Story')
Sarah Paulson won an Emmy award for her performance in Ryan Murphy's American Crime Story and is set to appear as the lead in the writer-director's upcoming show Ratched. The series will chronicle the story of the infamous Nurse Mildred Ratched from One Flew Over the Cuckoo's Nest. 
Sarah Paulson is also set to star in Abominable, Run, Mrs. America, and the Goldfinch. Mrs. America is currently filming, while Run is in post-production. Committing to a series requires quite a decent amount of free time and, unfortunately, that amount of time is undiscoverable in Paulson's current schedule. 
Ryan Murphy likely told Sarah Paulson "enough of this AHS business for now. You'll return next year." However, based on the work the two have done – and continue to do together – he likely hasn't had enough of her, as Paulson once implied would have been the case if she ever departed AHS.