Alan Tudyk on "Unleashing Absurd Evil" as Mr. Nobody in 'Doom Patrol'
Doom Patrol: A "for mature audiences only" superhero series that centers on four misfits and a Cyborg banded together under the affluent Dr. Niles Caulder.
This haphazard family must learn to work together when Mr. Nobody, portrayed by Alan Tudyk, kidnaps Caulder and creates a black hole in the ground, which he uses to envelop their home town…later retained in the gut of a donkey. Yup, not your ordinary superhero story.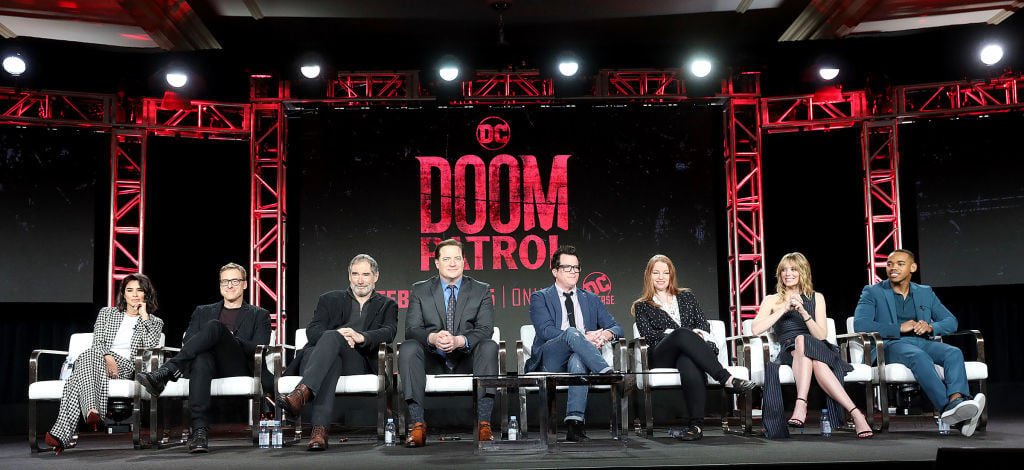 As for the four misfits, there's a '50s Hollywood starlet who uncontrollably turns into a sludge monster. A girl with multiple personalities and a unique power associated with each. A hedonistic and narcissistic robot guy who lost his entire body in a car crash. And finally, an internally distraught and seemingly mummified man who has an electrical human-shaped force living inside him.
The show – featuring graphic sex, perverse language, and a set of dysfunctional victims as heroes – is funny, action-packed, and utterly absurd. When you think you've seen the extent of the absurdity, a donkey vomits up a human in episode two.
Alan Tudyk's interview with DC Daily

Alan Tudyk – supervillain Mr. Nobody on DC Universe's Doom Patrol – sat down for an interview with DC Daily to discuss his role on the show. He stated:

"My character is named Mr. Nobody. Oh, he's got a couple of names because he starts out as Eric Morden, who's like a bad villain, and not in like he's bad, but like he's bad at it. He's not good. I start out as Eric Morden, a bad, not good, bad man, and then I become Mr. Nobody because a Nazi turns me into one. And then, I unleash evil on everyone. Absurd evil. He's an absurdist. He's kind of like The Joker, but not so serious."


DC Daily

Alan Tudyk is one of several worthy actors contributing to this show's wondrous atypicality. Based on Grant Morrison's comic book series of the same name, the show defies standard superhero tropes to foster an unexpected viewer experience given the genre at hand.
Who else is in 'Doom Patrol?'

Matt Bomer and Brendan Fraser are the two other big names working alongside Tudyk in Doom Patrol. Bomer stars as Larry Trainor, AKA Negative Man, while Brendan Fraser plays Cliffe Steele, AKA Robotman.

Negative Man harbors guilt for his past life as a duplicitous husband and father. He fell in love with a man and, finding himself trapped between worlds, often traveled into space to escape his hardship.
Robotman, a former racecar driver, husband, and father, cheated on his wife with his daughter's nanny and showed no signs of remorse. One fateful night, he decided to change his ways and become the father and husband he intended to be; he kills his family in a car crash the same night.
Bomer, Tudyk, and Fraser are joined by April Bowlby and Diane Guerrero as Rita Farr and Crazy Jane respectively. The former plays the one who becomes a sludge monster, while the latter retains all the different personalities.
Farr, afflicted with uncontrollable vanity, turns into sludge when her emotions get the best of her. Crazy Jane seems to transition between identities effortlessly (and uncontrollably).
Where you can watch 'Doom Patrol'
Doom Patrol is a DC Universe original; thus, you have to visit the DC Universe site and sign up for a subscription to stream the show. While Netflix and Amazon tend to offer the best options when it comes to streaming services, DC put out a gem with this one, so it's worth the free trial (at the least).