Alanis Morissette Reveals She's Struggling With Postpartum Depression for the Third Time
'Jagged Little Pill' artist Alanis Morissette isn't ashamed to reveal the truth about postpartum depression for the third time.
It's always refreshing when celebrities share stories proving they're human, too. Especially when it comes to mental health issues that might still have some stigma attached to them.
The latest of these comes from alt-rocker Alanis Morissette, the Canadian-American artist who was the voice of angst in the 90s. This stunning songstress is still performing and delighting fans thanks in no small part to how authentic she is. Morissette isn't afraid to show her real self either through emotive lyrics or by revealing the most private parts of her life.
Morissette married rapper Mario Treadway, better known as Souleye, in 2010 and the pair have since welcomed three children into their family. But as Alanis Morrissette explained, motherhood and postpartum life haven't always been easy.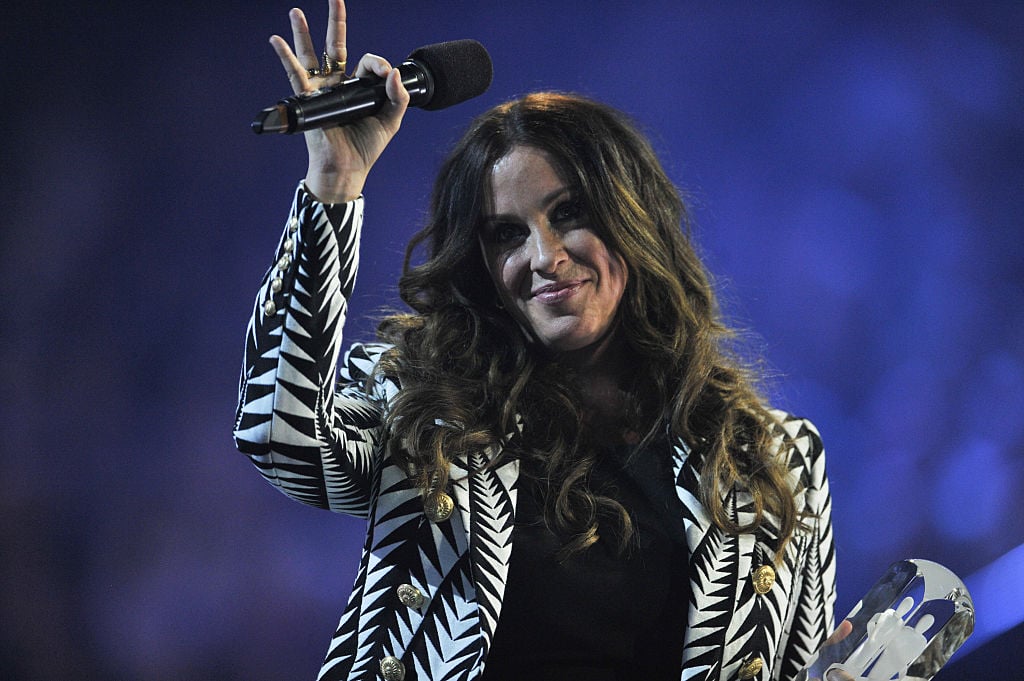 Alanis Morrissette is dealing with postpartum depression for the third time
Morrissette recently published a heartfelt essay on her website discussing the struggle. The 45-year-old singer welcomed daughter Winter Mercy on August 8 and admitted she's been having a hard time ever since.
"I wasn't sure if i would have post partum depression/anxiety this time around. or, as i like to call it: post partum activity. or, also: post partum tar-drenched trenches. there are so many tentacles to this experience," Morrisette said.
Then she listed some of the specific issues she's been having, including "Hormonal. sleep deprivation. fogginess. physical pain. isolation. anxiety. cortisol."
She's able to recognize postpartum depression this time around
"Recovery from childbirth (as beautiful and intense as mine was at home, dream birth.), integrating new angel baby with older angel babies," Morrisette explained. "Marriage. all kinds of PTSD triggers. overstimulation. this body. attempting to crawl back to some semi-recognizable configuration."
Later, she also says she's been "great" at "setting boundaries in some areas," but is simultaneously "blind-spot-ty" with, "reaching this point again where the sleeping giants of my survival strategies are being roused."
In other words, she's trying her hardest but knows that she'll need help and support during the difficult transition period right after birth.
Morissette isn't the only celebrity getting real about postpartum
The American Psychological Association estimates that around 1 in 7 new mothers experience symptoms of postpartum depression, which is sometimes called "baby blues." These include stress, sadness, anxiety, tiredness, and weepiness, among other things.
And Alanis Morrissette isn't alone in her plight, even amongst the Hollywood crowd. Other celebrities such as Drew Barrymore, Behati Prinsloo, Adele, Sarah Michelle Gellar, Lena Headey, Kendra Wilkinson, and Chrissy Teigen have all revealed they experienced postpartum depression, too.
She described what got her through postpartum before
"I'm used to being the rock of Gibraltar, I'm used to providing and protecting, and for postpartum times, I was devastated and it had me questioning my identity … it had me questioning everything," Morrisette said in a 2017 interview. "I was at the ready, whether I'm adjusting this hormonally or through vitamins or through omegas or allopathic medicine or whatever, I was ready to do anything." 
But Morrisette echoes what so many other moms have said — that she got through it by asking for help. "Even just sitting near my husband and leaning on him and hearing his heart beat … it's so healing," she said.
We wish Alanis Morrisette the best as she embarks on this journey as a mother of three.