Will Alexander Skarsgård of 'Big Little Lies' be the latest to win an Emmy from beyond the grave?
Chances are you've heard of Big Little Lies by now. It's successfully taken the world by storm, and people can't get enough. It's based on the same-titled best seller by Liane Moriarty. It's a dark and comedic tale of murder and intrigue in a tranquil beachfront town in Monterey, California. The community is fueled by rumors and deception and is enough to have anyone hooked by episode one.
Alexander Skarsgård's character may win an Emmy from beyond the grave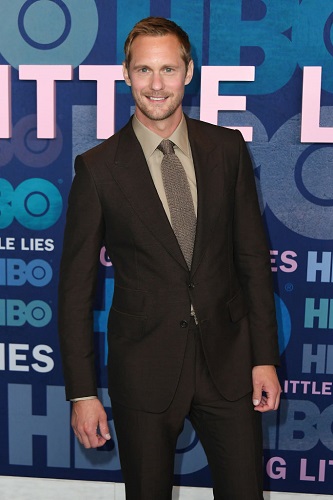 Alexander Skarsgård, who plays Perry, Celeste's dead husband and a rapist and abuser, may be the latest actor to win an Emmy from beyond the grave — so to speak. Perry was killed off at the end of Big Little Lies season one. He was pushed down a flight of stairs by Bonnie (Zoe Kravitz).
Perry is dead in the show essentially, but keeps returning in flashbacks and video recordings that seem to haunt and torment Celeste (Nicole Kidman) and her mother-in-law Mary Louise (Meryl Streep). Skarsgård could actually win an Emmy in 2020 for his portrayal of Perry this season.
Fans of 'Big Little Lies' have theories about who killed Perry's brother
Fans can't get enough of Big Little Lies, and in turn have developed a number of theories about the show. Fans have wild thoughts of how Perry's brother died. All that is known is that he died, and his mother, Mary Louise (Meryl Streep), hasn't revealed much else about what actually happened.
One theory is that Mary Louise actually killed her son. This comes from a Reddit thread on the show.
"I think Perry got his power/abuse problems from Mary Louise. I think we'll be shown that in the final episodes that she killed Perry's brother in a fit of rage or something," explained the user.
Another theory is that Perry himself killed his brother. Either way, both are just speculations at this point, but either could end up correct. Fans will most likely find out soon.
*Spoilers Ahead*
Last week's episode showed Mary Louise threatening Celeste with taking away her children, Max (Nicholas Crovetti) and Josh (Cameron Crovetti). Mary Louise has compiled evidence against Celeste and plans to take her head on in a horrid custody dispute.
Both Mary Louise and Celeste talk with their lawyers about the many custody hearings in their futures and the list of demands going forward, including a psychiatric evaluation.
Mary Louise even says to the judge, "I do not consider Celeste Wright to be a bad person. She's been a wonderful mother to the boys, and I don't have any reason to doubt her ongoing commitment to them. That said, she's not well."
The creators of 'Big Little Lies' say they hid clues in the Season 2 soundtrack
The creators of the iconic show say if you listen closely, you can spot clues in the music of the show. Vallée and Earworm music supervisor Simon Astall say the use of the music is a testament to the characters and runs deep within each of them.
They spoke to Esquire about season two and the music, as well as clues that are available if you listen close enough.
"The way we started it was we had different playlists for each character, with thoughts of where they might be in their lives," Astall told Esquire.