Alexandra Daddario Says Meghan Markle Made Her Workout Spot 'Harder to Get Into'
Actress Alexandra Daddario of 2017's Baywatch movie (based on the TV show of the 1990s) isn't exactly thrilled about the visit Meghan Markle, Duchess of Sussex, made to New York City recently (learn what Prince Harry, Duke of Sussex, said about the recent drama with the couple flying privately instead of commercial).
During an appearance on The Late Late Show, she told host James Corden she makes regular visits to Modo Yoga, the same studio Markle visited during her trip to the city to watch her close friend, Serena Williams, compete at the 2019 U.S. Open last week, according to E! News.
See Markle at the U.S. Open cheering on Williams below: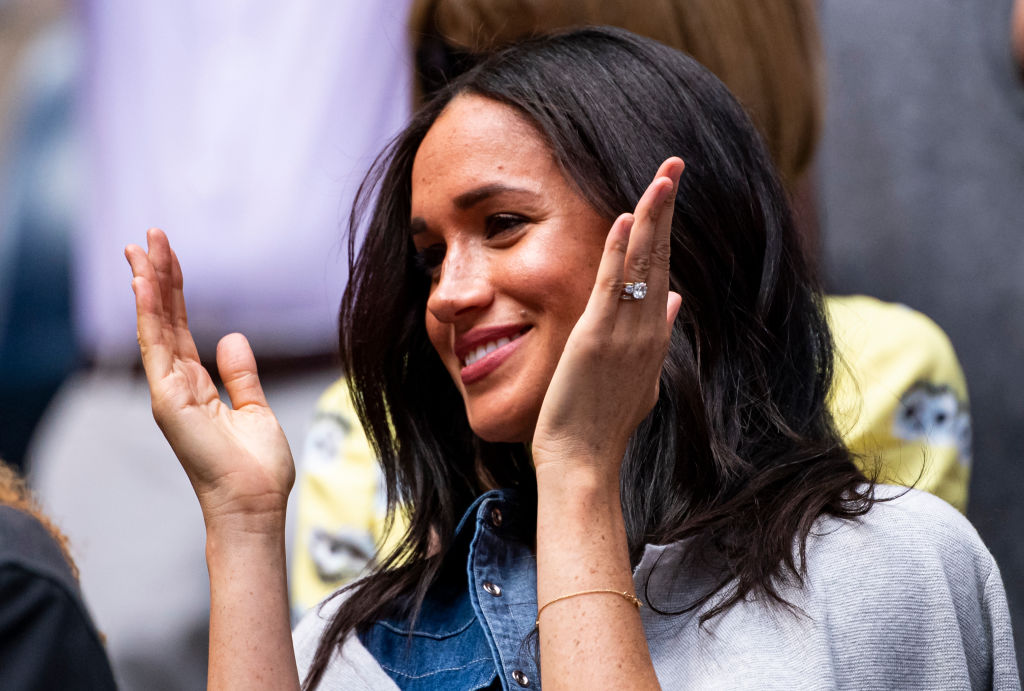 33-year-old Daddario mentioned the Duchess of Sussex's pit stop at Modo Yoga. 
"She came into New York last weekend and she went to a yoga place called Modo Yoga, which is my yoga place. It's where I always go," Daddario told Corden.
She continued, saying now that Markle took a hot yoga class there, it'd be more crowded than ever.
"Now that she went there, everyone's gonna want to go there," Daddario told Corden. "And there's not going to be any room…It's going to be harder to get into."
She added that the studio's hot yoga classes are very strenuous but that "it's wonderful when you're done."
Daddario's no stranger to the yoga studio or gym. Earlier this year she made an appearance on Zac Efron's YouTube series, Gym Time, where the two had a mini Baywatch reunion (Efron got ripped his role in the movie).
As for Markle, she's been known to practice yoga for many years after learning about it from her mother, Doria Ragland, a yoga instructor.
Meghan Markle on yoga: 'Yoga is my thing'
For the May 2016 cover story of Better Health magazine, Markle talked about her introduction to yoga. Learn her go-to yoga sequence here.
"Yoga is my thing. My mom is a yoga instructor and I started doing mommy-and-me yoga with her when I was seven," she told the publication. "I was very resistant as a kid, but she said, 'Flower [Meghan Markle's nickname], you will find your practice — just give it time.' In college, I started doing it more regularly," Markle said.
Today, Markle's devoted to her practice and prefers to start her day with a few yoga poses. It's been said that when she started dating Prince Harry, now the Duke of Sussex, she got him interested in the healthy hobby too. Find out the first thing she did when she moved into Nottingham Cottage with Prince Harry that had to do with improving her future husband's health.
What are Meghan Markle's favorite yoga poses?
Before she took down her lifestyle website, The Tig, in 2017 — she recently renewed the trademark for the site for a very specific reason — Markle shared a lot of information about how she maintained a healthy lifestyle, including some of her go-to yoga moves.
While the site's no longer accessible, only a landing page with Markle's 2017 farewell message appears, the insights she shared on her site have been well documented. The Insider reported the Duchess of Sussex's favorite poses included Warrior Two, Downward-Facing Dog, Bridge Pose, Thread The Needle, Supine Twist, and Corpse Pose.