Alisha Wainwright: Everything to Know About Justin Timberlake's Controversial 'Palmer' Co-Star
Alisha Wainwright woke up to find out that her name was in the headlines in a way it never had been before. She was in a bar in New Orleans with her co-star Justin Timberlake, and the pair were caught holding hands and generally getting very cozy with one another.
Since Timberlake is a megastar married to the equally famous Jessica Biel, the canoodling set off a scandal that has taken the internet by storm. Let's take a closer look at Timberlake's marriage to Biel and just what we know about Wainwright and her relationship to Timberlake.
Justin Timberlake and Jessica Biel have been married since 2012
Timberlake and Biel met in 2007 at the Golden Globes. Unlike many celebrity couples who tend to keep their love lives — especially in the early days — a secret, Timberlake and Biel were openly together early on.
Their public displays of affection have made them an endearing presence for fans, and many people have held up their fun-loving relationship as an ideal example of a Hollywood marriage. In 2015, fans were delighted to find out that the family was growing: Biel gave birth to their son, Silas Randall Timberlake.
Afterward, both celebrities were quoted talking about their desires to expand their family in future years. 
Justin Timberlake's cuddling with Alisha Wainwright drew anger
Because Biel and Timberlake have been so publicly adored as a couple, reports of Timberlake's apparent missteps were met with angry fans. The photos that have been circulating show Wainwright's hand on the inside of Timberlake's leg as the pair sit together. Another shot shows their hands intertwined.
Many also used the moment to reminisce on Timberlake's past relationship with Britney Spears. They dated until things went south with accusations of cheating flowing in both directions.
A source came forward to say that the interaction was "completely innocent" and pointed out that the pair were on a crowded balcony where they would obviously be seen by people, suggesting that they had nothing to hide.
Alisha Wainwright has recently broken out onto the Hollywood scene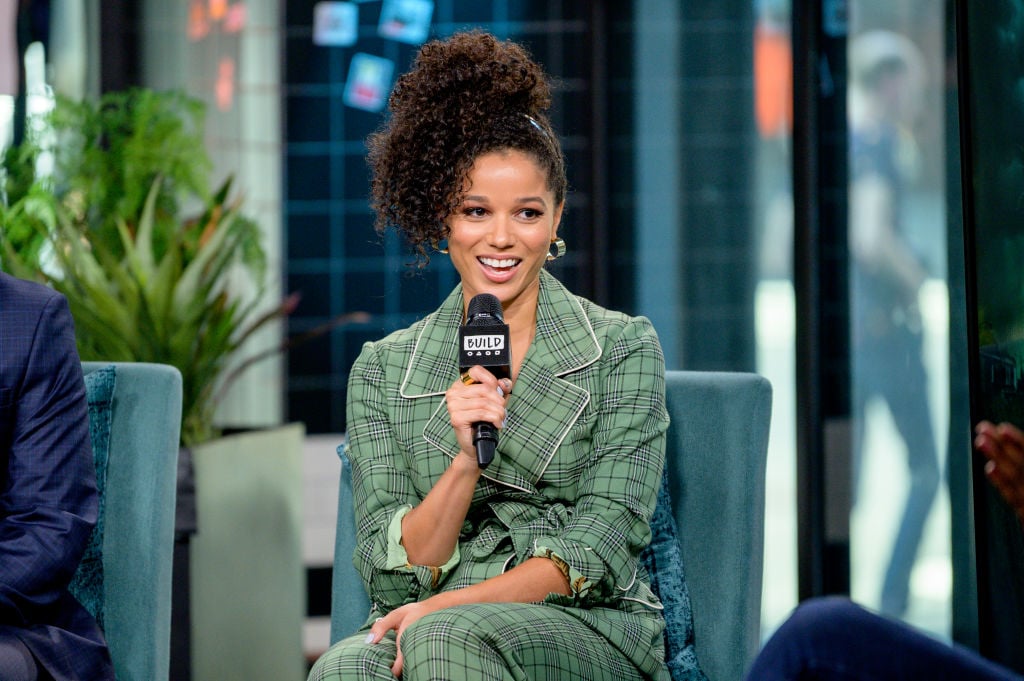 In the midst of all this publicity, Wainwright is getting a lot of attention. Many people following the story are curious about who she is. The reason that she was hanging out with Timberlake in New Orleans is that the pair are there on set together while filming Palmer, a movie that follows an ex-convict as he befriends a boy from a troubled home. 
Wainwright has been active in entertainment since the early 2010s, but most of her appearances have been small guest roles on television shows. It wasn't until 2017's series Shadowhunters that Wainwright had a real breakout. The series is a dark sci-fi hit about demon hunters.
Since then, she has also risen to fame through her role in Raising Dion. Here, she stars in the series as a single mom who finds out that her son has superpowers. 
Has Alisha Wainwright commented about the PDA scandal?
While there hasn't been much said from any of the people directly involved in the scandal, Wainwright's father did make some statements on her behalf. He's a music producer and says that his closeness to the entertainment industry means he's used to the "hoopla" of the media.
He suggests that the entire thing has been blown out of proportion. He claims: "It's all just speculation. She is in New Orleans doing some work, that is all. They are working on a movie together."
Hopefully, the sources are right and this was just an innocent moment that got caught through an inopportune lens to make it look more damaging than it was. Only time will tell how this scandal might impact Biel and Timberlake's marriage, but fans are surely hoping they are able to move past it.