Do Aly & AJ Have Plans to Pursue Solo Careers? Here's Why They Say They're 'Better Together'
Like many in the entertainment industry, Aly & AJ bridge the gap between singers and actors. They both pursue both, and though they sometimes overlap, they manage to keep the two separate for the most part, writing and performing music together while acting separately. While they may be interested in film and TV opportunities that include the other, here's why you shouldn't expect them to head in different directions musically.
The sisters know that they function best as a duo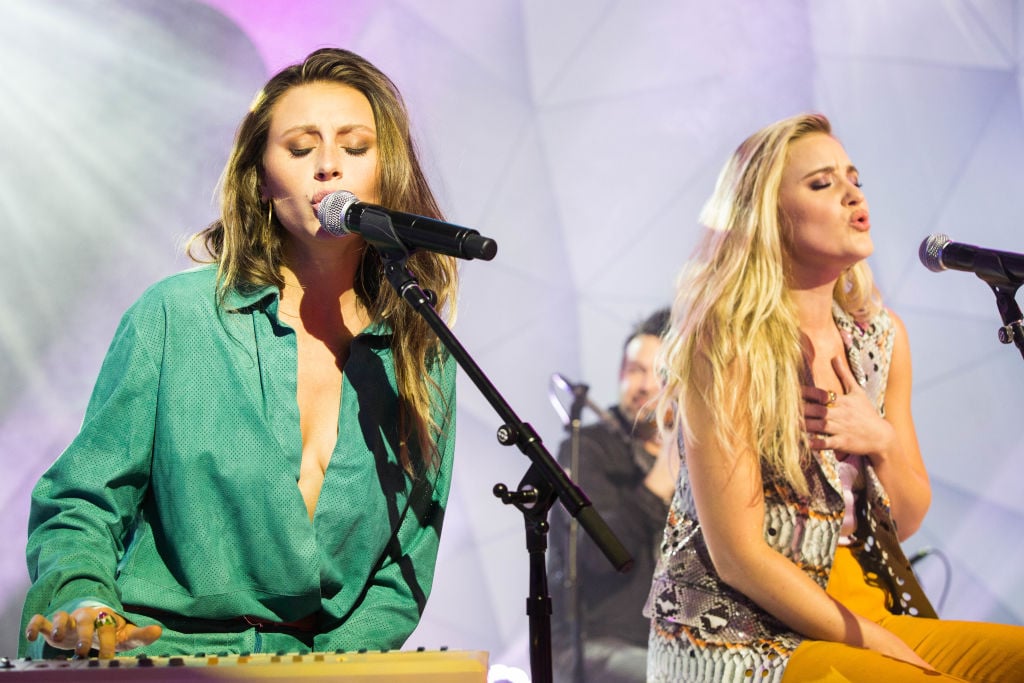 Having worked together so long, fans might wonder why they never pursued solo careers. "I think we know that's we're better together," said Aly to Showbiz Cheat Sheet. "I think when you reach success there's always that temptation that you could do it by yourself, or that it should just be for you — the spotlight should just be on you. And AJ and I have never felt that which is really unique."
She continued. "I think a lot of bands, a lot of sibling bands, have felt that over the years, and that's normal. But I think if you can kind of fight that urge it's better for you as a human, and probably better for your relationship with your sibling, to know that it's OK to share the spotlight. I actually find it much more reassuring to know that she's there with me on stage, rather than it just being all on me."
AJ agreed, saying "Same. I wouldn't want it." She added, "We pump each other up in a live element. Especially when it comes to writing, but also performing. I couldn't see us doing this on our own."
They haven't shared much screen time in recent years
When speaking about their music, AJ transitioned into the other side of their careers. Though they're together in the studio and on stage, "we don't have each other on set," she said, referring to their acting careers.
In the past, they have had a few opportunities to act together: They appeared in the Disney Channel Original Movie Cowbelles early in their careers, as well as Super Sweet 16: The Movie. AJ also had an arc on Aly's first CW series, Hellcats. And they starred in and co-produced the independent film Weepah Way for Now, which was written and directed by Aly's husband, Stephen Ringer.
Will there be more opportunities for them to act together in the future?
Right now, AJ is on hiatus from filming the ABC sitcom Schooled. She said she would love for Aly to appear in a guest role "if it's organic." Aly added, "I've mentioned it to the creator(s) [Adam Goldberg and Mark Firek]," to which AJ replied, "Yes, he knows."
Aly, on the other hand, wrapped up filming the CW series iZombie in January 2019, which will conclude its five-season run in August. Though Aly lamented not getting AJ a guest spot on iZombie, AJ said, "Our music was on! That was cool. And I like how they placed it, like the fact that it was in that scene. That was very clever," referring to songs from their EP Ten Years which were used in Season 4.
"It would have been fun. I would have loved to have been a zombie," added AJ. "You would have probably loved it," agreed Aly. But they both noted that there weren't any obvious opportunities for her to guest star, noting that most tended to "skew older." "As actors, we want to continue making films together too."