AMC's 'Preacher': Everything We Know (So Far)
AMC's highly anticipated adaptation of Preacher is set to hit the small screen on May 22. We've already seen the first trailer and now, the network has released new photos and details about the Seth Rogen-produced series. Here's everything we know about the upcoming comic-inspired show so far.
1. It'll stick to the comic's original premise

Like the original 1990s series from Garth Ennis and artist Steve Dillon, the show will center on Jesse Custer, a conflicted Preacher in a small Texas town who merges with a creature that has escaped from heaven and develops the ability to make anyone do anything he says. Left with this new power, he hits the road to find God, bringing his ex-girlfriend Tulip O'Hare and the hard-drinking Irish vampire Cassidy along for the ride to find God. Meanwhile, the Saint of Killers, an immortal killer, trails them on their journey, with his sights set on Jesse.
2. The three main stars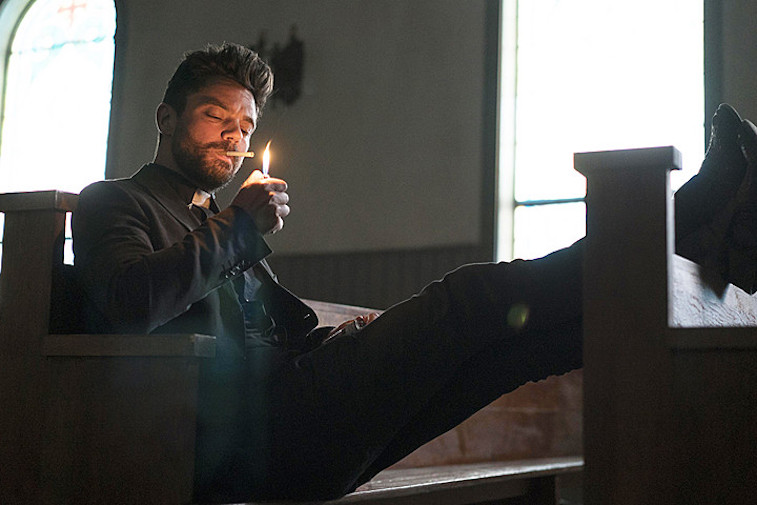 Agent Carter star Dominic Cooper takes on the titular role of Preacher Jesse Custer. Agents of S.H.I.E.L.D vet Ruth Negga and Misfits actor Joseph Gilgun round out the unholy trio, playing Tulip and the Irish vampire, Cassidy, respectively.
Fans got a glimpse of the live-action versions of the three characters in March, when Rogen shared the official first-look cast photos, seen above and below.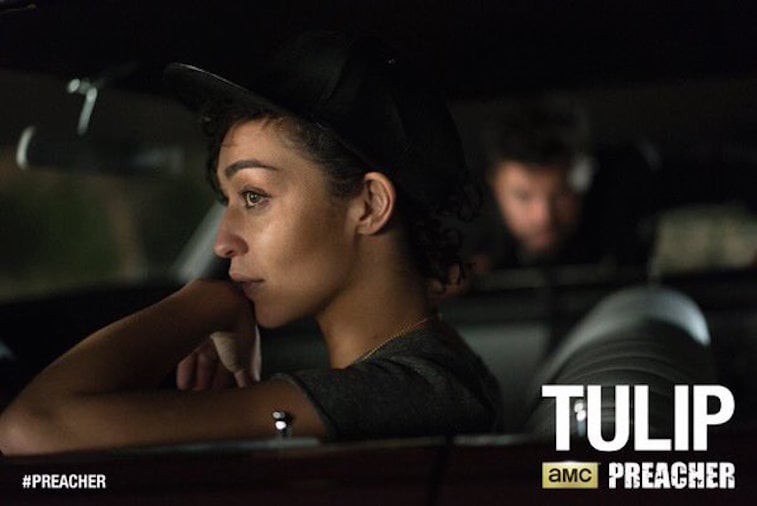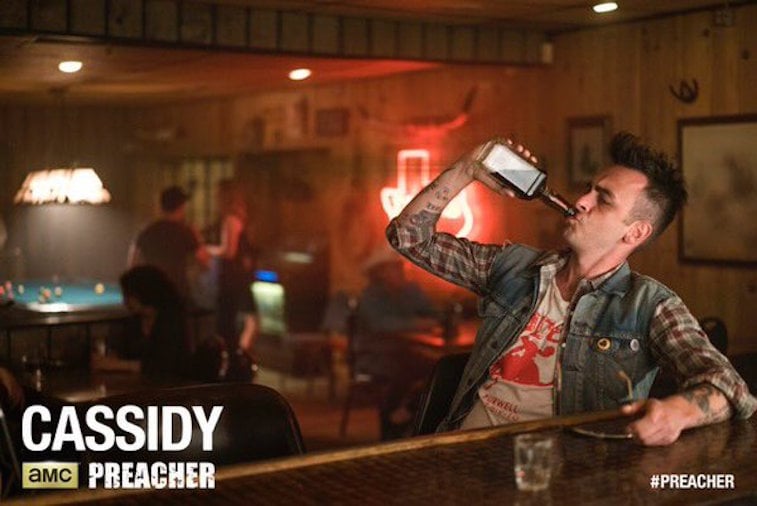 3. The supporting cast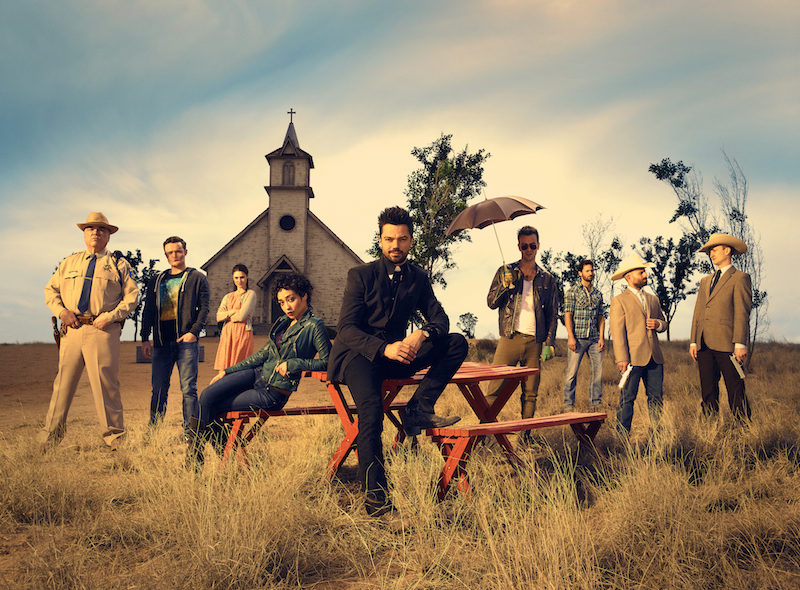 In addition to the core trio of stars, the show will also feature Ian Colletti (above) as Eugene "Arseface" Root, Jackie Earle Haley as Odin Quincannon, W. Earl Brown as Arseface's father, and Elizabeth Perkins as Vyla Quinncannon. Lucy Griffiths, Jamie Anne Allman, and Derek Wilson will also co-star.
4. The creative team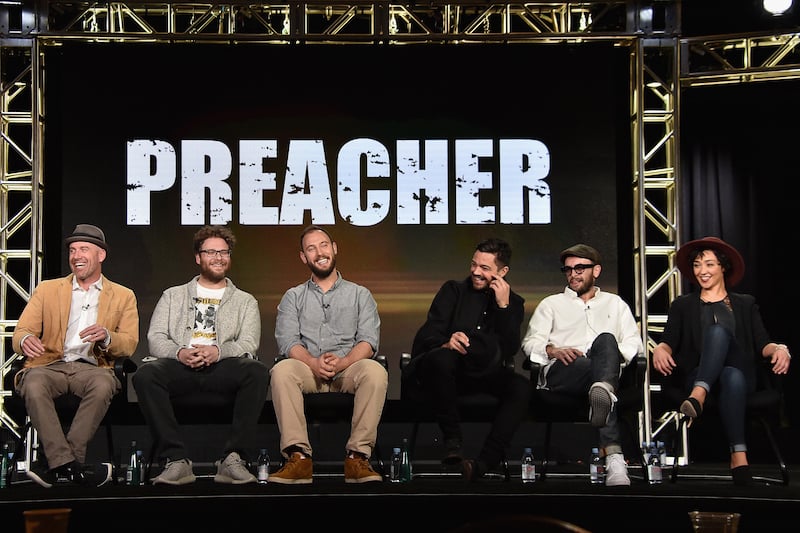 Rogen and his writing and producing partner, Evan Goldberg, are heading up the adaptation for AMC. The duo will reportedly split directing duties, as well as executive produce via their production banner Point Grey.
The team will also include two Breaking Bad alums. Sam Catlin, who previously worked as a writer and producer on Breaking Bad, penned the script for the pilot and will also serve as both the project's showrunner and a co-executive producer. Meanwhile, Breaking Bad composer Dave Porter will reportedly score the music for Preacher.
5. It'll be just as violent as you imagined
The show will feature plenty of the dark humor and violence that the original comics are famous for. As the trailer showcased, Jesse (who is no stranger to violence or its aftermath) isn't afraid to break a few arms and tends to leave brutal fights, fire, and a number of dead and badly injured bodies in his wake.
But while the show will maintain the edgy and hyper violent tone of Ennis's comic, fans shouldn't expect a completely faithful adaptation of the series. "We are changing the specifics of how the narrative is unfolding," Rogen told CraveOnline in October. "A lot of the building blocks we are not changing, a lot of characters we're keeping, but we want to make a show that if you're a fan of the comic, you don't know what to expect."
6. It's had a long road to screen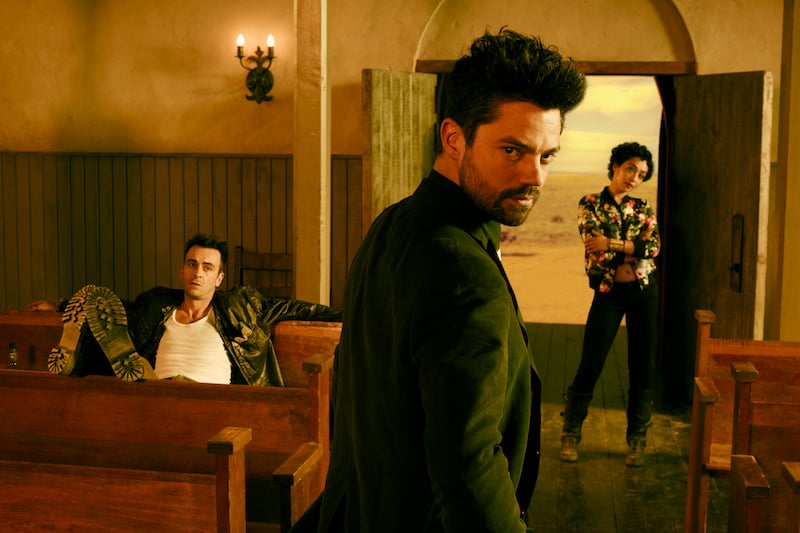 The comic book franchise has been a longtime fan favorite, but its storyline has proved too controversial for other networks in the past. Talk of a small-screen adaptation has been going on since as far back as 2006, with Daredevil's Mark Steven Johnson penning a potential script for HBO. The network eventually passed on the project for being too dark and violent.
Following HBO's failure to pick up the series, both the Weinstein Co. and Columbia Pictures made attempts to turn into the comics into a potential feature film. Both efforts to bring Preacher to the big screen were eventually abandoned.
AMC's highly anticipated incarnation has made it this far, but whether it will live up to the original comics remains to be seen.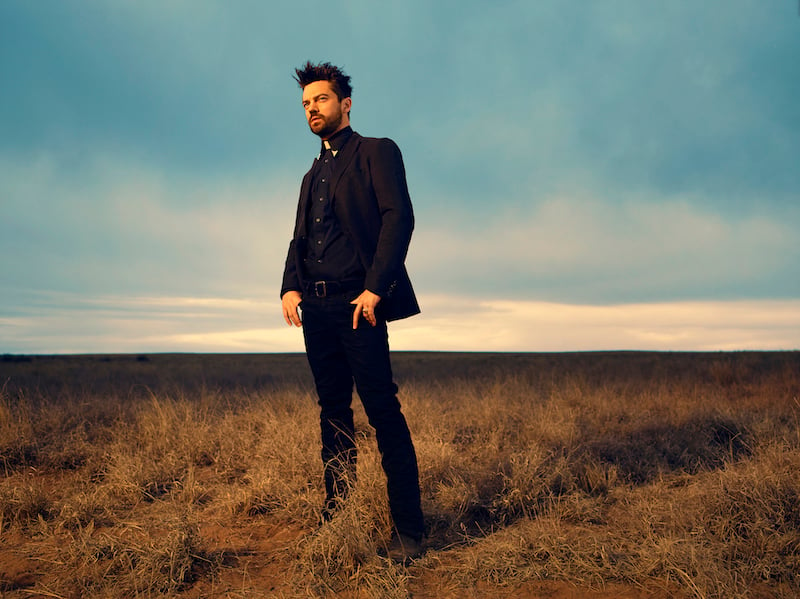 Preacher is currently expected to premiere on AMC on Sunday, May 22, at 10 p.m. ET.
More from Entertainment Cheat Sheet: