FX's 'American Horror Story: 1984' Episode 1 Recap — Camp Redwood
'American Horror Story,' like, totally got more radical, man. Here's our recap of the first 'AHS: 1984' episode, entitled 'Camp Redwood.'
American Horror Story, like, got more radical, man. On Sept. 18, FX's award-winning series premiere their ninth season, entitled AHS: 1984. This season is totally a blast from the past, featuring actors like Cody Fern, Billie Lourd, Emma Roberts, and Gus Kenworthy. Here's a recap of this series' gnarly and eerie first episode, "Camp Redwood."
This article contains spoilers from the "Camp Redwood" episode of American Horror Story: 1984!
'American Horror Story 1984' starts with a clip from the past
In true AHS fashion, this season starts off with a scene that's equally cryptic, creepy, and confusing. Fans saw a few teenagers enjoying their night at summer camp, doing what crazy teens do at night. When one girl looks away for a moment, she sees that the people she was with were stabbed literally through their faces… yikes.
She staggers backward off the bed but is, unfortunately, stabbed through the eye and killed by a stranger dressed in black with jingling keys. He cuts off her ear and adds it to his chain before walking out of the cabin, revealing a slew of campers killed in a similar, gruesome fashion. That is, until this season's racial theme song projected across the screen, complete with leg warmers, neon colors, and roller-skates. (A pretty stark contrast from blood and a dark cabin, if you asked me.) 
Fans meet characters Brooke, Montana, Chet, Ray, and Xavier
We first meet our protagonists at a Jazzercise class, lead by Cody Fern's character Xavier. Montana (Billie Lourd) and Brooke (Emma Roberts) first meet in the women's locker room and, although Brooke is a little shy, they become friends. After all, Brooke is new in town and doesn't really know anyone.
Montana introduces her to her other friends, Chet, Ray, and Xavier and Xavier suggests that they should all head to Camp Redwood and be counselors for the summer. Brooke declines, even with all the recent murders happening in Los Angeles by a man nicknamed the "Night Stalker." Montana shrugs it off and says that if Brooke changes her mind, she can call her. She writes her phone number on Brooke's hand.
Brooke heads home, alone, and goes off to sleep. It isn't long, however, until a man breaks into her apartment, demanding her jewelry. Montana motions to a jewelry box, but the man only takes one ring and asks if there's anything else. Brooke says no, but the guy still shoves her around the house, looking through all her bags.
In classic Rapunzel-from-Disney's-Tangled style, Brooke grabs the nearby frying pan and whacks him in the head. The robber runs out, swearing on Satan that he'll return. He also mentions something about the Night Stalker. The same Night Stalker that Xavier talked about earlier. Strange. Fans saw the crew head off to Camp Redwood for the summer, including Brooke who, evidently, didn't want to be alone all summer.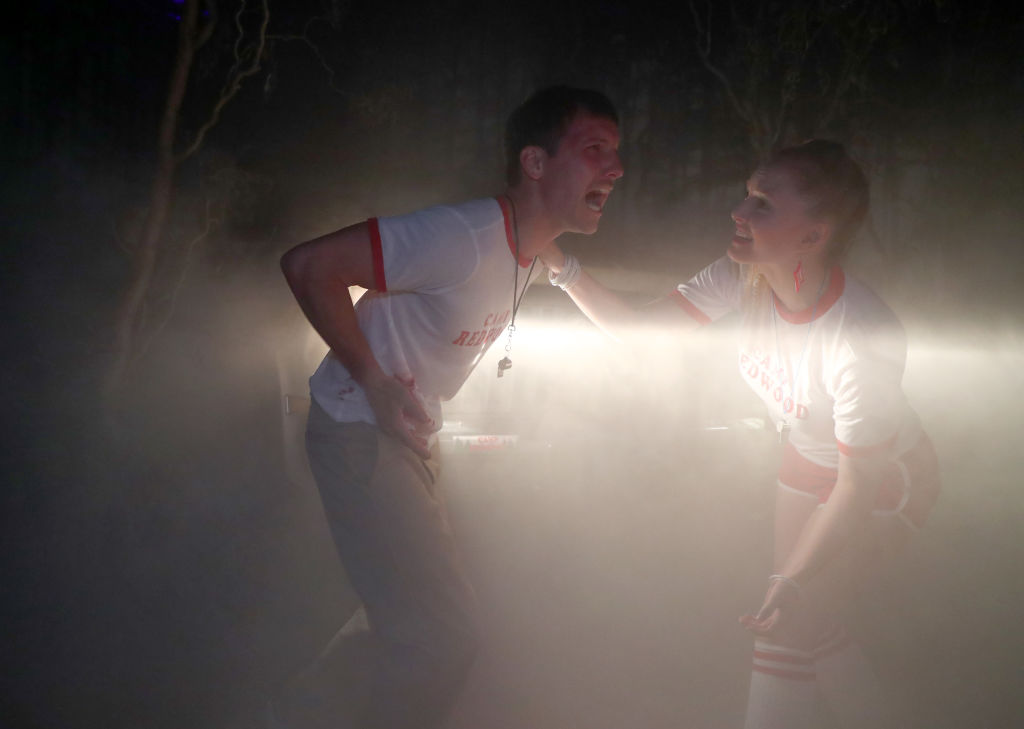 The crew gets a weird, cryptic message from someone at a gas station
On their way to Camp Redwood, the gang makes a pit stop at a gas station, where Xavier takes a weird, cryptic phone call and the store attendant tells the rest of the friends to "turn around." Both warnings are, apparently, no big deal, and they keep driving. Xavier then hits a man with his car and they all freak out, especially Brooke, who wants to go into the medical field.
Xavier wants to leave him because the guy already had scars from before, but they know he's not exactly dead yet. Brooke convinces them to take him to the infirmary at the camp. That's exactly what they do, but not before Xavier convinces the nurse that they found him like that, totally no way they could've hit him.
Later, as they're sitting around the campfire, the crew discovers that there are no other counselors and no other staff. The nurse explains that Camp Redwood was once the site of the worst massacre in summer camp history, all because of "one bad apple," aka Mr. Jingles. The owner of camp chimes in and reveals she was once one of his victims, showing her missing ear. So why the heck would she buy this place and reopen it? Supposedly, she wants to turn bad memories into good ones, because she believes God gave her a second chance.
And that guy they picked up from the side of the road? He's still alive and finds himself without an ear, meaning Mr. Jingles is alive, well, and close to Camp Redwood. Brooke is walking around the cabins when the guy from the road walks up to her and tells her to leave. Like, right now. Brooke runs to tell everyone else but they're interrupted by another "counselor," named Trevor, who Montana is quickly attracted to. They head out to the lake to go skinny dipping but are interrupted, again, when Montana sees a car approach the camp and park.
Mr. Jingles gets out of the asylum and makes his way towards Camp Redwood
The scene changes to an asylum, where all the patients are running amuck outside. Viewers learn that one patient escaped by pretending to hang himself — Mr. Jingles. A woman later enters his empty room and finds a bloodstained newspaper clipping, confirming he's going back to Camp Redwood.
At Camp Redwood, the crew is watching the Olympics when Gus Kenworthy's character, Chet, gets angry that they can't participate and throws something at Ray, cutting his hand. Brooke rushes after him to make sure he's okay. She takes a detour to find medicine for him. However, when she turns back around, she finds the guy from the side of the road hanging on the door, dead. She looks out the window, and there's Mr. Jungles, just staring at her.
She runs out and it's classic 1980s horror, trip and fall included. Brooke makes it back to the cabin where her friends are and locks the door, but, of course, the boys have to prove their masculinity and open the door. They're like "there's no one here," but Brooke reassures them she wasn't imagining it. She tells them she definitely wasn't imagining the hiker, dead, behind the door. The gang goes to investigate and finds no one behind the door. Brooke decides maybe it was in her imagination. Rather, she decides it's not worth telling the camp's owner, Margaret Booth.
Brooke cleans up and heads to bed. Then, she hears a phone ringing. She wakes up Montana, who apparently sleeps with a knife. Montana brushes it off and goes back to sleep but, naturally, Brooke goes outside to investigate. She answers the nearby payphone and hears nothing but jingling keys. Then, the man who broke into her apartment appears behind her.
The next episode of American Horror Story: 1984 premieres on Sept. 25 at 10 p.m. EDT.