FX's 'American Horror Story: 1984' Episode 5 Recap — Red Dawn
It's time for more twist and turns on FX's 'American Horror Story.' Here's what you might've missed during episode five of 'AHS: 1984,' entitled Red Dawn.
There's really no way out of Camp Redwood. On last week's episode, our already disheveled camp counselors lost their only way out when their car burst into flames. Will Mr. Jingles get his revenge on Margaret Booth? Will Montana kill Brooke? What's the deal with the Night Stalker being revived by Satan? Here's our summary of the fifth episode of AHS: 1984, entitled "Red Dawn."
This article contains spoilers from episode five of American Horror Story: 1984!
On 'AHS: 1984,' it looks like Xavier, Brooke, and the rest of Camp Redwood have no way out
This episode of American Horror Story begins with a flashback of "Nurse Rita," who spied on a couple before breaking into their home. Turns out, the man sneaking around was her father, who murdered the woman in his bed. Donna, which is Nurse Rita's real name, thought her dad was cheating on her mom, but nope! In true AHS fashion, the truth is way worse. During a conversation with her father, Donna tells him that he can change. He stabs himself, deciding that he can't be helped by his daughter.
In the present time, the Night Stalker is chatting with Donna/Fake-Nurse Rita. He's been reborn as pure evil, confessing that the darkness resides in everyone, even her. The Night Stalker then brings back a vision of her father, who convinces Donna that she's truly evil and is meant to follow in his footsteps.
By the car, Xavier suggests making a signal fire but he's stopped by the ever-crazy Margaret Booth. They bring him into a cabin and Margaret suggests two of them go on a boat across the lake…. you know, for help. Chet and Margaret head out, leaving Brooke alone with Montana and an unconscious Xavier. Brooke looks out the window and sees Ray walking around. She runs outside to meet him, the two embrace, and Ray says his mind is foggy. (So, he doesn't remember dying.)
Margaret is alone on a boat with Chet, on their way to get help, which seems like a bad idea. She hits him over the head with an oar and tries to cut off his ear. Margaret gives up and ties him to a chain and leaves him to sink. Still, she manages to yank off his ear with her bare hand.
Brooke and Ray have a heart-to-heart
Ray and Brooke run into the cafeteria, and Brooke confesses that she came to Los Angeles to be a nobody. She wasn't even sure if she loved her fiancé. Ray says he always wanted to be a doctor, and in the end, it cost him a lot. Just then, Brooke kisses Ray.
Xavier is venting to Montana when Donna runs in and confesses that she let Mr. Jingles out. Xavier is pissed that his dreams of acting are over and he starts attacking her. Back with Ray and Brooke, who are (somehow) having a romantic moment alone, Brooke opens the fridge and finds Ray's literal head in there. The frienemies, Brooke and Montana, run into each other. Finally, Montana hits Brooke over the head, knocking her to the floor.
Pretty much everyone is a murderer on 'AHS: 1984'
There are only 20 minutes until sunrise, but Montana is still ragging on Brooke. Montana says her monologue and starts strangling Brooke, but she fights back, stabbing her in the leg. Xavier is still looking for Donna when Mr. Jingles pulls her aside and says he shouldn't have even come. Donna says all she wanted to do was understand her father. Mr. Jingles is attending to his wounds and Donna asks him to kill her, but he can't. There's only one girl on his mind.
Mr. Jingles runs into Margaret and starts strangling her. Suddenly, Xavier shoots him with an arrow. Apparently, this actor played Robin Hood before, and now he's a bitter version of this fairytale character. After taking plenty of shots to the torso, Mr. Jingles stops moving.
Xavier goes to check on Margaret, who turns around and stabs him in the front. (Metaphorically, stabs him in the back, but it's fine.) Mr. Jingles comes back to life and the Night Stalker is right there. He asks if Mr. Jingles will accept Satan as his master. I mean, what other option is there?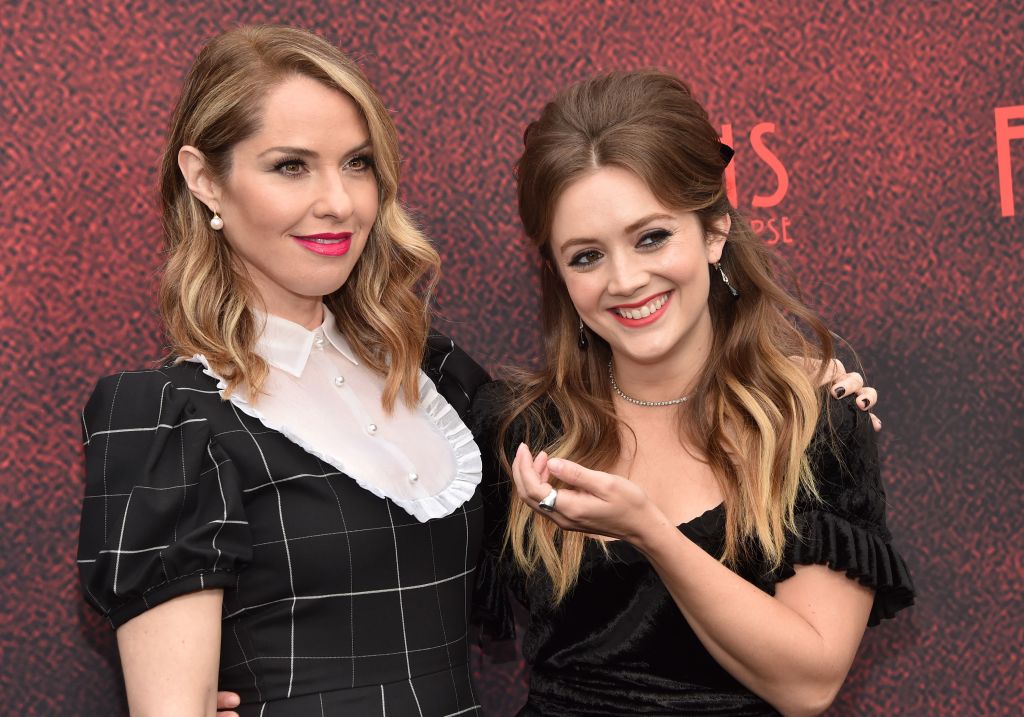 Do people die at Camp Redwood?
It's sunrise at Camp Redwood. The fun has just begun, as a bus full of kids pulls up to this summer camp. Montana and Brooke are literally still fighting. Brooke finally stabs Montana to death just as the campers are pulling up. Of course, paramedics and police arrive, and as a result, Margaret stabs herself in the leg and blames Brooke for everything that happened.
Ray is walking around the crime scene and a nurse takes his pulse. He's dead, so there is none. They put him into an ambulance and wheel him away. Unfortunately, as soon as the ambulance passes the Camp Redwood sign, Ray is left sitting on the road. While Montana, Ray, and the 1970s camp counselor are stuck at Camp Redwood, the Night Stalker stole one of the police cars with Mr. Jingles. The two are living it up, heading straight for Los Angeles.
The next episode of American Horror Story: 1984 premieres on Oct. 23, 2019 at 10 p.m. EDT.