'American Horror Story' Creator Making Murder Funny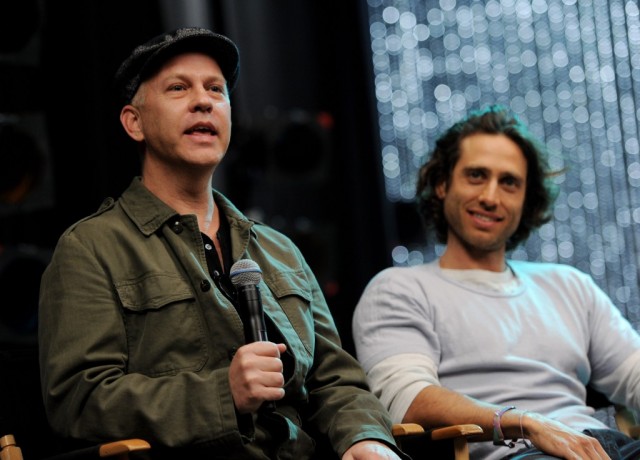 Ryan Murphy is launching a second anthology horror series, only this one will have a comedic twist. Fox has just handed out a straight-to-series order for the show creator's latest small-screen project, Scream Queens.
The network has ordered the 15-episode hourlong series, which has been described as comedy-horror, for fall 2015. According to The Hollywood Reporter, the first season will take place on a college campus that's rocked by a series of murders. While subsequent seasons of the show will focus on different settings and storylines — as does Murphy's first horror anthology, American Horror Story – each will reportedly revolve around two female leads. Along with Murphy, Glee co-creator Brad Falchuk (seen above with Murphy, left) and other members of the creative team behind the high school musical are also working on the new series.
While the show may sound similar to that of AHS, Scream Queens will present a funnier and much lighthearted take on the scary theme. "I knew I wanted to work with Brad and Ian again on something comedic, and we are having a blast writing Scream Queens," Murphy said. "We hope to create a whole new genre: comedy-horror."
With the series finale to Glee fast approaching, Fox seems equally thrilled to get a new project from Murphy off the ground. "Scream Queens will go straight to series. It's a huge commitment and an expression of our faith in Ryan. We are ecstatic to have him, along with Brad, Ian and Dante as our partners on this exciting ride," the network's TV Group chairmen and CEOs Dana Walden and Gary Newman said, per THR.
It's notable that the creator has decided to make the show female-driven every season. Plenty of popular television shows have sparked criticism in recent years for not featuring enough women, but now, it seems their creative teams are finally getting the message.
Though shows like Shonda Rhimes's Scandal and How to Get Away with Murder have been garnering recognition for starring strong female characters, previously male-driven series, like HBO's True Detective, also seem to be undergoing changes. The highly anticipated second season of the crime series will feature a still unannounced female lead alongside stars Vince Vaughn and Colin Farrell. It seems Murphy is now taking that move several steps further.
Though no casting has been announced yet, the show creator did reveal that the team has already started the search for its two female leads. "We've already begun a nationwide search for those women, as well as 10 other supporting roles," he said.
Whether Murphy will look for new talent or try to nab a big name, like True Detective, remains to be seen. If he is looking to bring on an established star, though, it's a good time for it. More and more movie stars are flocking to TV these days, including plenty of well-known actresses, like Halle Berry, Viola Davis, and Scarlett Johansson. Whoever is cast should be prepared to take on both genres, as Walden and Newman describe the show as blending "true horror with big comedic moments."
With this pickup, Murphy and Falchuck will have three anthology series on air: FX's AHS, which was recently renewed for a fifth season; its just-announced companion series American Crime Story, the premiere date of which hasn't yet been announced; and Scream Queens, out next fall.
More from Entertainment Cheat Sheet:
Want more great content like this? Sign up here to receive the best of Cheat Sheet delivered daily. No spam; just tailored content straight to your inbox.