American Horror Story: Here's What Fans Are Saying About the 'AHS: 1984' Trailer
The day is almost here. After months without FX's horror series, AHS is back with a 1980s slasher story to tell. Thanks to the official trailer, fans also got a closer look into the plot of this season and its radical cast. When does American Horror Story: 1984 premiere on FX? What are fans saying about the trailer? Find out here.
'American Horror Story' posted their trailer for '1984' on Aug. 27, 2019
This summer just got, like, totally tubular. Although there have been a few American Horror Story teasers released this summer, FX premiered the official trailer for 1984 on Aug. 27, 2019. There, fans saw cast members like Billie Lourd, Emma Roberts, and Cody Fern dressed in their '80s best.
Thanks to the trailer, viewers have ever more hints about the stories of this upcoming season. Primarily, fans are excited for the next American Horror Story and its slasher-movie aesthetic, some posting their excitement on social media.
"From the looks of this official trailer for [American Horror Story: 1984,] this brand new season is going to be killer! I cannot wait to see their take on the classic and horrifying slasher-film genre! It might go down as my favorite season yet," said one Twitter user.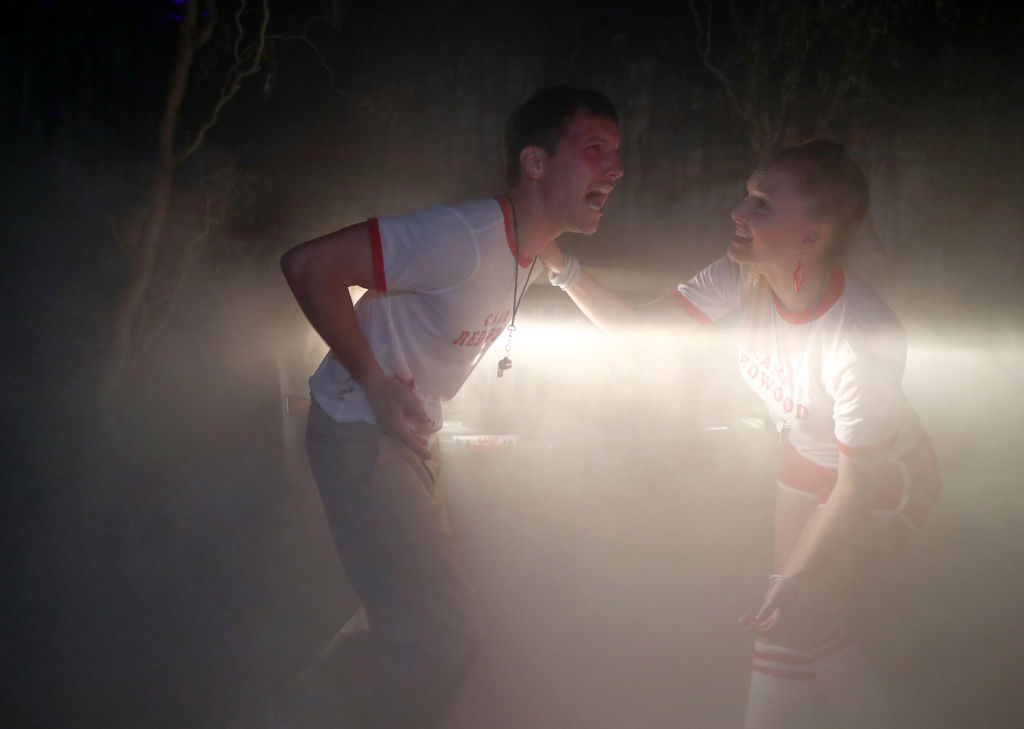 The trailer of 'AHS: 1984' shows cast members heading off to summer sleepaway camp
The school year might be starting, but at Camp Redwood, summer lasts forever. During the trailer, fans saw a few characters head off to summer camp, sporting full 1980s attire, unaware of the dangers that lie ahead.
Although not much has been revealed about this season, the killer at Camp Redwood is presumably Mr. Jingles, a patient who escaped from an insane asylum. Now, our cast members must fight for their lives and figure out who, exactly, the masked killer is.
As the ninth installment of the American Horror Story saga, this season takes on a new filter — a 1980s slasher film. While some fans are excited for 1984, others see too many connections to previous stories.
Some fans made connections between 'AHS: 1984' and seasons like 'Roanoke' and 'Aslyum'
Is anyone else getting Roanoke vibes? During one of the teaser clips, we see a few characters watching a slasher movie before a teenager up to their cabin, begging for help. Sound familiar? A few Twitter users think so, comparing this upcoming season with the season and its mini-series, My Roanoke Nightmare.
"Why everyone acting like the Roanoke comparisons are a bad thing? Its the scariest and one of the most cohesive seasons so we would be lucky to get another Roanoke instead of another Apocalypse," said one Twitter user. Others compared this season to other American Horror Story plots. Particularly, because there will be a killer from an insane asylum.
"I don't get Roanoke vibes at all but it would be nice to have some Asylum crossover. It seems a natural fit if they're going the route of escaped mental patient," replied another Twitter user.
FX's American Horror Story: 1984 premieres on Sept. 18, 2019. In the meantime, episodes of American Horror Story are available for streaming on Netflix.