'American Horror Story' Season 9: Will Fans Tune In For '1984' Without Sarah Paulson And Evan Peters?
After eight seasons, it's not surprising that actors from American Horror Story have started to move on to other things. However, when some of the main actors and actresses that have been with American Horror Story since the beginning start to depart in groups, it starts to become apparent that the show may be in trouble.
Veteran American Horror Story stars Evan Peters and Sarah Paulson will not be making an appearance in Season 9 unless it's a very brief and minor cameo. The new season, called AHS: 1984, seems to be some sort of tribute for slasher movies like Friday the 13th. If fans won't tune in to this new season without the presence of Paulson and Peters, then the consequences for American Horror Story might be killer.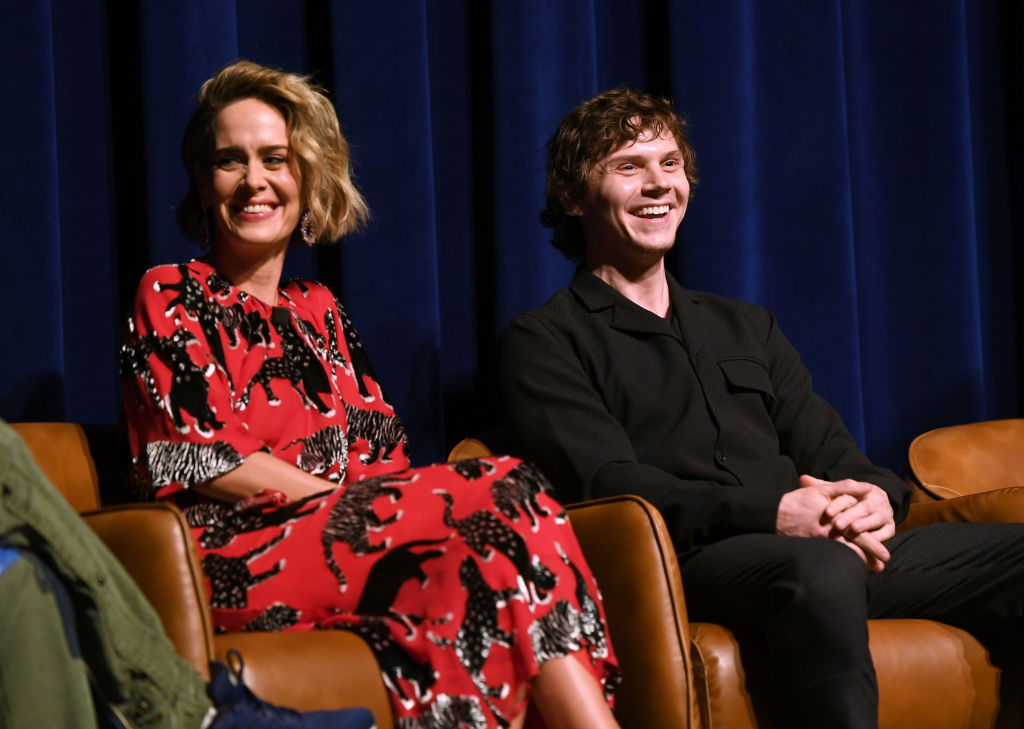 'American Horror Story' has been struggling
Since the end of American Horror Story: Coven, which is the show's third season, viewership has been dropping with each additional chapter to the series. A record-breaking four million viewers tuned in to watch Season 3 every week, which quickly dropped over time except for a slight spike in viewers when American Horror Story: Roanoke premiered.
American Horror Story: Apocalypse brought back some fan-favorites from previous seasons, but unfortunately, it may have been too little, too late. This season opened with the lowest ratings American Horror Story has seen yet. It seems as though the absence of the show's most popular stars will not exactly help.
'American Horror Story' without Evan Peters and Sarah Paulson
When Evan Peters and Sarah Paulson announced that they wouldn't be returning for American Horror Story: 1984, a looming dark cloud formed over the heads of fans. Peters admitted that the show became emotionally taxing. After all, he has had to play many difficult characters, like psychopathic school shooters and hotel-dwelling serial killers. Anyone would need a break after a while. Sarah Paulson has a lot on her agenda with Netflix's upcoming series Ratched, based on the antagonist of One Flew Over the Cuckoo's Nest, and another upcoming FX series called Mrs. America.
Peters didn't rule out the possibility of a return, however, so it's possible that the actor will just need a brief hiatus before returning to American Horror Story. Sarah Paulson, on the other hand, has been more ambivalent about whether or not she will be returning to the show and understandably so since her IMDb page is full of upcoming projects.
Will their absence have a big impact on American Horror Story Season 9?
Fans aren't happy about the news
When the news surfaced that American Horror Story Season 9 would not star Evan Peters or Sarah Paulson, fans were pretty devastated. "I was about to tweet about how excited I am that American Horror Story, the best show on TV, is airing S9 next month," said one Twitter user, "But then I remembered Sarah Paulson's (my favorite actor/actress) first-time exclusion and now I'm the least pumped since the beginning. Such a bummer."
This user wasn't alone as many other American Horror Story fans have gone on to express their disappointment online. Some fans went beyond Paulson and Peter's departure from the show and expressed that they missed other veterans of the show. "Do y'all remember when American Horror Story had Jessica Lange, Kathy Bates, Frances Conroy, Angela Bassett, & Sarah Paulson all on the same season?? I miss those days," said one Twitter user.
Whether or not the departure of Evan Peters and Sarah Paulson is a signal that American Horror Story will be approaching its swan song is left to be seen. All we can hope for is a ninth season that will stand on its own, surviving without the presence of the actors that made American Horror Story so lovable to begin with.
American Horror Story Season 9 will premiere on Wednesday, Sept. 18.