'American Idol': Lauren Mascitti Says Her Nana 'Might Be More Famous'
American Idol is a show that cultivates talent, but for former contestant Lauren Mascitti, the experience was about so much more. Showbiz Cheat Sheet spoke with Mascitti about her journey on American Idol and what it was like to bring her nana, Dee Mascitti, along for the ride.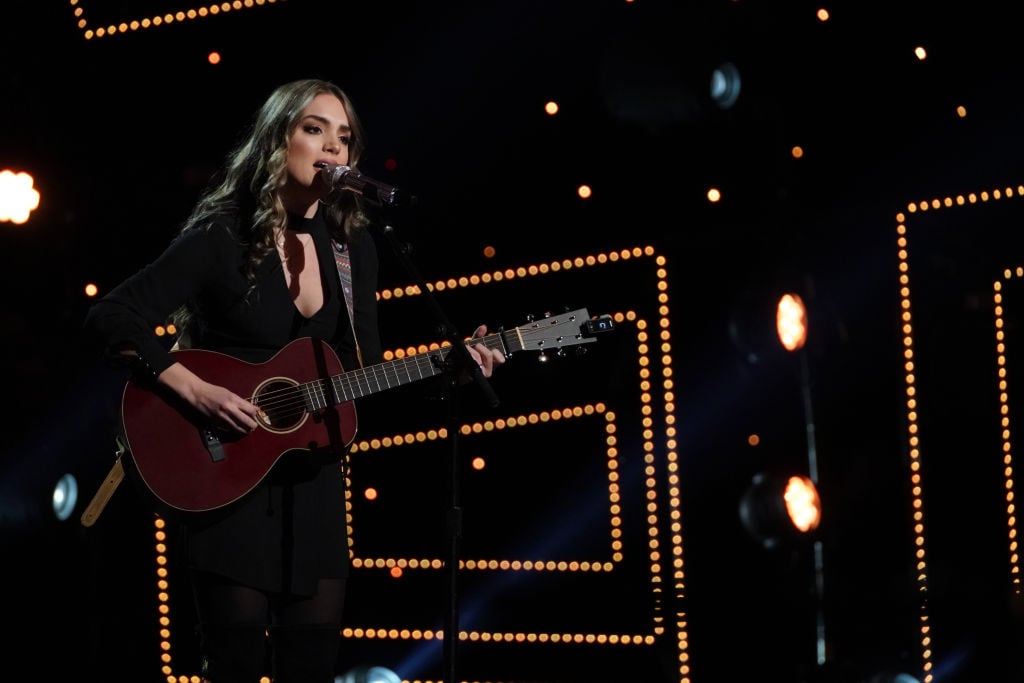 Lauren Mascitti wrote 'God Made A Woman' about her nana
"I'm a little nervous about performing a song that I wrote, but it's special to me, and I want people to hear it," Mascitti said, waiting in the wings to perform for the judges during Hollywood Week. "I really want to share part of myself in my own songs."
Defying the odds — the judges urged contestants to shy away from performing original music — Mascitti took the stage and said, "I'm going to go out on a limb and not take advantage of this incredible band."
After some questionable looks from the judges, Mascitti continued: "I wrote a song that celebrates the beauty and the uniqueness of being a woman and I drew inspiration from that from that beautiful woman over there who is my nana." 
Cue the waterworks. After sharing her nana's story, Mascitti received a standing ovation for her performance of the Nana-inspired song "God Made A Woman." 
Lauren Mascitti was raised by her grandparents
Mascitti's nana — or "Big hot momma," as she was referred to in Mascitti's video package on American Idol — raised her from an early age. Born in Louisville, Ohio, Mascitti always knew she wanted to be a songwriter. Growing up in a small farm community, Mascitti understood the need to move to Nashville to pursue a career in music. Both of Mascitti's grandparents were supportive of her dreams but requested that she obtain a degree before committing to the move. 
And that's what Mascitti did. She went to nursing school in Ohio, then landed her first nursing job in Tennessee. Mascitti's desire to help and inspire people comes through in both her roles as a nurse and a performer. 
Lauren Mascitti and 'Big Hot Momma' took on Hollywood 
In speaking with Mascitti, we discussed what it was like having her nana come along for the American Idol experience. "Honestly, if anything about this journey made it worth it, it was getting to see the spotlight shone on her the way it was," Mascitti shared. Mascitti was over-the-moon excited about the Hollywood Week episode that showcased her nana.
"She is my hero," Mascitti said. "They told the story of her being just the best mom in the world [in the episode]. My whole life, she's always been the one behind the camera and encouraging me, and she's the reason that I do what I do, and I am what I am, so it was really fulfilling for America to get to see who she is and what she's done for me." 
After we regaled in Nana's ability to be fierce, feisty, and hilarious all at the same time, Mascitti conceded that her nana might be more famous than she is at this point. "I'm OK with that," Mascitti admitted. "She deserves it." 
Mascitti has joked that when she and her fiancé Shawn Camp get married, Nana is going to be her maid of honor. Given Nana's newfound celebrity status, Mascitti may need extra security during her nuptials! 
What's next for Lauren Mascitti
Though Mascitti's American Idol journey ended just before the live-at-home performances, she is still pursuing a music career and continues to work as a registered nurse, too. She's hoping to get back to work soon to assist in any way she can with the coronavirus (COVID-19) pandemic. "Of course, music is my heart, but [nursing] is my living, and I really want to be by my colleagues," Mascitti said. "I'm anxious to get in there and help out." 
As for her music, she and Camp will perform live on May 7 for the Martin Guitar "Jam In Place" Live Streaming Event. Tune in at 7 p.m. EST! For more of Mascitti's music, stay tuned to her Instagram for covers of classic country songs. 
Related: 'American Idol' Exclusive: Lauren Mascitti's Advice For Future Contestants