Amy Schumer and Chris Fischer Welcome Their 'Royal' Baby
It was as though Amy Schumer and the Duchess of Sussex planned their son's birthdays together. Only hours after Meghan Markle welcomed her baby boy, Amy Schumer announced her son was born.
Schumer posted to Instagram that her son was born the night before. "10:55 pm last night. Our royal baby was born." Schumer looks exhausted but blissed out as she holds her newborn son and husband Chris Fischer kisses her cheek.
Schumer's Instagram has been very active over the past few days. She posted about being completely over being pregnant. Plus, only 24 hours before the birth, she revealed that she was going to have a son.
Her timing could not have been more perfect
When Schumer shared that she was pregnant, she photoshopped an image with her and Fischer's faces on Markle and Prince Harry's body. Markle had just announced that she too was pregnant, which opened the door for this amazing joke.
So when Schumer gave birth within hours of Markle, she couldn't resist the "royal" joke too. Prince Harry announced the birth to the press. "I'm very excited to announce that Meghan and myself had a baby boy early this morning, a very healthy boy. Mother and baby are doing incredibly well. It's been the most amazing experience I can ever possibly imagine."
Thus far Schumer hasn't made an official statement, but needless to say, she's probably thrilled to be a mother. Plus it is likely she won't be missing being pregnant either.
Schumer's pregnancy was rocky
Up until the last month, Schumer suffered from hyperemesis gravidarum, which is a severe form of morning sickness. She was hospitalized a number of times during her pregnancy. Schumer even posted about being sick in April. " "Amy is still pregnant and puking because money rarely goes to medical studies for women such as hyperemesis or endometriosis."
Despite being plagued by hyperemesis gravidarum, she managed to shoot a hilarious standup special for Netflix. Plus she toured whenever her body gave her a small break from massive nausea.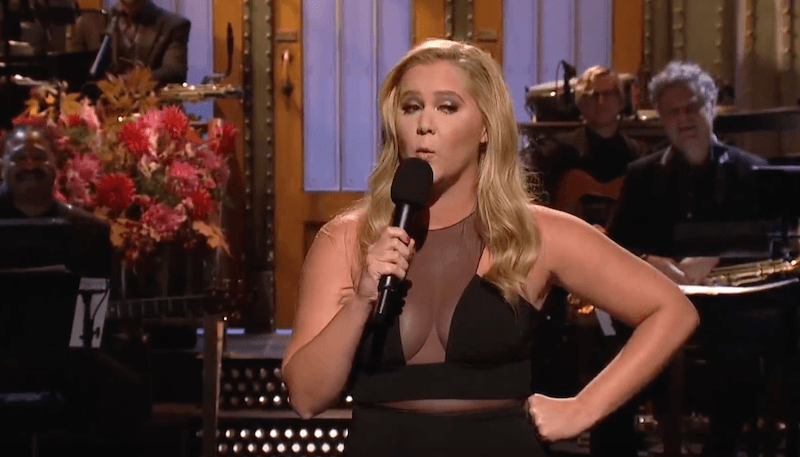 She also posted a photo from what could be her new pediatrician's office too. Bravo producer Andy Cohen saw the image and commented that the two share the same pediatrician.
She 'hit the red carpet' right before her son was born
Schumer couldn't resist checking out the red carpet with the annual Met Gala in the city. Right before she shared that her son was born, she added a picture of herself–right before the couple headed to the hospital.
"Met look this year. Last night on the way to the hospital," she wrote. Schumer looked radiant rocking her stretchy leggings and a long sweater. Of course, this post filled fans and followers with anticipation and excitement. Rosie O'Donnell commented, "U got this."
"Crowning is the most fashion thing you can do 👏🏼 good luck," wrote comedian Tiffany Stevenson. "Also gracious of you to hang on and not take the shine off Meghan."
Mazel all around
Although both babies were born around the same day, Schumer's son was born on May 5 and the royal baby on May 6. So thankfully no baby stole the other's thunder.
Comments and congratulations continue to pour in for Schumer and Fischer. Congratulations!!!! Sleep when you can," actress Selma Blair wrote. "Seriously. Hug you . Welcome to the best and craziest part of life. Maybe."
Comedian Jeff Ross hilariously wrote, "I didn't even realize you were pregnant congrats I love you." After Cohen commented on sharing a pediatrician he congratulated the couple. Plus had a quick question. "MAZEL TOV!!!!!!Play date tomorrow???????"
Check out The Cheat Sheet on Facebook!