An Emotional Hoda Kotb Shares This Personal Story About Boyfriend Joel Schiffman on 'Today'
NBC's Today Show hosts report the news and current trends on a daily basis, yet always make time to share stories on their personal lives and families. Giving viewers a glimpse of the panel's private lives is part of what makes the morning news program a consistent ratings hit.
Hoda Kotb, anchor of Today and Today with Hoda and Jenna, recently revealed a very tender moment between herself and her longtime boyfriend, Joel Schiffman.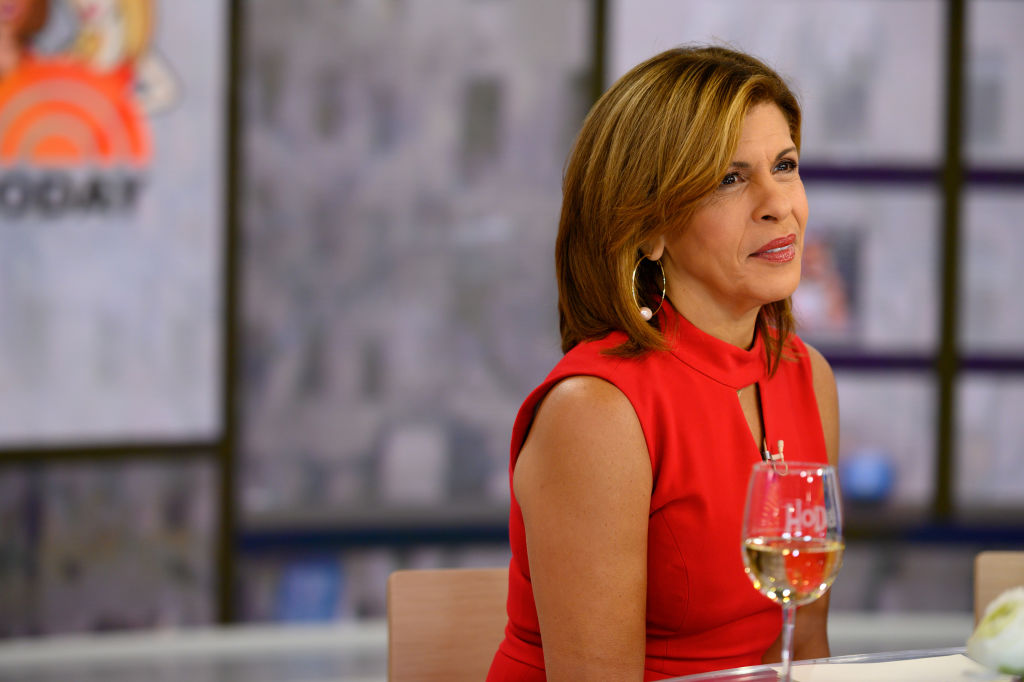 Good thing she went to that event
Kotb met Schiffmanm, an investment management company executive, at an event in 2013. The Today Show host explained that she hadn't even wanted to attend the function, but was coerced into going by the husband of Today with Hoda and Jenna's executive producer Joanne LaMarca Mathisen.
"It was pouring rain. It was a bunch of Wall Street guys. I had to give a speech. They were bored," Kotb told guest co-host Andy Cohen, according to O, The Oprah Magazine. The Today anchor then had to sign some photographs for the audience, which is when she was brought face to face with Schiffman. When Kotb asked to whom he would like the autograph made out to, he responded, "Make it out to me." After finding out from another attendee that Schiffman was single, she passed along her email address so they could be in contact.
Those three little words
Earlier this week, Kotb shared that before she met Schiffman, she had started to compile a list of qualities she was seeking in a potential partner. "I started to think I didn't know what I was looking for in a man," she shared with guest co-host Maria Shriver, according to Today.com. "Sometimes you think, 'Well, you'll know it when you see it, and there'll be chemistry,' and you hope everything else will work."
The news anchor went on to remember a time with her beau that they spoke of the 'L' word. "I always get emotional if someone's truthful, really truthful, and I feel it," Kotb gushed, choking up a bit. "And I remember he looked me in the eyes, and I started crying. It was the day he said that he was in love with me. It was a good day."
An intimate exchange
Kotb had shared details of the sweet story earlier this month on Today with Hoda and Jenna. "He was the first person to say 'I love you,' and I remember him saying it to me," she revealed. "And after he said it, I remember just sitting there because I wanted to feel it for a minute. Like, just to sit with that for a minute — somebody saying, you know, he just said, 'I love you.' And I paused, and he goes, 'Don't leave me hanging out here in the abyss.'"
Schmiffman didn't have to wait long for a reply. "I told him I loved him, too, but I remember thinking to be the first person to say it is risky and that takes guts," Kotb said. "And it's easy to be the one who says, 'I love you, too,' and I will always admire him because he has guts."
Kotb went on to explain that her reply was for the right reasons, rather than just wanting to say something Schiffman wanted to hear. "I think a lot of moments were, like, he said it, I say it, 'cause I'm a pleaser. So I'm, like, I don't want him to feel bad, but in that moment I just wanted to …," Kotb shared, and left it at that.
The couple are now the parents of two daughters whom they adopted – Haley Joy, 2 1/2, and Hope Katherine, 5 months. Kotb recently returned from maternity leave after adopting baby Hope in April. "I've had the best five months I ever could've imagined in my life," she said upon her return to the Today Show news desk. "I didn't know what I was missing. And I was also excited to come back."