Andy Cohen Reveals the 'RHOC' Season 14 Reunion Will Include a 'Meltdown to End All Meltdowns'
Bravo boss Andy Cohen is dishing out all of the Real Housewives of Orange County secrets ahead of the season 14 reunion. During the network's BravoCon, Cohen opened up about the drama ahead and revealed that there will be some major things unfolding for the cast of RHOC. What can fans expect to happen as RHOC wraps up another drama-filled year?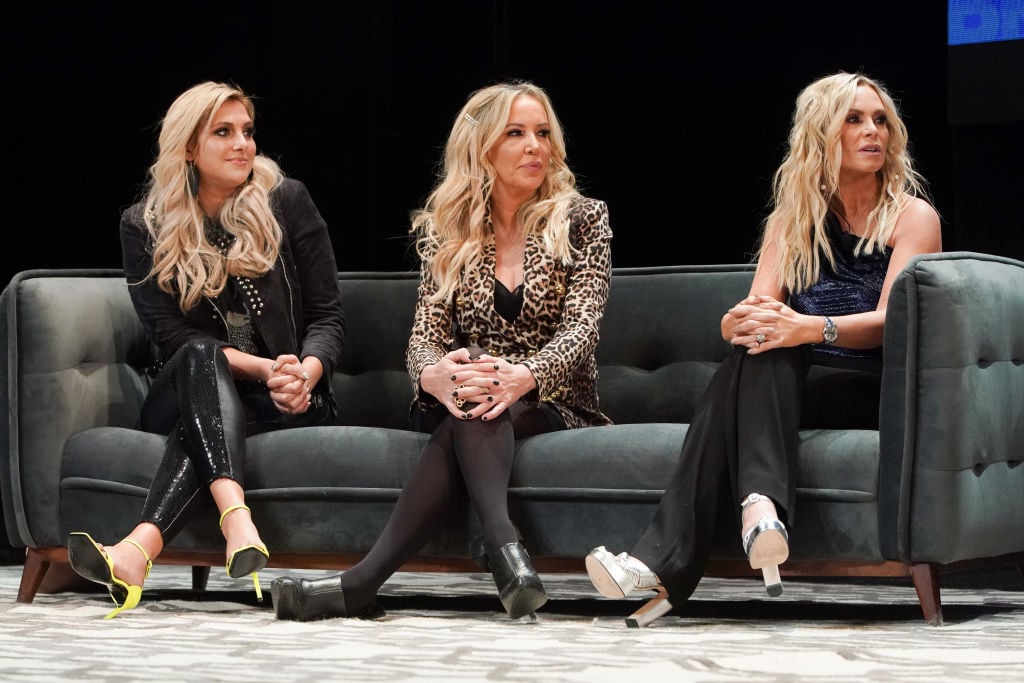 Cohen dishes on 'RHOC' season 14 reunion
After talking about the new season of the Real Housewives of Beverly Hills, Cohen discussed the upcoming reunion for RHOC.
Cohen, who hosts the reunions for all of the Real Housewives franchises, revealed that the season 14 reunion featured an epic meltdown to rival all meltdowns in the history of RHOC.
"There is a meltdown to end all meltdowns," Cohen teased. "There are some real strong emotions. Surprisingly, there are some mending of fences — which I didn't expect going into it."
According to All About The Real Housewives, Cohen added that Gina Kirschenheiter got very emotional during the reunion. He did not reveal too many details about what happened, but he assured fans that they will see what she has to say.
While we cannot wait to see what happens during the reunion, Cohen is looking ahead to the next season and already has a good idea about which cast members might return for another run.
Who will be back for season 15 of 'RHOC'?
After Vicki Gunvalson was demoted for season 14, fans asked Cohen if Bravo plans on shaking things up for the coming season.
In response, Cohen revealed that the network loves to keep things fresh and teased that there might be some shake-ups in the works. He did not say which cast members will be on the outs, but we have a feeling some of that will be determined during the reunion.
"Look, we always like to keep it fresh," Cohen shared.
The long-time Bravo host noted that Braunwyn Windham-Burke has done surprisingly well in her first season on the show. He did not confirm that Windham-Burke would be back in action next season, but it sounds like her chances of keeping her orange are very good.
Cohen joined Bravo shortly before RHOC launched its first season. Cohen, who hosts Watch What Happens Live on the network, never expected to enjoy this kind of success and is looking forward to what's ahead.
Did Gunvalson and Kelly Dodd make amends?
One of the most heated feuds this season on RHOC has been between Gunvalson and Dodd. Their fight started last season and heated up after Gunvalson accused Dodd of using cocaine during the season 13 reunion.
Despite a brief reconciliation, their feud has lingered over the past year. If anything, their relationship has gotten worse this season, setting them up for an epic confrontation during the reunion.
In fact, inside sources claim that Dodd and Gunvalson got into a huge brawl during the reunion, which could be what Cohen was alluding to in his talk about an epic meltdown.
"Kelly Dodd and Vicki Gunvalson got into the most epic feud during the RHOC reunion," a source claimed. "There was a lot of yelling and finger-pointing when it came to these ladies, especially."
A few weeks ago, Gunvalson launched a lawsuit against Dodd for defamation. The OG of the OC claimed that Dodd ruined her business reputation over comments made on the show. Gunvalson has since dismissed the case after reaching an agreement.
Will Gunvalson win her orange back?
Ahead of the premiere of season 14 of RHOC, Bravo confirmed the news that Gunvalson had been demoted to a friend of the cast. This was the first time in the show's history that Gunvalson had been demoted and she was not happy about it.
She recently revealed that she told Bravo that she would not be returning as a friend and would not accept that title. She claims the network agreed with her, though they have referred to her as a friend this season.
Despite the demotion, Gunvalson has stirred up a lot of drama in season 14 and is setting herself up for another emotional reunion. There is no telling what she will do to Kelly Dodd in the reunion, but it is safe to say that making amends is off the table.
Gunvalson has not commented on her future on the network's hit reality series. Bravo probably will not make any casting announcements until filming for season 15 of RHOC starts back up next year.
New episodes of the Real Housewives of Orange County air Tuesday nights on Bravo.