Angelina Jolie Always Feared Brad Pitt Would Return To Jennifer Aniston
Angelina Jolie came out on top when Brad Pitt and Jennifer Aniston's marriage fell apart in 2005, though sources say the actress was always insecure about their relationship. Even after years of dating Pitt, Jolie reportedly felt like the World War Z star would return to Aniston at the first sign of trouble. Jolie's concerns fueled her jealousy towards Aniston and led to years of worrying about her marriage.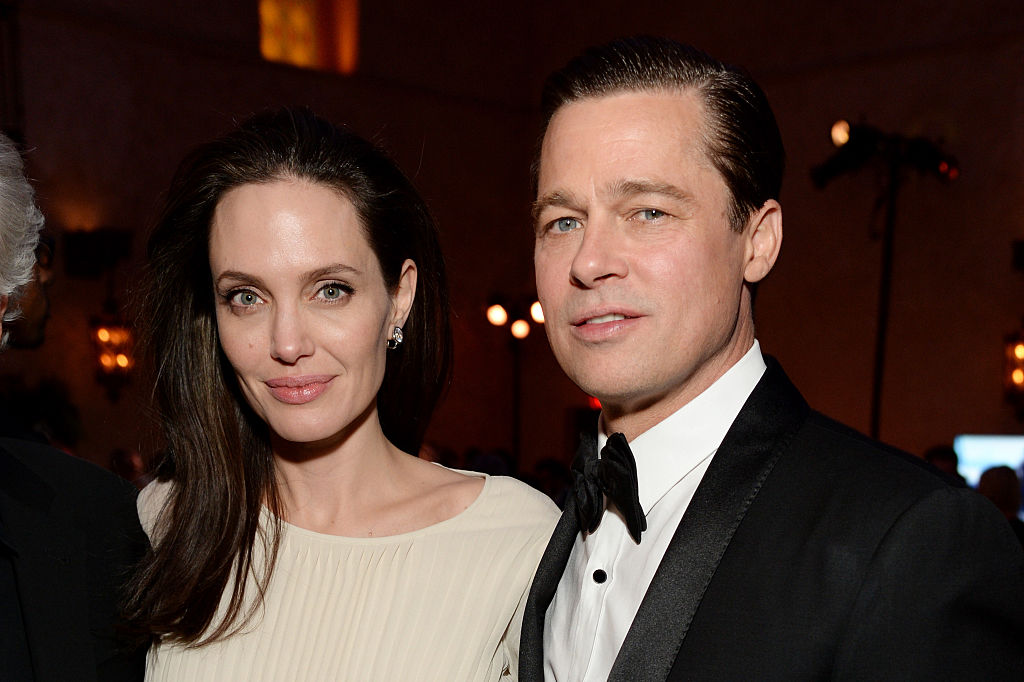 Angelina Jolie feared the worst
One of the biggest issues Jolie faced in her relationship with Brad Pitt was the constant fear that he would return to Aniston. It did not help that Aniston maintained a close relationship with Pitt's mother, which only made her more suspicious. Despite being with Pitt for well over a decade, sources claim Jolie never got over her fear and did everything in her power to put Aniston down.
"Angelina was never able to get over her obsession with Brad and Jennifer's relationship," a source shared. "Even though she had Brad, it was like she was jealous of Jen. She seemed to go out of her way to diss Jen whenever she could, which was unnecessary."
According to Latin Times, the insider claims that Jolie believed Pitt would eventually have second thoughts about their marriage, which would then inspire him to get back with Aniston. She also reportedly kept close tabs on Pitt and monitored his cell phone to make sure he was not chatting with Aniston.
Even though Pitt never gave her a reason to worry, Angelina Jolie did not trust him and suspected he was doing things behind her back. Jolie and Pitt called it quits in the summer of 2014 after being together for more than a decade.
The real reason Brad Pitt and Jennifer Aniston stopped talking
In light of her fears, Jolie allegedly forced Pitt to cut ties with Aniston completely. The Maleficent star was reportedly so afraid that Pitt and Aniston would rekindle their romance that she asked Pitt to stop calling, texting, and emailing his former wife.
For his part, Pitt did his best to assure Jolie that nothing was going on. It is unclear if Jolie's insecurities had anything to do with their divorce, but it certainly did not help the situation.
To make thing worse, Pitt reconnected with Aniston in the months following his divorce from Jolie. In fact, the former lovers are now on good terms with each other, and Pitt even showed up for her birthday party a few months ago.
Their reunion has naturally sparked rumors that a romance is in the works, though it appears as though they are just good friends now. Given how much Jolie worried about Aniston, sources say she was not happy to learn about their renewed friendship.
Brad Pitt tries to move on
Although Jolie filed for divorce in 2016, she and Pitt have yet to officially finalize their split. It took years for the pair to agree on a custody arrangement and Jolie has continued to stall on the other elements of the divorce. Inside sources say that Pitt has finally had enough of the delays and wants a judge to force Jolie to sign the divorce papers.
Insiders also claim that Pitt is beginning to think that Jolie is stalling on purpose. The actor allegedly thinks that Jolie is trying to get under his skin by waiting until the last minute to sign. He also thinks that the actress has turned the entire process into a game, one that he desperately wants to end.
Neither Pitt nor Jolie have commented on the status of their divorce. This past spring, a judge extended the time limit on their divorce to the end of the year. This coming September, meanwhile, will mark three years since the two formerly separated.
Brad Pitt makes rare public appearance
Amid the rumors surrounding Pitt's relationship with Aniston, the actor recently appeared in Malibu for a quick afternoon outing. Pitt rocked a super casual look as he made his way through town, which included a white shirt, jeans, slip-ons, and his usual newsboy hat. Despite all the divorce drama, Pitt looked very happy during the outing and could not help but smile for the cameras.
While they have not finalized their divorce, Pitt and Jolie are legally single after successfully filing for bifurcation. It is not known if either of them have truly started dating.