Anna Nicole Smith's Daughter, Dannielynn Birkhead, Prepares to Celebrate a Special Birthday
Dannielynn Birkhead, daughter of the late Anna Nicole Smith and photographer Larry Birkhead is getting pretty excited that September 7 is quickly approaching.
Larry recently posted a bright pink birthday countdown calendar to his Twitter. "Apparently a countdown timer is a thing at my house," he tweeted along with the days, hours, minutes and seconds until his daughter's birthday.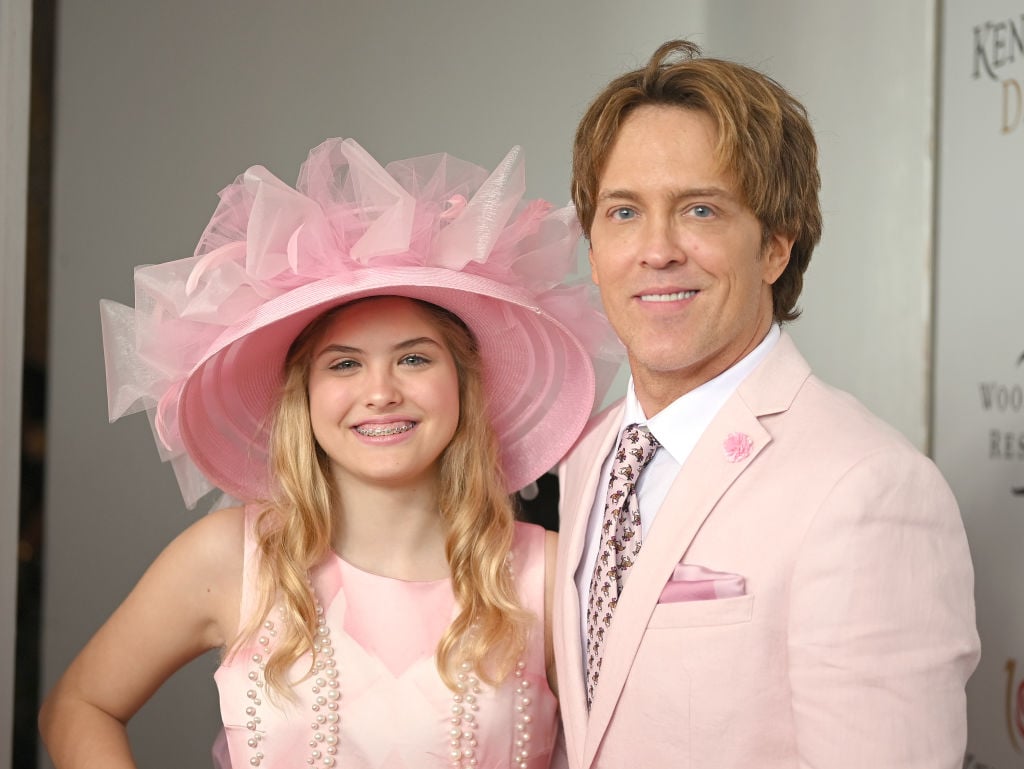 She's quietly grown up away from the spotlight, raised solely by her father. Dannielynn and Larry typically make one big public appearance at the Kentucky Derby each year. Otherwise, Larry has been determined to raise his daughter to live a normal life. Fans may remember when Dannielynn was an infant, she was in the middle of a painful paternity and custody battle. But today the adorable 12-year-old is about to turn 13.
She was part of a heartbreaking paternity case
When Anna Nicole tragically died in 2007 the question about who was Dannielynn's father was thrust into the spotlight. At the time, Anna Nicole's lawyer Howard K. Stern claimed to be the child's father.
However, DNA tests proved that Larry was indeed her father. He was awarded custody. At the time, Howard was heartbroken but did not fight Larry for custody. However, Anna Nicole's mother planned to challenge Larry.
"We might go from one fight to another, but I'm hoping that's not the case because, you know, there's only one dad, and I have no problem with anyone that has good intentions being allowed to visit the baby and see the baby and be a part of the baby's life," he told NBC's TODAY.
Dannielynn has lived a normal life
Since then Larry has raised his daughter to enjoy childhood like other children. "I've had companies call me since [Dannielynn appeared in a Guess campaign] and ask for her to model, and that answer's no," Larry told 20/20 in 2017, People recounts. "She doesn't show any interest in it. She wants to be a kid."
This meant becoming a Girl Scout, hanging out with friends at her home in Kentucky. "I think here in Kentucky is as normal as you can get," he told Inside Edition. "She loves school. She loves her friends. I just hope that she dreams big and accomplishes a lot."
Larry says that Anna Nicole is always part of Dannielynn's life too. "And the thing is, is that what I do is, I take a little bit of Anna's life and I put it into lessons. And I say, 'You can learn from this and … there's some things [that are] maybe not the greatest, but there are also some really good things that you're not going to hear about and let me tell you those things,'" according to People.
She's ready to become a teenager
Larry is going to have a teenager at home in only a few short days. Last year he marked her 12th birthday with a Twitter throwback of Anna Nicole kissing her newborn daughter. "Wishing Dannielynn a Happy 12th Birthday! Her Mom would be so proud," he wrote. "The celebration is about to start!"
While Larry hasn't shared specific details on how the family plans to celebrate, he shared with Entertainment Tonight about his daughter's passion for life.
"She's a good kid and we laugh and have the best times and she wears me out," he said. "I'm going on amusement park roller coasters doing 200-foot drops holding on to her and she says, 'I told you the last time, do not hold on to me!' Sometimes you just have to say, 'I gotta let you go and become your own person.' You can only do so much. Sometimes I'm amazed by the way she handles things."