'Ant-Man' Goes Into Production, But Will Final Result Satisfy Fans?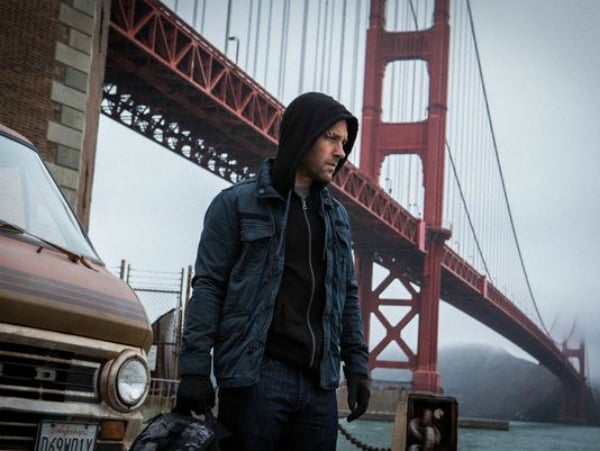 After a long, bumpy road, Marvel's Ant-Man flick is finally going into production. The studio revealed that the long-awaited film began principal photography on Monday in San Francisco.
In addition to Marvel's official press release, director Peyton Reed also confirmed the news on social media. "Alright, gang. Today is the day. LET'S. GET. SMALL. #Antman," he wrote on his official Twitter account.
The film stars Paul Rudd as Scott Lang (seen in the first, just-released movie still above), Michael Douglas as Hank Pym, Evangeline Lilly as Hope Van Dyne, and Corey Stoll as the villain Yellowjacket. In conjunction with news of production, Marvel also revealed an entire slew of previously unannounced cast members, including Judy Greer (Archer, Arrested Development), Bobby Canavale (Boardwalk Empire), Michael Pena (Gracepoint), and rapper T.I. Other newly revealed additions include Abby Ryder Fortson, Wood Harris, and Gregg Turkington. Perhaps most notably is the news that John Slattery is also aboard the project—an addition that has most predicting he'll reprise his role as Iron Man 2's Howard Stark, presumably in a flashback scene.
Not all of the cast's official roles have been revealed yet, but the studio had previously revealed a brief, official synopsis. According to the description, the movie will follow Rudd as Scott Lang in his efforts to help his mentor Dr. Hank Pym "protect the secret behind his spectacular Ant-Man suit from a new generation of towering threats." Using his ability to shrink in size but increase in strength, Lang must team up with Pym to pull off a plan to try and save the world.
It's pretty impressive that such fast progress is being made on the film, given its tumultuous ride into production. As most know, Edgar Wright worked on the Ant-Man script for years and was also set to direct the film, even teasing hints about his version of the flick while promoting other projects like The World's End. But only three months ago, Wright bowed out of the project, citing creative differences. Marvel was left scrambling to find a new director, eventually recruiting Reed (Yes Man) to take his place. Meanwhile, the script, initially written by Wright and Joe Cornish, underwent two revisions – an initial one from Anchorman filmmaker Adam McKay (who won Marvel's approval with his pitch, but didn't have the time to also direct the movie) and a second from writing duo, Gabriel Ferrari and Andrew Barrer.
Given all the anticipation and buzz surrounding the film in recent years, there's no question that Reed is in a difficult position. His version of the film will definitely face more scrutiny than ever. If the movie is a success, it's unlikely that fans, with the lingering vision of Wright's version floating in the back of their mind, will bestow Reed with full credit. But if the flick is disappointing, Reed will probably shoulder much of the blame. For his part, the director seems to be taking the pressure in stride. He made a memorable impression at San Diego Comic Con, discussing his longtime passion for the comics and unveiling an old band album cover that featured him as Ant-Man on the drums.
And under his direction, Ant-Man has been put remarkably back on schedule. The flick is expected to hit its July 17, 2015 release date, following one of Marvel's other highly-anticipated upcoming releases, Avengers: Age of Ultron (out May 2015).
More from Entertainment Cheat Sheet:
Want more great content like this? Sign up here to receive the best of Cheat Sheet delivered daily. No spam; just tailored content straight to your inbox.