Anthony Daniels Has Appeared In Every Star Wars Movie — Even 'Solo'
It's sometimes surreal to think Anthony Daniels became an acting legend by being behind a gold-plated droid costume for the last 42 years, not including his voice.
As C-3P0 in the Star Wars saga, casual watchers probably wouldn't recognize Daniels in public, unless he uttered something. For Star Wars fans, they'd likely recognize him immediately.
After four decades playing C-3P0, it's also amazing he's one of the last of the original characters still going in the new trilogy. Plus, the fact that he can still fit into his costume at an old age is a testament to staying consistent and committed to a character.
Did you know Daniels has appeared in every Star Wars movie, including Solo?
It probably took time to warm up to C-3P0 in the beginning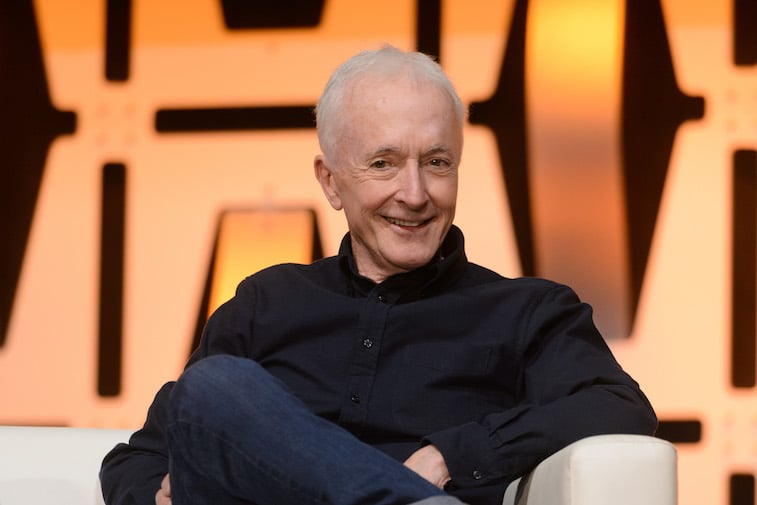 Looking back in hindsight to the first Star Wars trilogy, it's impossible to imagine any of those films without C-3P0. If you saw them originally, you might have initially thought of C-3P0 as an early version of Jar Jar Binks.
Yes, a few may have considered him obnoxious and just an excuse for comedic relief with droid pal R2-D2. Then again, when you see how many memorable quotes came from C-3PO, you also see he's one of the most insightful characters. He often had more logic about "life" and situations than even Luke or Yoda ever mustered.
While you can say "Threepio" represented the best of truly intelligent artificial intelligence, we typically make him almost human. It was really the first cinematic robot managing to blur the lines between robot and human and became a pop culture icon as a result.
By the time Return of the Jedi ended in 1983, we never thought we'd see the like of Daniels' C-3P0 again.
The prequels and new trilogy wouldn't have worked without C-3PO (and R2-D2)
Bringing Anthony Daniels back for the prequels and the new films was an absolute coup, and fans wouldn't have had it any other way. Without that iconic Daniels voice (alongside R2-D2's blurps and bleeps), you can't call any Star Wars film official.
Even the producers of the standalone films Rogue One and Solo realized they couldn't do without Daniels in some capacity. It turned out we saw Threepio in Rogue One (briefly), and as a different character in Solo.
For the latter, Daniels did the voice of Tak, a Wookiee character Chewbacca meets while in captivity.
Maybe a few fans would say C-3P0 should have appeared during the time Solo takes place since he did exist then, despite he and R2 off serving Senator Bail Organa.
Daniels's acting streak in every Star Wars movie continues in Episode IX (possibly with significant screen time), but he also has a tremendous track record voicing Threepio in numerous sideline Star Wars projects.
Anthony Daniels has arguably contributed more to Star Wars than anyone else
Go look at Anthony Daniels' screen credits, and you'll see it's been roughly 90% Star Wars since the beginning. He has done a few different television projects in Britain and America. Nevertheless, his commitment to the galaxy far, far away is a little bit astounding.
All of the Star Wars TV offshoots have utilized his voice as Threepio, not including big-screen cameos as the character in Clone Wars, The Lego Movie, and Ralph Breaks the Internet.
With 42 years behind him working as C-3P0, how can Daniels say goodbye to the role when The Rise of Skywalker supposedly wraps everything up?
Let's hope C-3P0 and R2-D2 show up in future Star Wars films
After all these decades, Anthony Daniels will probably find it a tough call to think he'll never play C-3P0 again in his life. Considering more Star Wars movies are being planned, we can't imagine he wouldn't still show up in something.
Whether it's a past-tense Threepio, or one continuing into the future of the Jedi story, Daniels has the advantage of never having to worry about his appearance to play this droid. At 73 years old now, he could technically play C-3P0 into his 80s, just as long as he doesn't put on a few pounds in his possible brief retirement.