Aquaman Joins 'Batman v Superman,' Brooding is Likely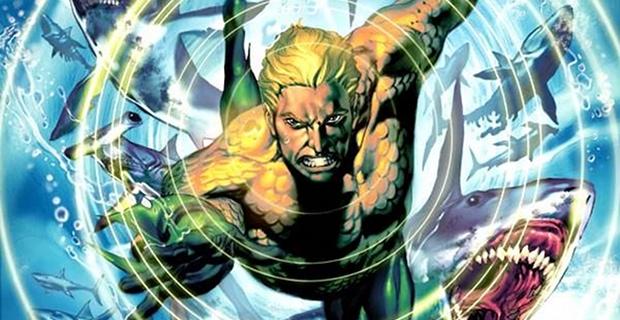 The cast of Game of Thrones is apparently the go-to place for supporting actors in all upcoming franchise blockbusters. A couple of weeks after Gwendoline Christie was cast in an unnamed role in J.J. Abrams's upcoming Star Wars film, Jason Momoa landed a role in the Zack Snyder's Batman-Superman movie, officially titled Dawn of Justice. Momoa will be playing Aquaman, one of DC's classic but lesser-loved characters, and one of the very few major players to not yet get the blockbuster treatment. Momoa played the barbarian leader Khal Drogo in the first season of HBO's Game of Thrones, as well as Conan in 2011's Conan the Barbarian, which you probably forgot exists.
Aquaman's certainly not on the same level as Batman and Superman, marquee-wise, but he's also undoubtedly one of the stranger super heroes of the DC universe, and a smart, innovative director could do a lot with Aquaman besides having him pummel bad guys in boring-elaborate action set pieces.
Of course, Zack Snyder is not that kind of director, and you can bet your bottom (of the ocean) dollar that Aquaman will be a brooding wreck, probably harboring some kind of traumatic childhood memories.
According to The Hollywood Reporter, the movie "is currently shooting and slated to hit theaters May 6, 2016. The film stars Henry Cavill as Superman, Ben Affleck as Batman and Israeli supermodel Gal Gadot as Diana Prince/Wonder Woman. Dawn of Justice also stars Jesse Eisenberg as Lex Luthor, Jeremy Irons as Alfred and Holly Hunter in a role newly created for the film. Amy Adams, Laurence Fishburne and Diane Lane are reprising their roles from Man of Steel."
Snyder's Man of Steel made bank at the box office, although virtually everyone who saw it hated it. Giving Superman the now ubiquitous "dark" treatment, Snyder slathered think, tar-heavy gloom over the Superman origin story, breaking a cardinal rule by having the big guy kill his enemy in order to save a (really stupid) family caught in a (ridiculous, implausible, completely contrived) life-or-death situation. Some fans defended Snyder's eschewing of tradition, à la Christopher Nolan's mammoth Dark Knight trilogy, but the general contentious is that Snyder's ham-handed and inept execution (pun intended), not his blatant disregard for tradition, is what makes Man of Steel abysmal. It's an expensive, two-hour punch-in-the-face, devoid of subtlety and grace.
So how will Snyder handle Aquaman? Maybe he'll have Aquaman travel to Japan and slaughter some dolphins, and wear a dorsal fin as a hat. He can be a feral child, abandoned by his Aqua-parents and subsequently raised by a pack of vicious sea Aqua-predators. Will this Aquaman be clean-cut, like the original Golden Age version? Or a bearded fiend, barrel-chested and hook-handed, like his '90s reincarnation? Who knows? Even the Shadow can't predict just how, exactly, Snyder will mess this up.
Snyder made fans of Alan Moore and Dave Gibbons's iconic comic Watchmen even more furious than they already were when he told a Huffington Post writer why he made the dizzying faithful film adaptation:
Honestly, I made Watchmen for myself. It's probably my favorite movie that I've made. And I love the graphic novel and I really love everything about the movie. I love the style. I just love the movie and it was a labor of love. And I made it because I knew that the studio would have made the movie anyway and they would have made it crazy. So, finally I made it to save it from the Terry Gilliams of this world.
Insulting Terry Gilliam is a good example of how not to make people like you. Another way is to continually make bad movies.
More from Wall St. Cheat Sheet: