Are Aaron Rodgers and Danica Patrick Engaged Now?
Green Bay Packers quarterback Aaron Rodgers and retired race car driver Danica Patrick have been dating for some time and now there are rumors swirling that the pair recently got engaged.
Here's what Patrick has said about walking down the aisle with the NFL star and the surprising thing you might not have known about her past.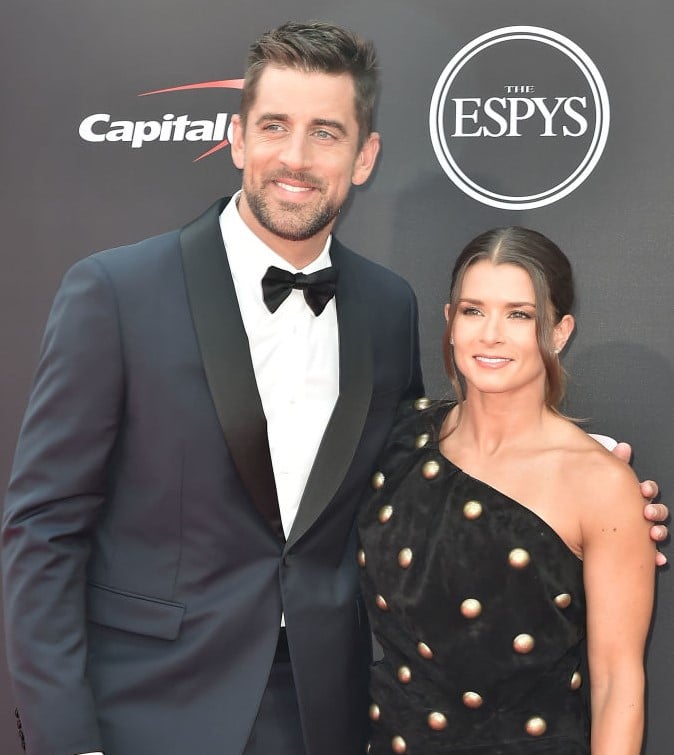 Are Rodgers and Patrick engaged?
Months after his high-profile split from actress Olivia Munn, Rodgers was spotted on a dinner date with Patrick. The two stayed mum about whether they were an item until January 2018 when Patrick confirmed that they were dating. She told the Associated Press that they were friends first and had actually met a few years prior at the ESPYs.
"We've just been sort of friends the whole time, kept in vague touch and seen each other at the ESPYs almost every year, and other places," she recalled. "So one thing led to another, and we realized how similar we were, and yeah, that got the ball rolling."
Shortly after they went public with their relationship, reports started circulating that they were on the "fast track to get married." Now, engagement rumors have been popping up on the internet again.
There's no ring on Patrick's finger at this time but according to the former NASCAR driver, that is something she hopes is in the cards one day.
"I mean I would hope that's the intention. Look, there's no guarantees in life, but as long as you have that intention, that's what matters, right?" she said in an interview with E! News.
She was married once before
If the Patrick and the Packers signal caller do end up tying the knot one day, it will be his first marriage and her second.
She married personal trainer and physical therapist Paul Hospenthal in 2005. However, she announced in 2012 that they decided to end their marriage.
In 2013, Patrick started seeing fellow racing driver Richard Stenhouse Jr. but they called it quits in 2017 around the same time Rodgers and Munn broke up.
Patrick recently cleared up another rumor
In May, the rumor mill started spinning with fans speculating that Patrick could be pregnant with Rodgers' baby.
Patrick created the buzz on social media after she shared that she had a great discussion with her sister about children and she got advice from her.
"My sister Brooke and I sat down for a chat, and it was really good! We covered a lot of topics, especially pertaining to kids, and — I got some good advice!
Once she realized that so many people interpreted her caption wrong, she added a note to the post a few hours later to clarify that she is not pregnant with her boyfriend's child.
"NOT expecting!!!…. although I can see how the above text reads like that. *I must proof read better, perhaps — out loud," she wrote.
Read more: Who Has a Higher Net Worth Aaron Rodgers or Danica Patrick?