Are Adam Driver and Daisy Ridley Dating?
We'll cut to the chase on this one – Daisy Ridley and Adam Driver are not dating. Both of them are otherwise engaged, personally and professionally. We can understand why people ask that question, though, and it can be summed up in three words: shirtless Kylo Ren.
Ever since Ridley's Rey and Driver's Kylo shared a kind of intimate connection in The Last Jedi, fans have been speculating about those characters becoming onscreen lovers. Newly released footage for The Rise of Skywalker only fueled that speculation with a quick shot of Rey wielding a double-bladed lightsaber similar to Kylo Ren's.
Never mind whether they're dating, is Rey turning to the dark side?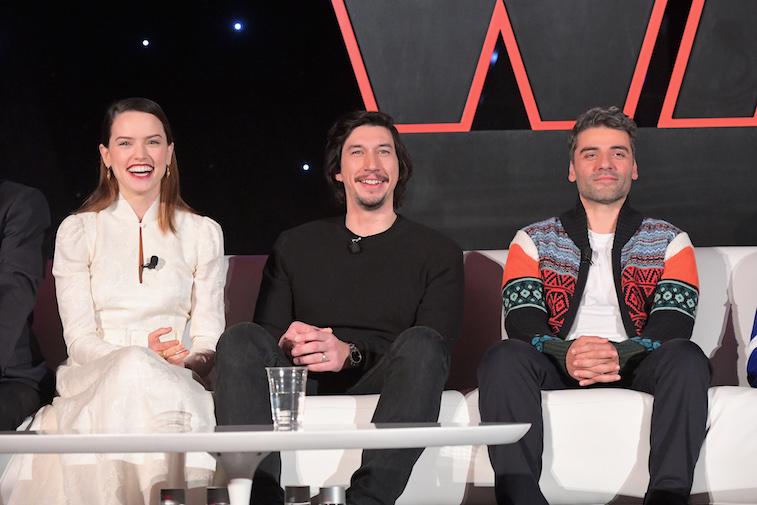 Daisy Ridley might be engaged in real life, while Adam Driver is married
Although Ridley has not officially confirmed it, multiple outlets including E News have noticed that the actress has been sporting a telltale diamond ring on her left hand during recent public appearances.
She is reportedly engaged to Tom Bateman, who starred with her in Kenneth Branagh's version of the Agatha Christie mystery Murder on the Orient Express.
The actress has made a point of keeping her private life private, a task that is not easy when you're part of the Star Wars franchise. Ridley made headlines by deleting her Instagram. No, this was not done because of hatred for The Last Jedi — this happened before that movie even came out. It had to do with a post she made speaking out about gun violence.
Meanwhile, Driver has been married to actress Joanne Tucker for six years. Driver has been extremely busy of late, not only completing The Rise of Skywalker but working on a slate of movies that are being talked up for Oscars.
What's the relationship between Kylo Ren and Rey?
Kylo Ren, the deeply troubled son of Han Solo and Leia Organa, turned to the dark side after his Jedi training with Luke Skywalker went awry. He threw temper tantrums after encountering Rey and realizing she was strong with the Force. Rey despised Kylo after she witnessed him murdering his own father.
After Rey initially failed to convince Luke to train her, she and Kylo formed a psychic connection. She wanted nothing to do with him, but the image of a shirtless Kylo gave their scenes palpable tension. In arguably the most controversial plot turn of the entire series, Kylo told Rey that her long lost parents were nobodies, junk dealers who abandoned her. Rey, not to mention many fans, found this extremely difficult to accept.
Fans were further surprised when Rey and Kylo fought side by side. By the end of The Last Jedi, Rey had reunited with her allies in the resistance, while Kylo Ren stewed over being unable to defeat Luke. The footage released so far of The Rise of Skywalker indicates that Rey and Kylo have quite a bit of unfinished business.
Driver and Ridley have very busy careers
Ridley and Driver have a lot more to deal with than the final chapter of the Skywalker saga. Ridley has also completed shooting on Chaos Rising, a thriller with Tom Holland that has had a difficult production. She is also slated to star in Kolma, about a remarried widow who is given an unusual offer to relive her first love near the end of her life.
Also announced is A Woman of No Importance, about an American spy who worked for British intelligence during World War II. Kolma and Woman of No Importance are both being produced by JJ Abrams' company, Bad Robot.
Meanwhile, Driver is making the rounds on the awards circuit. He received his first Oscar nomination earlier this year for Spike Lee's BlacKkKlansman, and he's being talked up for awards contention again with Noah Baumbach's Marriage Story and Scott Z. Burns' The Report.
None other than Martin Scorsese, who directed Driver in Silence, hailed the actor as one of the finest of his generation during the Telluride Film Festival earlier this month. Many would agree that's even better than dating Daisy Ridley.