Are Beyoncé and Kim Kardashian West Friends?
Since 2012, many people have questioned whether or not Beyoncé and Kim Kardashian West are actually friends.
With them being the most famous celebrities in the world and their husbands having a long history together, fans just assumed that the singer and the reality star had established a close bond.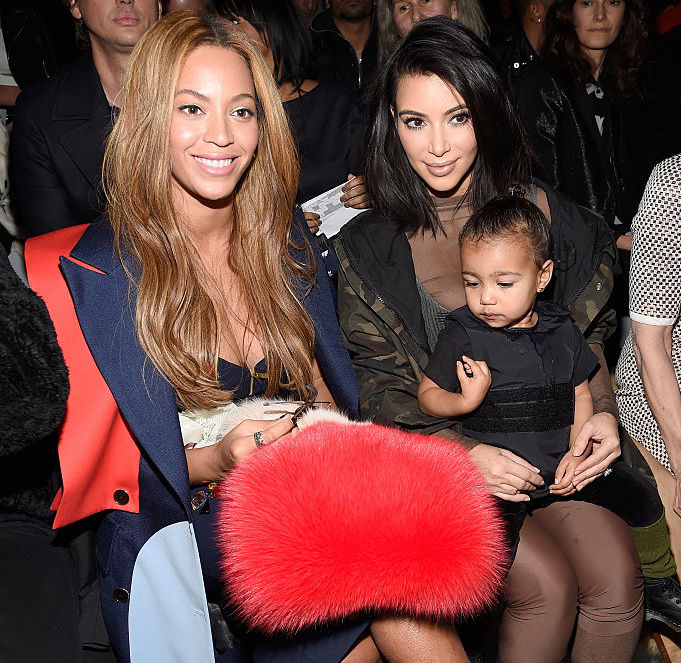 While they are cordial with one another and can easily consider themselves acquaintances, Beyoncé and Kim Kardashian don't have as close of a relationship as people may think.
There's been a longstanding rumor that they didn't get along
Soon after Kim Kardashian started dating Kanye West, rumors of her not getting along with Beyoncé started to arise.
Even though the two women were frequently spotted together alongside their significant others, news outlets claimed that their relationship was just one-sided.
It was rumored that Kardashian would bend over backwards to get into the Queen Bey's good graces but her attempts continued to go unnoticed.
Media outlets also claimed that since Beyoncé and Kardashian were from two different worlds, they just couldn't seem to click.
Many people even speculated that Kanye West and Jay-Z's 2016 feud played a part in these two women not getting along.
That year, West went on a rant about Jay Z and the fact that their daughters, North and Blue Ivy, haven't had a play date. "Our kids ain't never even played together," he said during his Saint Pablo concert.
The rapper also addressed Kardashian's horrific Paris robbery and full out shaded Jay and Beyoncé for their lack of reaching out during that difficult time. "Don't call me, after the robbery, and say 'how you feelin?; " he vented to his concertgoers. "You wanna know how I'm feelin'? Come by the house."
The following year, Jay Z called out West and his questionable behavior in his "Kill JAY-Z" track off of his 4:44 album.
Although the two rappers eventually made amends, it was rumored that their wives still didn't get along.
While there have been reports of these two women never seeing eye to eye, there was never any actual evidence to prove this.
Beyoncé and Kim Kardashian West can easily be considered aquaintences
While there might have been ongoing rumors surrounding Beyoncé and Kim Kardashian not getting along, it soon became obvious that there was nothing but mutual respect between these two.
There have been many occasions where the singer and the reality star they have shown their support for one another and continue to do so to this day.
Many might remember when Kardashian showed the singer some love after she gave an electrifying performance during the Super Bowl XLVII Halftime Show. The reality star tweeted out, "OMG Beyonce killed it!!! And when Destiny's Child came out…that made my life!"#Bootylicious."
The following year, Kardashian and Kanye West tied the knot in Florence, Italy. Although Beyoncé and Jay Z were not in attendance, the singer took to Instagram to give a sweet shoutout to the newlyweds.
"Wishing you a lifetime of unconditional love. God bless your beautiful family," the Queen Bey captioned a photo of Kimye and their daughter, North.
That same year, Kardashian and her sisters gave Beyoncé a standing ovation when she was awarded the Michael Jackson Video Vanguard Award during the 2014 MTV VMAs.
Although they aren't the best of friends, Kardashian and Beyoncé have always had deep respect for each other.
Kanye West even confirmed this back in 2015 by sharing that Kardashian and Beyoncé had nothing but love and admiration for one another.
"They love each other. They respect each other," he said. "When Beyoncé was working on her album, she had pictures of Kim all over her wall because Kim represents powerful women."
Despite what people may think, Kardashian and Beyoncé have always been cordial with one another and though they aren't besties, the respect will always be there.