Are Brad Pitt and Jennifer Aniston Really Through?
Now that both Brad Pitt and Jennifer Aniston are single and apparently on the romantic market, they are the subject of major speculation. Many people surmise the pair will reunite in the wake of their respective divorces from Angelina Jolie and Justin Theroux. Are Brad and Jennifer really through? Here's what we know:
The Saga of Brad and Jennifer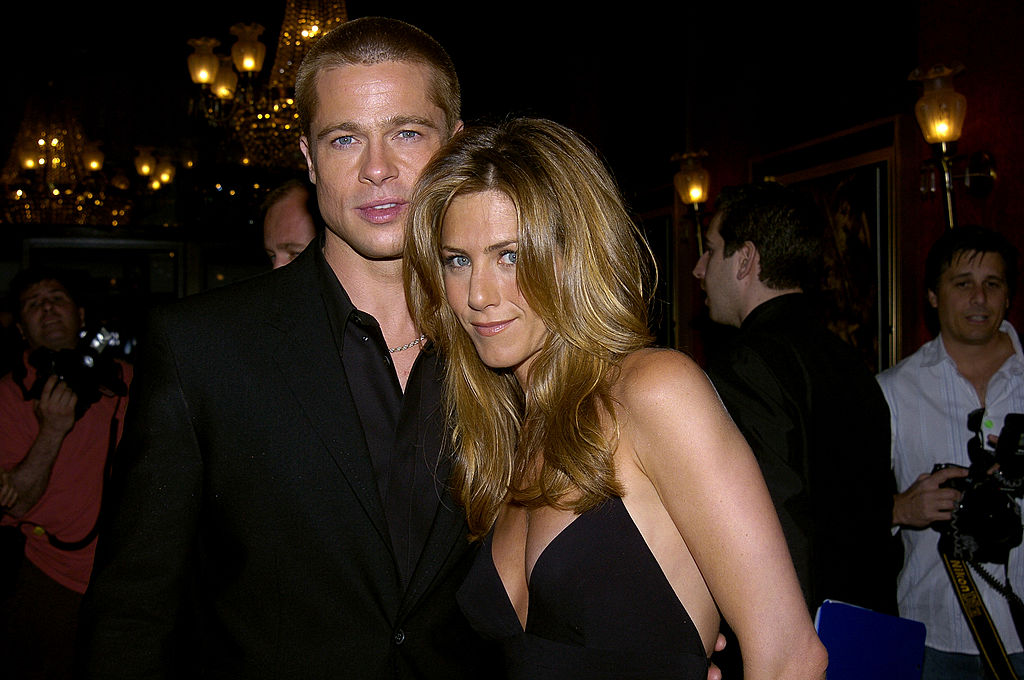 According to Marie Claire, Brad and Jennifer first met when their mutual agent set them up on a blind date in 1998. The pretty pair made their public debut at the 1999 Emmy Awards. A few weeks later, Brad and Jennifer crashed the stage at a Sting concert in Manhattan and announced their plans to marry. A year later, on July 29, 2000, the couple tied the proverbial knot in lavish albeit tented ceremony in Malibu.
For three blissful years, it looked as though the couple was destined for longevity. During the marriage, Jennifer often expressed her commitment to Brad, saying things like:
"You know if there's ever an argument, it's not like you can go, 'Screw you, I'm outta here!' You're there for the long haul."
But, the long haul was not to be. As long ago as 2003, Jennifer's tune was changing. In response to a question posed by an interviewer at W magazine, Jennifer was unwilling to call Brad 'the love of her life.'
She said: "I don't know, I've never been someone who says, 'He's the love of my life.' He's certainly a big love in my life, and I know that we have something special, especially in all this chaos."
Angelina Jolie's role in Jennifer Aniston's divorce
Hollywood brought Brad and Jennifer together, and Hollywood broke them up. According to Glamour magazine, Brad met Angelina on the set of Mr. & Mrs. Smith in the summer of 2004. Each denied a rumored affair at the time but later admitted to falling in love during the making of the movie. In Jan. 2005, a mere five years after they wed, Brad and Jennifer announced their separation. Three months later, Jennifer formally filed for divorce in California citing 'irreconcilable differences' as her reason for splitting with the 5'11" actor. Shortly thereafter, Brad went public about the relationship that the press and fans dubbed 'Brangelina.'
Jennifer Aniston's life after divorce with Brad Pitt
In the 14 years since she divorced Brad, Jennifer has remained busy. In 2005, she delivered a star performance as Lucinda Harris in the dramatic crime thriller, Derailed. The same year, Jennifer shared the silver screen with Shirley MacLaine and Mark Ruffalo in the Rob Reiner vehicle, Rumor Has It. In 2006, Jennifer's comedic talents shined when she co-starred opposite Vince Vaughn in The Break Up. Directed by Peyton Reed, the 106-minute film also starred Jon Favreau, Judy Davis, and Jason Bateman.
While Brad was bouncing around the world and making or adopting babies with Angelina, Jennifer polished her Hollywood star with interesting roles in movies and TV. The former Friends actress appeared in episodes of 30 Rock, Dirt, Cougar Town, and Burning Love. Movie roles in the wake of her split with Brad include Horrible Bosses, Cake, and She's Funny That Way.
And, she did it all while pining for Brad. Or did she? Sure, America's favorite "friend" was understandably devastated when her husband left her for another woman, but in ensuing years she found happiness and love elsewhere. In fact, Jennifer married again in 2015. Although her marriage to actor Justin Theroux did not last forever, the pair claim that their friendship will last forever.
What does Brad Pitt say?
Last week, a paparazzi approached Brad's car in Los Angeles and asked him the question everyone's dying to have answered. When queried about whether or not he would get back together with his former wife, Brad responded, "Oh my god!" and shrugged off the question with a chuckle, reported People magazine.
At this point, it certainly doesn't seem as if Hollywood's erstwhile golden couple will be getting back together anytime soon.