Are Denise Richards and Charlie Sheen on Good Terms Today?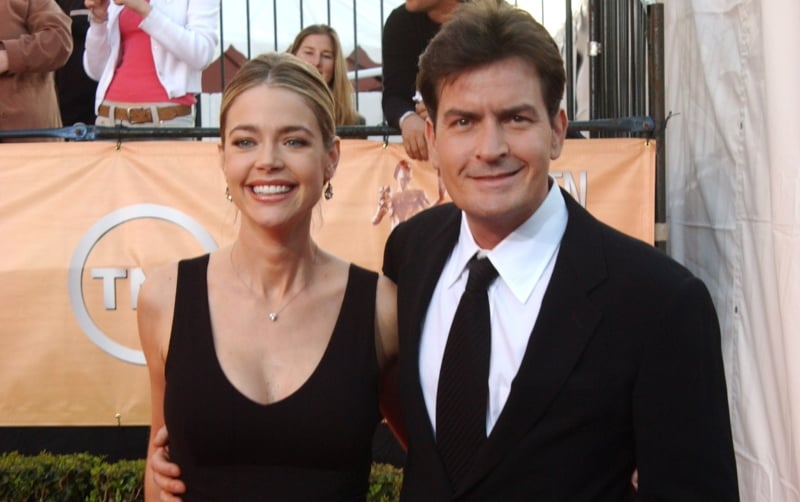 Denise Richards just joined the cast of Real Housewives of Beverly Hills (RHOBH). Many people knew her before from her movies like Starship Troopers, but also for being married to Charlie Sheen. So are they on good terms today? Here is everything you need to know.
Charlie Sheen and Denise Richards split in 2005 and had a messy divorce
The married couple announced they were divorcing in a joint statement in 2005. The statement was short and simple.
"We are deeply saddened by the recent events and out of our love and concern for our daughter Sam, our unborn child and each other, we ask that you respect our privacy during this difficult time," read the statement according to People.
The divorce proceedings got pretty messy. According to People, Richards claimed Sheen was verbally abusive after she stopped nursing their daughter, Sam and switched to formula. She also claimed he threw a chair at her for getting their daughter vaccinated. One of the biggest claims in the filing was that Sheen visited porn sites that included images of young men and girls, some of which appeared to be underage, according to The Smoking Gun.
Sheen released a statement in response to those and more accusations at the time. He said Richards' filing is "a most obvious immature and transparent smear campaign designed to hurt, embarrass and ultimately extort me."
They officially got divorced in 2006, but things weren't completely over between them due to child support.
Richards said the divorce affected her career
The Wild Things star has since opened up about the divorce. She revealed that going against Sheen publicly affected her acting career.
"I was surprised how much that affected me work wise…I was perceived as being a lunatic and crazy," she said on Allegedly With Theo Von and Matthew Cole Weiss. At the time, Sheen was still going strong on Two and a Half Men.
Now Richards seems to not hold some things against her ex. "I have a lot of empathy for anyone that struggles with addiction," she explained. "I'm not going to judge the choices they made under the influence. I can only judge the person I'm meeting and I think sometimes past experiences make who you are so I just went off the person I had met and gotten to know and fell in love with. He was very different."
Sheen's rep said he wishes Richards and Aaron Phypers nothing but happiness
Things seem to be much smoother between the exes. When asked about how Sheen felt about Richards being engaged to Phypers, Sheen's rep said that he "wishes them both nothing but happiness!" according to Entertainment Tonight.
He also had positive things to say about the actress joining RHOBH. "I don't really watch that show," revealed Sheen. "No, but I know it's a really popular and good for her. I'm sure it's going to be a ball, you know?"
Richards also opened up about co-parenting with him in a recent interview. "I'm supportive of the girls having a relationship with their dad," she told People. "Whatever is going on with a couple, the children should not be privy to it. Obviously, there are times when emotions might flare up. But we're human beings and we make mistakes."
So the former couple certainly had a rough and public breakup, but it sounds like they are on better terms now.
Read more: Who is Aaron Phypers, Denise Richards' New Husband?
Check out The Cheat Sheet on Facebook!